Victoria, BC is a birdwatcher's paradise. Home to hundreds of bird species and with a mild climate, this beautiful coastal city offers some excellent year-round birding opportunities.
With numerous parks and ecosystems, you'll have plenty of places to search for species you haven't seen yet. But, like most of us, you probably don't have all the time in the world to find the best birdwatching spots around Victoria. So we're here to help!
We cover some of the best birdwatching spots around Greater Victoria, BC. These are our favorite places to head with a set of binoculars, spotting scope, or camera with a long lens attached. Hopefully you'll be able to cross a few lifers off your list at these locations!
Where Are the Best Places to Go Birdwatching in Victoria, BC?
1. Esquimalt Lagoon
One of the best places to go birdwatching in Victoria, BC, is at Esquimalt Lagoon. Located along the Colwood waterfront, this National Migratory Bird Sanctuary (one of seven in Canada!) is a fantastic spot to spot all kinds of species. It's also one of the most beautiful sandy beaches in Victoria!
The 2-km long sandy Coburg Peninsula separates Esquimalt Lagoon and the ocean, which are connected only by a narrow tidal channel. On the lagoon's inland edges, you'll find Hatley Forest and the impressive Hatley Castle. Fort Rodd Hill and the Fisgard Lighthouse also are nearby the lagoon.
Waterfowl (like American wigeons, geese, swans, and surf scoters), gulls (like California and Glaucous-winged gulls), and shorebirds (such as killdeers and oystercatchers) are abundant around Esquimalt Lagoon. Also look for birds like kingfishers, bald eagles, and sparrows around the park.
It's not surprising to see several birders with DSLR cameras here. Esquimalt Lagoon makes for some excellent photography opportunities during the golden hours!
2. Panama Flats
Panama Flats is a 116-acre open park area consisting of former agricultural fields and flood plains. The park features a range of habitats, from shallowly flooded fields to shrubby parkland, which are home to a diverse number of bird species.
If you want to see wetland birds, Panama Flats is one of the best places to head in Victoria for some birdwatching. Here, you'll find species like marsh wrens, red-winged blackbirds, and all kinds of sandpipers. It's also a good place to spot larger species, like geese, great blue herons, and even sandhill cranes.
Swallows and sparrows are also common around Panama Flats. Bald eagles like to sit in the tall trees on the edges of the fields, and turkey vultures circle overhead. And you might even spot a family of California quail — an introduced species but still fun to spot — hiding in the bushes here!
3. Witty's Lagoon Regional Park
Witty's Lagoon Regional Park is a birdwatcher's dream, with over 160 bird species spotted here. You don't want to forget your binoculars when visiting this seaside park!
Located in Metchosin, the 56-hectare Witty's Lagoon features a gorgeous coastal temperate rainforest, saltwater marsh, rocky headlands, sandy bluffs, and a beautiful beach. From rufous hummingbirds and Swainson's thrushes to belted kingfishers and sooty shearwaters, you'll have lots to see on an outing to this regional park.
Not only that, Witty's Lagoon also has plenty of other things to do, besides birdwatching. Sitting Lady Falls, one of the best waterfalls around Victoria, is located in the park. Also, there are several excellent trails to explore through the woodlands and to the beach, as well as at Tower Point.
4. Swan Lake Christmas Hill Nature Sanctuary
Swan Lake Christmas Hill Nature Sanctuary is a top, year-round birdwatching spot on the northern edge of Victoria's downtown core. Here, you'll find two main ecosystems: Swan Lake with its surrounding wetland, and the Gary Oak forest of Christmas Hill.
To see all the birding that the park has to offer, we recommend following the 2.5 km Lake Loop Trail. It circles Swan Lake, with an offshoot where you can adventure up to the summit of Christmas Hill. Along the way, you'll cross over Swan and Blenkinsop Creeks, walk along boardwalk, and pass by the Nature House (an interpretive information centre).
Around the lake, look for birds like marsh wrens, ringed neck ducks, and mallards. Anna's hummingbirds, downy woodpeckers, common yellowthroats, and bushtits are common in the shrubs and surrounding woods.
This oasis of green is nestled within the city which makes it easy to visit, even if you don't have a vehicle. The Lochside Trail also bypasses the park's southern edge, making it a great option to visit for cyclists.
5. Cattle Point and Uplands Park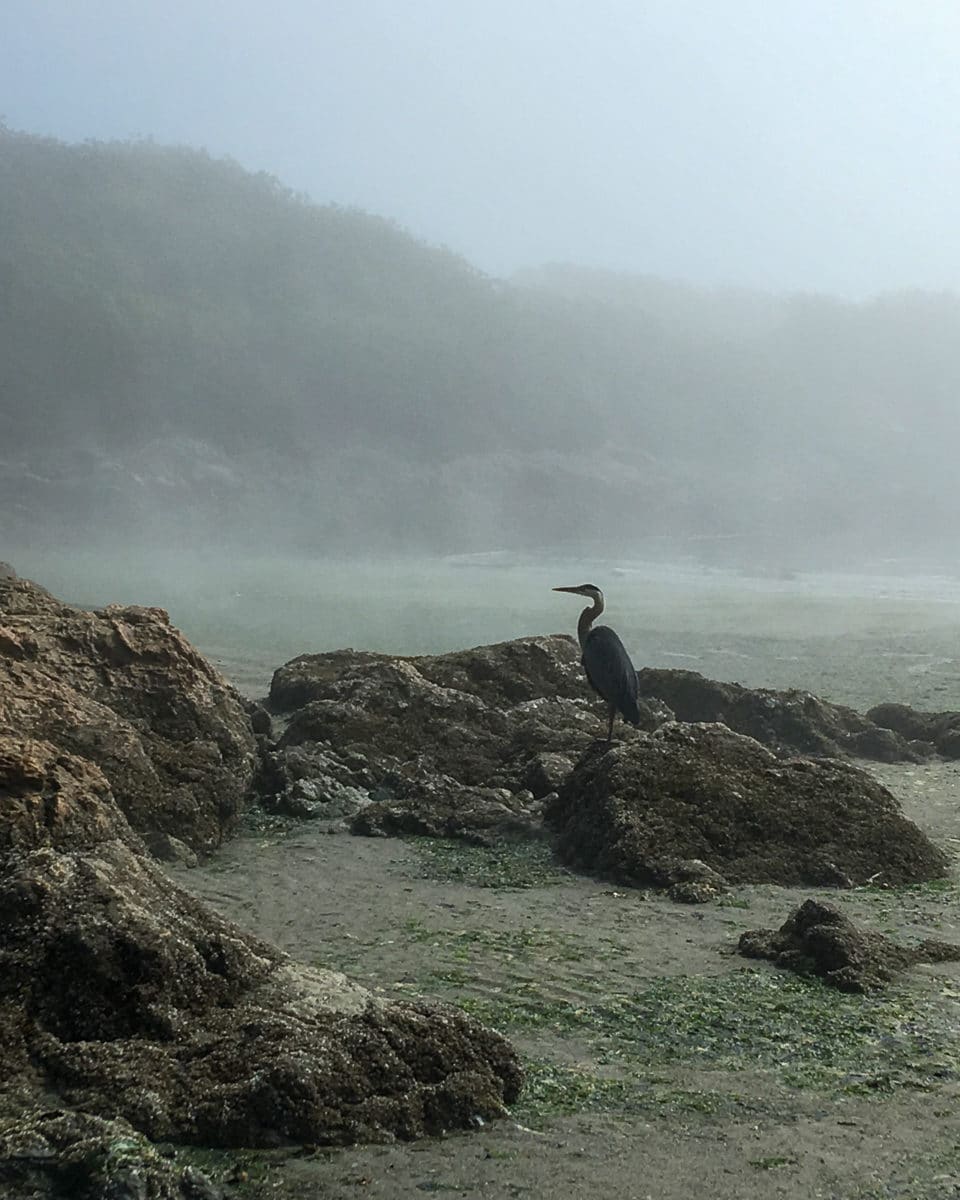 Cattle Point and Uplands Park, two adjacent parks in Oak Bay, offer excellent birdwatching opportunities. Here, you'll find a mix of rocky coastline, shrubby parkland, and rare Gary Oak meadows.
Cattle Point is a good place to spot waterfowl and shorebirds. Additionally, it is one of the best places in Victoria for tide pooling, and is a great spot to watch the sunrise or stargaze.
Uplands Park is just inland from Cattle Point, across Beach Drive. The park is excellent for spotting warblers and other songbirds. We've also heard barred owls in the forested areas. Uplands Park protects some rare Gary Oak meadow and is a fantastic place to head in the spring to enjoy the sea of blooming Camas flowers while looking for birds.
As an added bonus, the gorgeous Willows Beach is just to the south of these two parks. Willows Beach is one of the most beautiful beaches in Victoria, and also offers some decent birdwatching.
Top Travel Tips & Resources for Victoria, BC