Situated on the scenic Vancouver Island, Nanaimo is a charming seaside city that boasts one of the longest shorelines in Canada. With a backdrop of mountains, the city offers travelers breathtaking landscapes, a vibrant culture, and diverse activities.
From provincial parks and natural wonders to immersive museums and historic buildings, this coastal gem offers an array of options for every kind of traveler. There are lots of awesome activities and tours available in and around the city, so there's something here for everyone.
We live in Victoria so we've spent plenty of time taking day trips up to explore Nanaimo. Below we're going to cover what we consider to be the best things to do in Nanaimo!
Best Things to Do in Nanaimo, BC
1. Whale Watching Tours
Whale watching is one of the top activities in Nanaimo. From whales to sea lions, the coastal areas around this city are packed full of marine life. If you're a keen nature lover, then you don't want to miss out on these wildlife tours!
This whale-watching boat tour takes you out onto the water for four hours in search of whales and other marine mammals. You'll have an experienced marine guide onboard with you at all times, and they'll teach you all about the local wildlife.
The waters around Nanaimo are home to humpback whales and killer whales (orcas), although you can occasionally spot grey and minke whales too.
You'll have good luck spotting marine wildlife here. In fact, you've got around a 95% chance of seeing whales if you head out on a boat tour from Nanaimo!
You'll also find a variety of other marine life here including porpoises, sea lions, and seals. We recommend bringing binoculars. If you keep your eyes peeled, you might even get to spot eagles soaring above too!
Tours last for around 4 hours and typically offer three departure times: 10:30 am, 12 pm, and 3:30 pm. At the end of the tour, the guide will give an educational talk discussing the threats to the local wildlife, and marine conservation initiatives.
2. Stroll Along the Harbourfront Walkway
Nanaimo is known as "the Harbour City" so naturally, walking along the scenic Harbourfront Walkway is one of the best things to do here.
The walkway runs along the Newcastle Channel, stretching from the Piper Park to the Brechin Boat Ramp. You'll want to allow at least an hour for this walk as there are plenty of spots to visit and views to enjoy along the way.
One of our favorite stops is at Maffeo Sutton Park, which overlooks the harbor. Here, you'll find Swy-A-Lana Lagoon, the iconic Nanaimo Sign (perfect for a photograph), and one of the best beaches in Nanaimo.
The Swy-A-Lana Lagoon fishing pier is a great spot to watch seaplanes taking off from the water. Also, the Saysutshun (Newcastle Island) ferry departs from Maffeo Sutton Park and is perfect for a day trip!
McGregor Park is also a lovely spot that's right beside the Gabriola Island ferry terminal. It has a wooden walkway and offers great views of the harbour.
Along the Harbourfront Walkway, you'll find several restaurants, coffee shops, ice cream stores, and gift shops. There are also unique attractions like The Bastion and Vancouver Island Military Museum. As you wander, you'll also come across artwork like a colorful eagle sculpture.
On a clear day, don't miss out on this walk. The sea views are spectacular, and it's a really peaceful way to explore Nanaimo.
3. Horne Lake Cave Tours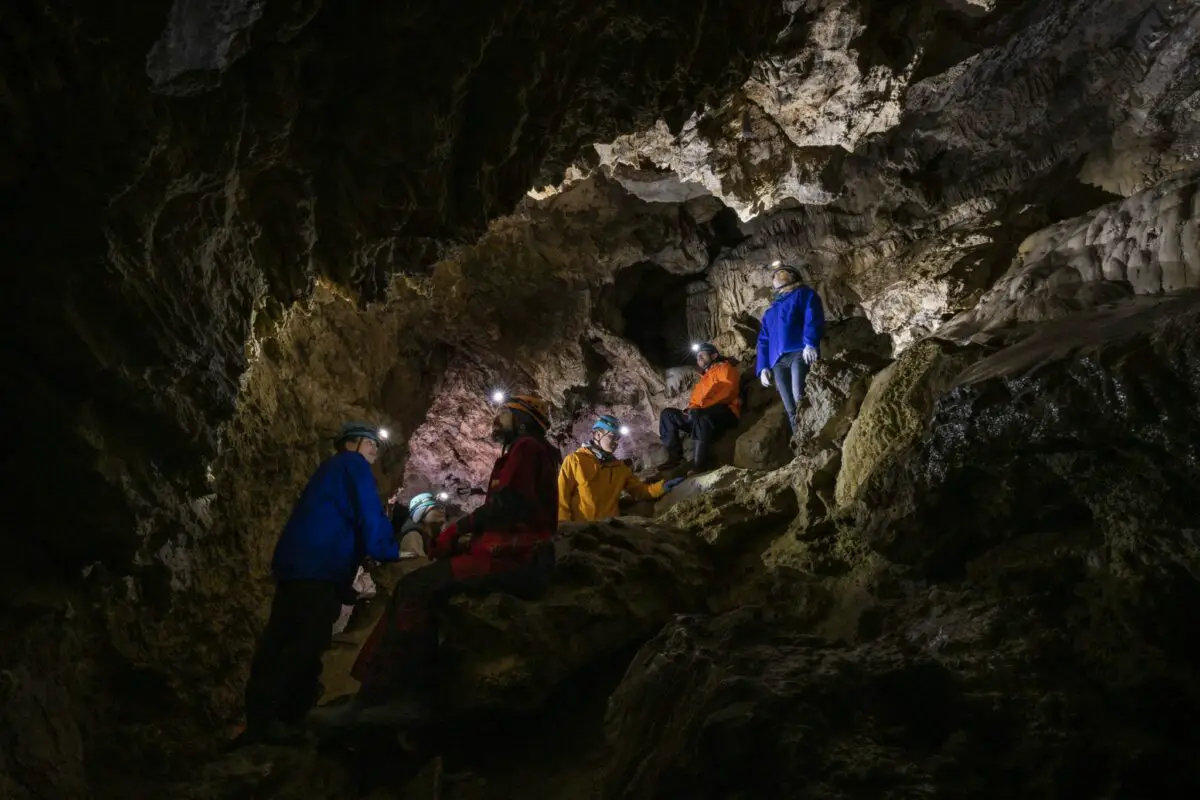 Visiting Horne Lake Caves is undoubtedly one of the coolest things to do in Nanaimo! Although Vancouver Island is home to over 1,000 caves, Horne Lake Caves Provincial Park offers you one of the best and safest caving experiences. 
Horne Lake Caves Provincial Park was created in 1971 to preserve the unique geological formations and crystals hidden within the caves. Now, the park is an excellent spot to head for both below- and above-ground adventures.
Above ground, explore the Phil Whitfield Interpretive Trail to find fossils and learn about the caves at the Cave & Karst Education Centre. However, the real adventures lie below the surface.
At Horne Lake Caves, you can head out on a guided caving tour. These last between 1.5-5.5 hours (depending on which one you choose) and some of them are suitable for children over the age of 5. 
One of the most popular tours is the Multi-Cave experience which allows you to visit two caves, and slide down Canada's only cave slide.
You've also got the Riverbend Cave Explorer which is a better choice for those short of time. Not only that but there's no vertical climbing or crawling involved in this tour.
4. Neck Point Park
An incredibly scenic oceanside destination, Neck Point Park is one of the best places to see in Nanaimo. Here, you can explore 36 acres of rugged cliffs, lush forests, and pebble beaches.
If you're a nature lover then you'll want to head up to the park's headland area. From here, you might spot sea lions, seals, and otters if the conditions are right. You could even get to see whales if you're lucky! 
At low tide, you can walk across the pebble beach to get to a small rocky island. This is a great spot to hang out and watch the waves. Just make sure to return to shore before the high tide strands you!
If you'd prefer to explore under the waves, then Neck Point Park is a popular spot for diving. You'll find an impressive array of marine life in this area. But even if you don't go diving, look for starfish and other intertidal marine creatures at low tide.
Neck Point Park also offers several short, easy hiking trails to explore. One of the most popular options is the Neck Point Loop Trail which is just 2.9 km long and takes you around the entire park.
Whether you're looking to explore the beaches, look out for wildlife, hit the hiking trails, or head out for a swim, Neck Point Park has something for everyone!
5. Strait of Georgia Seaplane Tour
The Strait of Georgia is the ocean backdrop to Nanaimo. This passage separates Vancouver Island from the mainland of British Columbia, and is incredibly scenic.
One of the best ways to admire its beauty is with a Strait of Georgia seaplane tour. After taking off from the ocean with an exhilarating rush, these floatplane tours will take you high in the skies for an incredible birds-eye view of the ocean and coastal mountains.
On this four hour tour, you'll fly across the Strait of Georgia to visit the small community of Sechelt on the Sunshine Coast. Here, you'll get several hours to explore before returning back to Nanaimo on the seaplane.
You'll be in the air for a total of 40 minutes and get to land and take-off from the water twice each. In our opinion, this is the best part of flying in a seaplane!
During the flight, you'll be treated to panoramic views of the Georgia Strait and will get to admire all the tiny islands as you go along. If you're lucky, you might even see marine life in the waters below.
Although costly, you don't want to miss out on this amazing activity!
6. Pipers Lagoon Park
Pipers Lagoon Park is undeniably one of the best places to see in Nanaimo. Offering breathtaking ocean views, it's one of the city's most famous waterfront parks. Home to one of the best beaches in Nanaimo, Pipers Lagoon Park is not a place you want to leave off your Nanaimo itinerary!
Pipers Lagoon Park covers an area of 8 hectares and has a lot to offer. In fact, it's one of the area's best birdwatching spots. A variety of species call the lagoon home, including great blue herons, kingfishers, and more.
Take some time to wander along the park's walking trails as this is a great way to appreciate the area's spectacular scenery. If you can, we recommend timing your visit with sunrise or sunset as the colors will take your breath away. 
From this beautiful park, you'll also be treated to stunning views of Neck Point Park and Shack Island. If it's low tide, you can even walk over to see the historic cabins on Shack Island, which date back to the 1930s!
7. Visit Gabriola Island
Gabriola is one of British Columbia's Gulf Islands that's just a short ferry ride from Nanaimo.
Packed with jaw-dropping natural beauty, the island is famous for the unique Malaspina Galleries — a huge wave-like sandstone formation that you can walk through. This natural phenomenon is found within Gabriola Sands Provincial Park and is one of the island's most popular attractions. 
Another popular location is Sandwell Provincial Park which is known for its long sandy shores and scenic picnic area that overlooks Lock Bay. At low tide, you can also see a prehistoric petroglyph that's been carved into the rock.
Gabriola Island is just a 40-minute ferry journey from Nanaimo and is best explored via car or bike. There's so much to do here so you'll want to spend at least a full day on the island if you have the time. We recommend at least two days though!
8. Visit Bowen Park
Covering an area of 36 hectares, Bowen Park is a massive park situated in the heart of Nanaimo. From hidden waterfalls to sports facilities, there's something here for everyone.
The Benson Park loop is a great way to explore this beautiful natural area. It winds through the trees, passing by small waterfalls along the Millstone River. You'll also find a duck pond and beautiful flowers along the way.
You'll also find a variety of awesome facilities at Bowen Park including an outdoor swimming pool, tennis courts, sports fields, and beach volleyball courts. There are also two children's playgrounds, making this a great family-friendly spot to visit.
If you have some extra time, then why not visit some of the other parks around the city too? Some great options include Colliery Dam Park, Westwood Lake Park, Beban Park, and Petroglyph Provincial Park. Jack Point and Biggs Park, and Buttertubs Marsh Park are also two other great options!
9. Go Hiking
For those wondering what to do in Nanaimo, why not check out some of the city's best hiking trails? From its adventurous activities to jaw-dropping natural scenery, you could easily spend all your time exploring the outdoors around Nanaimo. 
Boasting 292 hectares of lush forests, Mount Benson Regional Park is one of the top hiking locations around Nanaimo. Several routes take you to the summit of Mount Benson. On clear days, you'll be treated to epic vistas of Nanaimo and the Strait of Georgia from the top. Allow at least 3-5 hours for this hike — you won't want to rush it!
The Westwood Lake Trail is another popular option. This 5.8 km (3.6 miles) loop trail takes you all around the lake and it's relatively easy. 
Another option is Ammonite Falls which is a 5 km (3.1 miles) out-and-back hike. You'll be walking through a peaceful forest, before reaching the cascading falls.
Lastly, don't forget about the Cable Bay trail. At just under 2 km (1.2 miles) long this is a great short hike that will take you right down to the waterfront.
10. Visit Englishman River Falls Park
Englishman River Falls Park features two impressive waterfalls that are less than an hours drive away from Nanaimo.
This beautiful spot is worth the drive to get to it. Here, you'll find one of the best waterfalls around Nanaimo.
Part of the Englishman River, the waterfalls cascade down a cliff into a canyon below. The river flows through the lush forests of Vancouver Island, making it an incredibly scenic location.
The waterfalls are best seen from the bridges that cross over the canyon. There are two bridges, so make sure to check out them both!
If you want to spend more time here, there are some short hiking trails to explore and also a campground so you can stay the night.
11. Dine in Downtown Nanaimo
As there are so many incredible things to do in Nanaimo, you'll no doubt find yourself planning an action-packed trip. Although you don't want to miss out on anything, it's also important to just relax and take some downtime.
One of the best ways to do this is by visiting some of the city's many eateries (and trust us, there are a lot). Some of the best options can be found in downtown Nanaimo so that's where you'll want to focus your search.
Here are some of our top recommendations when it comes to dining in Nanaimo:
12. Explore Saysutshun (Newcastle Island) Marine Provincial Park
Famous for its hiking trails, spectacular ocean views, and wildlife-watching opportunities, visiting Saysutshun (Newcastle Island) Marine Provincial Park is easily one of the best things to do in Nanaimo. This small island is explored entirely on foot and is perfect for a day trip!
To reach Saysutshun, you'll need to catch the passenger ferry from Maffeo Sutton Park, which takes around 10 minutes. You can explore the island on foot or via bike, making this one of the best things to do in Nanaimo if you're traveling without a vehicle.
This marine provincial park is home to over 22 km (13.6 miles) of hiking trails. The most popular option is the 8-km coastal trail which takes you around the island's entire perimeter. Walking around an entire island sounds like a lot but this trail actually only takes about 2 hours!
If you're looking to explore the coastline, then you can always head out on a kayak. There are also several fantastic swimming spots here including Midden Bay, Kanaka Bay, and Mark Bay.
What's great about Newcastle Island Marine Provincial Park is that you can actually camp here. There are 18 walk-in campsites on the island, which includes some oceanside sites. There's also moorage at Mark Bay or at one of the many mooring buoys.
13. Nanaimo Museum
Learn about Nanaimo's interesting history with a visit to the Nanaimo Museum. The museum is located downtown, near the waterfront.
Entry only costs a couple of dollars, making this one of the best budget-friendly things to do in Nanaimo. There's a lot to see at this museum, so try to allow at least 1-2 hours for your visit.
The main gallery is one of the museum's highlights as you'll learn about the Snuneymuxw, the First Nation whose traditional territory spans across eastern Vancouver Island.
Other permanent exhibits at the Nanaimo Museum include a replica coal mine which you can walk through and displays on forestry, the harbour, and development of the city. There's even a community gallery here that's dedicated to art, photography, and literary compositions created by locals.
The museum also hosts temporary exhibits which change throughout the year. Make sure you check the website before you visit to see what's currently on display!
While in the city, there are plenty of other places to visit if you want to learn more about the history of Nanaimo. Check out the historic Bastion building or the Vancouver Island Military Museum, which are both quite close to the Nanaimo Museum.
14. Visit the Abyss
If you're looking for unique things to do in Nanaimo then check out the Abyss. It can be accessed by hiking part of the Extension Ridge Trail, and the trailhead is just a 10-minute drive from the city center. 
The Abyss is a large fissure or crack in the ground's surface, with the gap measuring approximately 50 cm across. Its unknown exactly how deep the crack goes. The unique feature makes for some great photos!
Upon first glance, you'd think that the Abyss had been caused by the movement of tectonic plates but that's not the case. In fact, it's believed that the fissure was caused due to coal mining activities that were occurring below the surface. 
The walk to the Abyss is relatively steep and the signs for it can be a bit unclear. For the best experience, we'd recommend downloading an offline map so you know your location.
While exploring the area, you'll also find sweeping views over the city and a unique mossy labyrinth. It's a neat area for an afternoon of adventure.
During your visit here, make sure you exercise extreme caution around the crack if you have dogs or young children. There have been several dogs that needed rescuing after falling into the crack. You also want to keep a tight grip on your phone!
15. Snack on Nanaimo Bars
If you head to Nanaimo and you don't try a Nanaimo bar, can you say that you've ever visited really? This iconic dessert bar takes its name from the city of Nanaimo and is a must-try while in town.
There are endless variations of the Nanaimo bar but it's the original you need to try! Nanaimo bars are typically made with a topping of chocolate and a delicious custard middle, stacked on top of a coconut-graham crumb crust.
There are plenty of awesome places where you can grab a Nanaimo bar but for the best experiences, check out the Nanaimo Bar Trail. The majority of the locations on this trail are in Downtown Nanaimo, so you can easily walk between them. 
If you visit some of these spots you'll get to try delicious original Nanaimo bars, as well as Nanaimo cocktails, cheesecake, truffles, fudge, and cakes among other tasty treats.
Thanks to the country's 'Sweet Canada' stamp collection, this sweet treat actually has its very own stamp! For the ultimate souvenir, why not pick one up before you leave Nanaimo?
Top Travel Tips & Resources for Nanaimo, BC