Tofino is known as Canada's surf capital and with good reason! Some of the best surfing in the world is found on the beautiful beaches in Tofino. Massive sandy beaches and neverending perfect waves draw surfers in from across the world to surf on these epic beaches year-round.
From 30-foot high swells to gentle rollers, there's something for everyone at this west coast surfer's paradise. Some beaches offer small consistent waves that are perfect for learning, while others present more challenging, bigger swells. No matter what though, these top surfing beaches won't disappoint!
If you're a newcomer to Tofino, you're probably wondering where are the best spots to surf, when to go, what to bring, and where to stay, among other questions. As locals to Vancouver Island, we'll share everything we know about surfing around Tofino in this travel guide. You'll know exactly what to expect when heading to this magical spot!
Not sure what to bring for your trip? We've even covered what to pack for your trip to Tofino and what cold-water surf gear you'll need.
So, grab your surfboard and head to Tofino!
Disclaimer – This post contains affiliate links. We may receive a commission if you make a purchase through these links, at no extra cost to you. Thank you for your support! Learn More.
Best Surf Beaches in Tofino
Wondering where surfers head to surf in Tofino?
One of the most common questions that visitors have is "Where are the best beaches to go surfing in Tofino?" Knowing which surfing beaches are the best is key to an incredible day on the ocean. You don't want to head to a surf spot that isn't right for you!
Here are some of the top Tofino beaches for surfing. Whether you're an experienced surfer or just starting out, these beaches are worth checking out.
Cox Bay Beach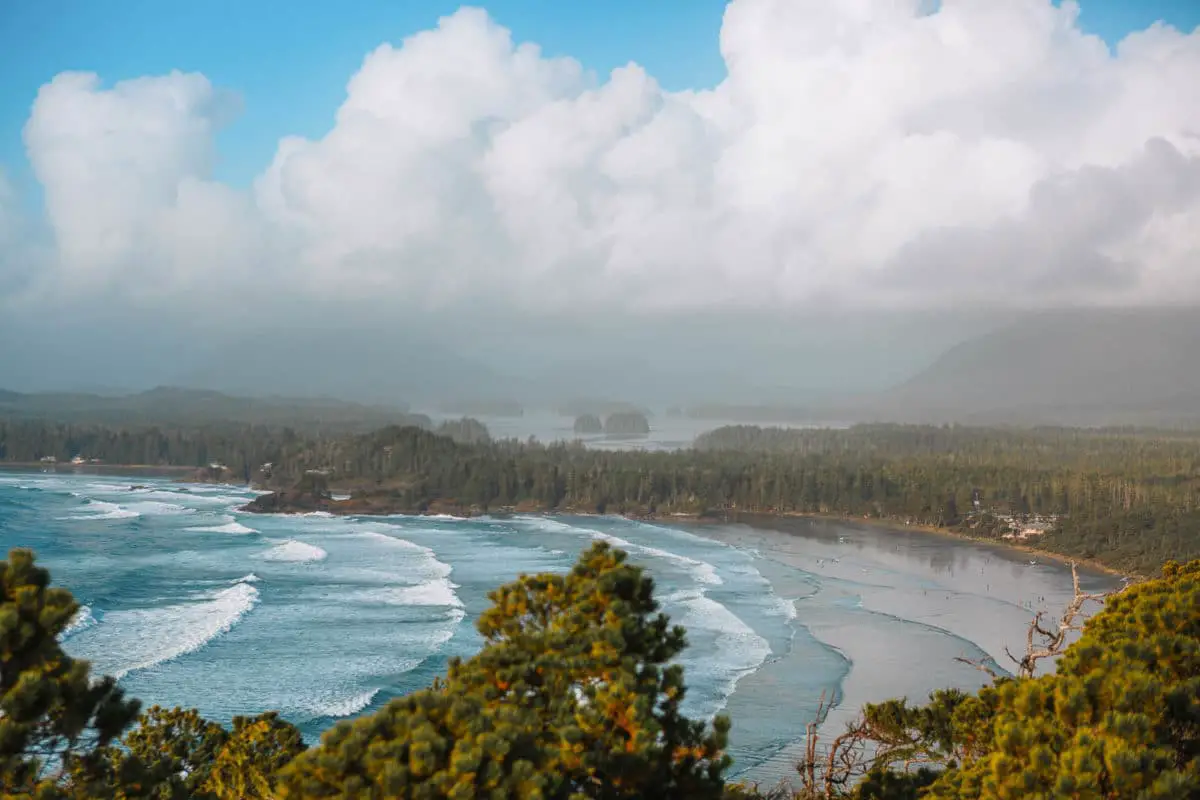 Featuring incredible beach breaks, the beautiful Cox Bay is often considered one of the best surf beaches in Tofino and all of Canada. This spectacular beach offers world-class surfing and 1.5 km (0.93 miles) of stunning sand.
The crescent shape and western exposure of Cox Bay Beach cause the waves here to be consistently good. Swells are also bigger than in other surf spots around Tofino. And, the flat sandy beach is quite forgiving for wipeouts!
With a wide variety of waves to choose from, Cox Bay is perfect for all experience levels. In the summer, newbies play in the whitewash of the waves while advanced surfers tackle the more challenging stuff.
In winter, there are some impressively large waves here, attracting advanced surfers from all over to ride the towering swells. For this reason, Cox Bay hosts most of Tofino's surf competitions, including the Rip Curl Pro Nationals and Queen of the Peak.
When surfing at Cox Bay, watch out for the rip currents near Cox Point, Sunset Point, and the center of the bay. These strong currents will pull you out quickly towards the ocean.
Want to see the conditions before heading out? Check out the surf cam!
Unsurprisingly, Cox Bay isn't just good for surfing. It's also a great spot for sunbathing, walking, and more. At low tide, Cox Bay Beach is also an amazing place for tide pooling and beachcombing. Keep an eye out for sand dollars!
For an incredible view of the beach, head up to the Cox Bay Lookout. The trail takes about an hour but it's oh-so worth it!
Where to Stay near Cox Bay Beach
Long Beach Lodge Resort and Cox Bay Beach Resort are steps away from the ocean at Cox Bay. If you want to be close to the action and spend your vacation surfing, these are two of the best hotels in Tofino to stay at. Plus, these oceanfront luxury resorts offer everything you need for the perfect Tofino surf vacation, including lessons and equipment rentals.
Chesterman Beach
One of the nearest surf beaches to the village of Tofino is Chesterman Beach. With excellent waves, it's a popular spot for surf schools and for those who don't want to travel far from town to surf.
This unique beach forms a "W" shape, with a north and south side separated in the middle by a tombolo (a sandbar that connects to an island) leading to the privately-owned Frank Island. People refer to the two sides as North Chesterman Beach and South Chesterman Beach.
Both beaches are top-notch surf spots, offering unique wave conditions due to the directions they face. North Chesterman catches swells that come from the west, while South Chesterman faces south and catches swells coming from this direction.
Chesterman Beach is a pretty popular surf spot in Tofino, especially for beginners. There's no better place to learn how to surf than South Chesterman Beach!
The beach breaks are smaller here than on other Tofino beaches, making the waves quite excellent for beginners and intermediate surfers. Even so, seasoned surfers will still find the perfect waves in the right conditions.
The beach is sandy and you won't find any rocks hiding under the water! But, watch out for beginner surfers and runaway boards.
Plenty of surf schools teach lessons at this beach. If you're new to the sport of surfing, we highly recommend you catch a lesson at one of the Tofino surf schools that teaches on this beach.
Chesterman Beach is also a beautiful place to relax and take in the scenery, so even if you don't want to surf, it's worth a visit. At low tide, head to Rosie Bay Beach (just next-door to South Chesterman Beach) to explore sea caves and look for marine creatures in tidal pools.
Where to Stay near Chesterman Beach
One of the best places to stay near Chesterman Beach is the Wickaninnish Inn. Perched on the rocky coast beside Chesterman Beach, this luxury hotel offers some of the best access to the beach, as well as awe-inspiring views of the ocean.
The location makes the Wickaninnish Inn one of the best places to go storm-watching in the winter. However, it also makes it quite expensive, even by Tofino standards. If you're looking for something a bit more affordable, try the nearby Hotel Zed Tofino, just a 5-minute walk from Chesterman Beach.
Long Beach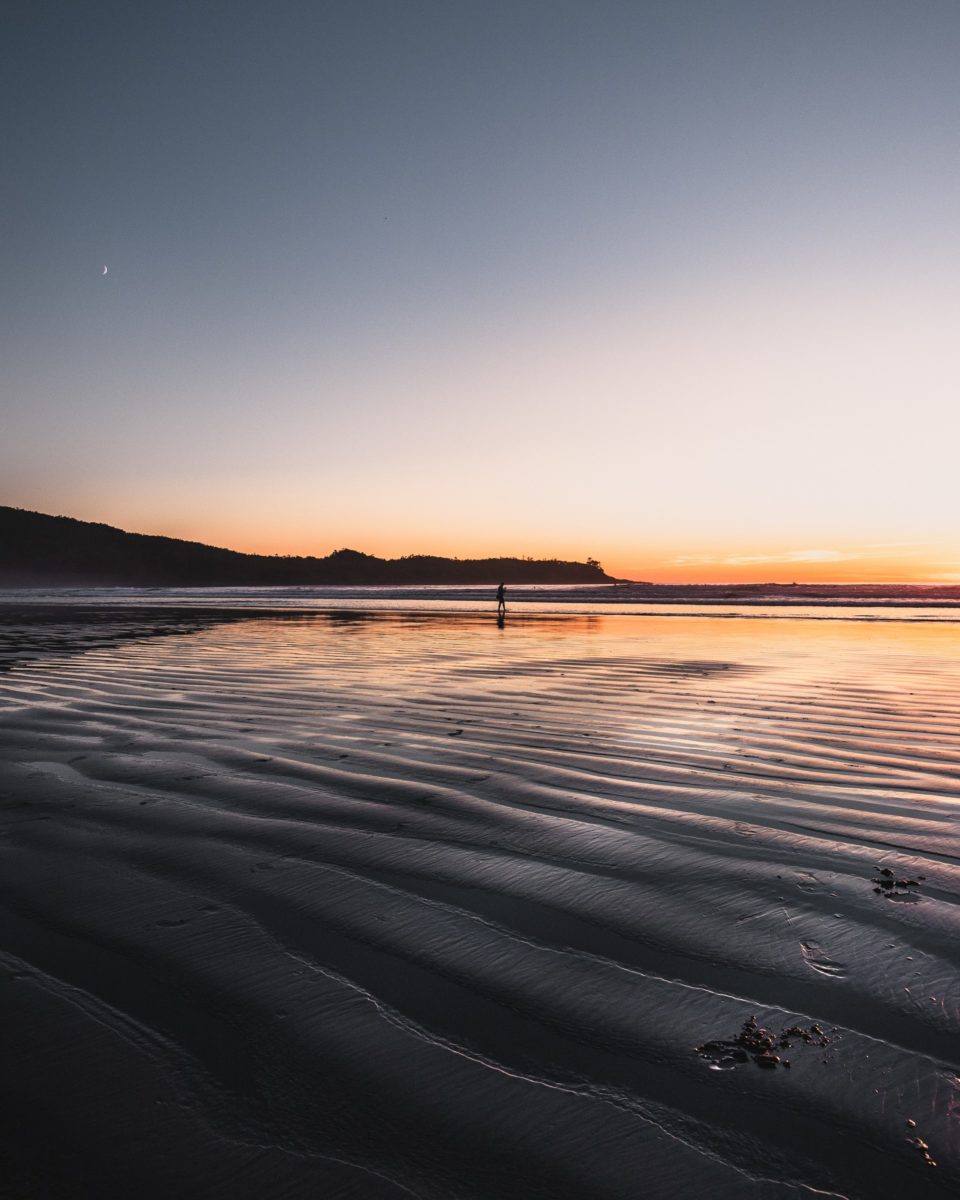 Long Beach is an aptly named beach in the beautiful Pacific Rim National Park Reserve. With kilometers of gorgeous white sand, Long Beach is definitely the biggest beach on Vancouver Island. The beach feels like it stretches on forever!
Surfing at Long Beach is an incredible experience. Even if there are lots of surfers out, the beach is so big you won't feel like you have to compete for the waves. You might have to fight for a parking spot though!
Not only is it one of the largest beaches on Vancouver Island, Long Beach is also where Tofino's surf culture originated. This beach helped Tofino transform from a remote fishing and forestry village to a world-class surfing destination.
With awesome beach break waves and never-ending sand, Long Beach is definitely one of the best surf spots in Tofino. The swells are amazing in the summer, although conditions are rougher in the winter. It's a pretty popular surf spot and definitely worth checking out for your Tofino vacation.
Where to Stay near Long Beach
We highly recommend staying at Green Point Campground, if you want a place to stay that's right beside Long Beach. This oceanside campground is near Green Point, only a short walk from the ocean. It's heavily forested, with trailer, RV, tent, and walk-in campsites.
Because Long Beach is in Pacific Rim National Park Reserve, there aren't hotels or houses (except the Tla-o-qui-aht First Nations community called Esowista) scattered along the shoreline like other Tofino beaches. So, Cox Bay Beach Resort and Long Beach Lodge Resort are probably the closest hotels to Long Beach.
Incinerator Rock
Some of the best surfing at Tofino's Long Beach is at a spot called "Incinerator Rock". Once home to a garbage-burning facility, this unique location is now one of the most popular spots to surf in Tofino.
This excellent surf spot is right beside the Pacific Rim Highway, making it the easiest part of the beach to get to from the parking lot. But, you usually have to be lucky to get a parking spot here.
The rocks don't really get in the way at low tide. But, you'll have to watch out for them when the tide is high!
Lovekin Rock
One of the hazards to be aware of at Long Beach is Lovekin Rock. This prominent rock is an iconic feature at Long Beach. However, this small island is also one of the more dangerous spots to surf at the beach.
At Lovekin Rock, there is a powerful rip current that will pull unsuspecting surfers out into the Pacific Ocean. Several surfers have died or needed to be rescued by the Canadian Coast Guard from this rock.
We highly recommend that you avoid surfing near Lovekin Rock, especially if you're a beginner. Better safe than sorry!
Wickaninnish Beach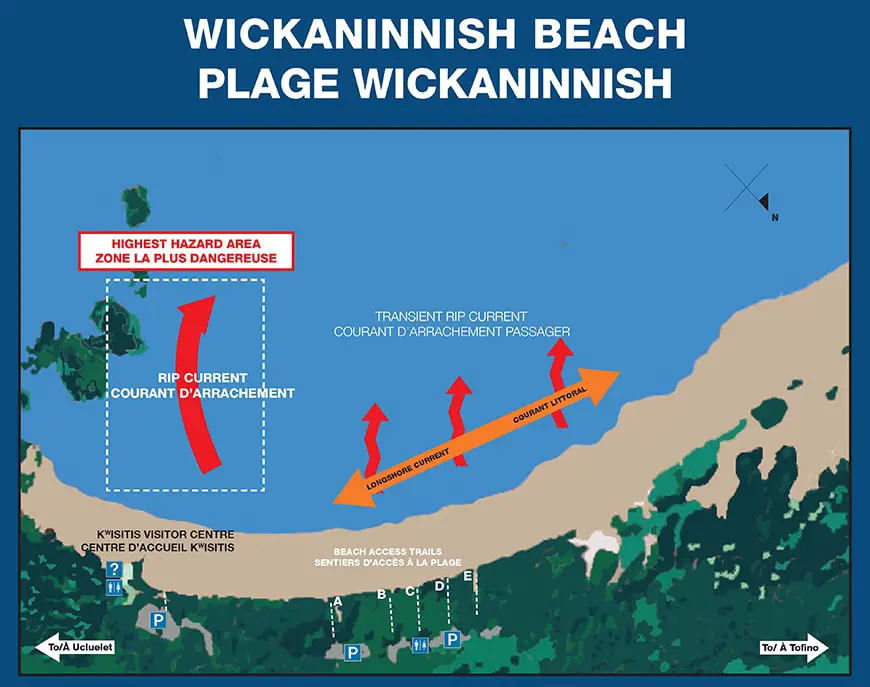 If you're looking for a great place to surf, Wickaninnish Beach is definitely worth checking out. With a long stretch of sandy beach and beautiful ocean views, it's no wonder this spot is a popular choice for surfers of all levels.
Wickaninnish Beach is the southern portion of the spectacular Long Beach Unit. About 20 minutes from Tofino, this top surfing spot is closer to Ucluelet but it's still worth a visit.
The waves at Wickaninnish Beach are more unpredictable than in other spots. But, you'll still be able to catch some amazing swells here.
The beach is home to the annual Canadian Surfing Championship. There are also several surf schools that teach lessons on this beach.
The parking lot is on the south side of the beach. Here, you'll also find the Kwisitis Visitor Centre. This interpretive center is a great place to learn about the west coast and the First Nations of Vancouver Island.
Florencia Bay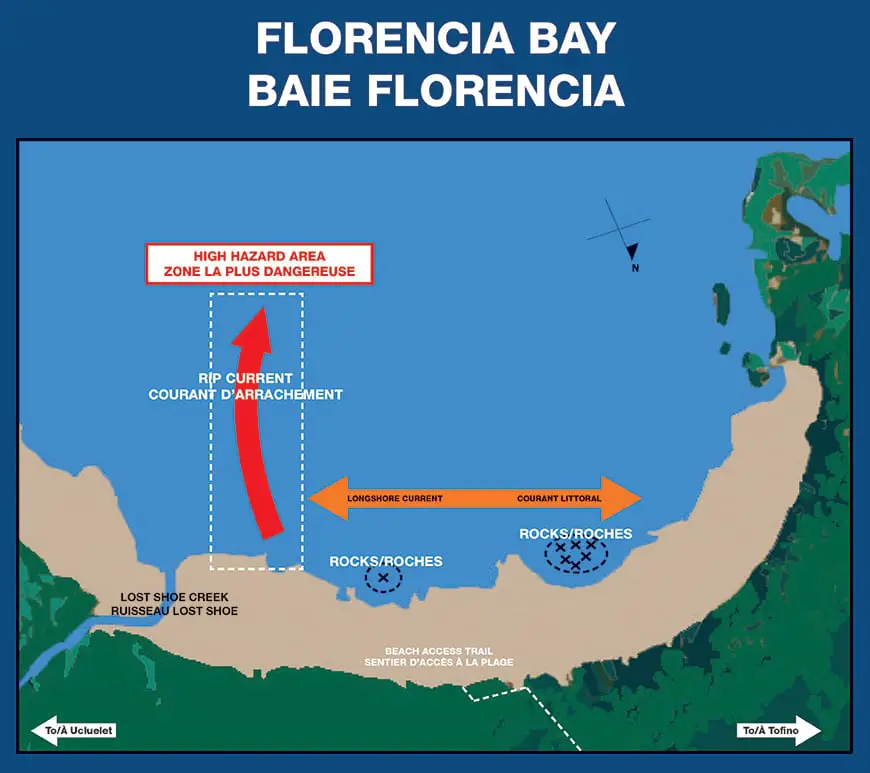 Florencia Bay is a great surfing beach near Ucluelet (also called Ukee by locals). It makes up the southernmost beach of the Long Beach Unit in the beautiful Pacific Rim National Park Reserve.
Unlike some of the other beaches near Tofino and Ucluelet, there are some underwater rocks you have to watch out for. There's also a rip current near Lost Shoe Creek to keep an eye out for.
You can access Florencia Bay by road, which is best if you plan on surfing. Or, for some extra adventure, hike the Nuu-Chah-Nuulth Trail from Wickaninnish Beach to Florencia Bay.
When Is the Best Time to Surf in Tofino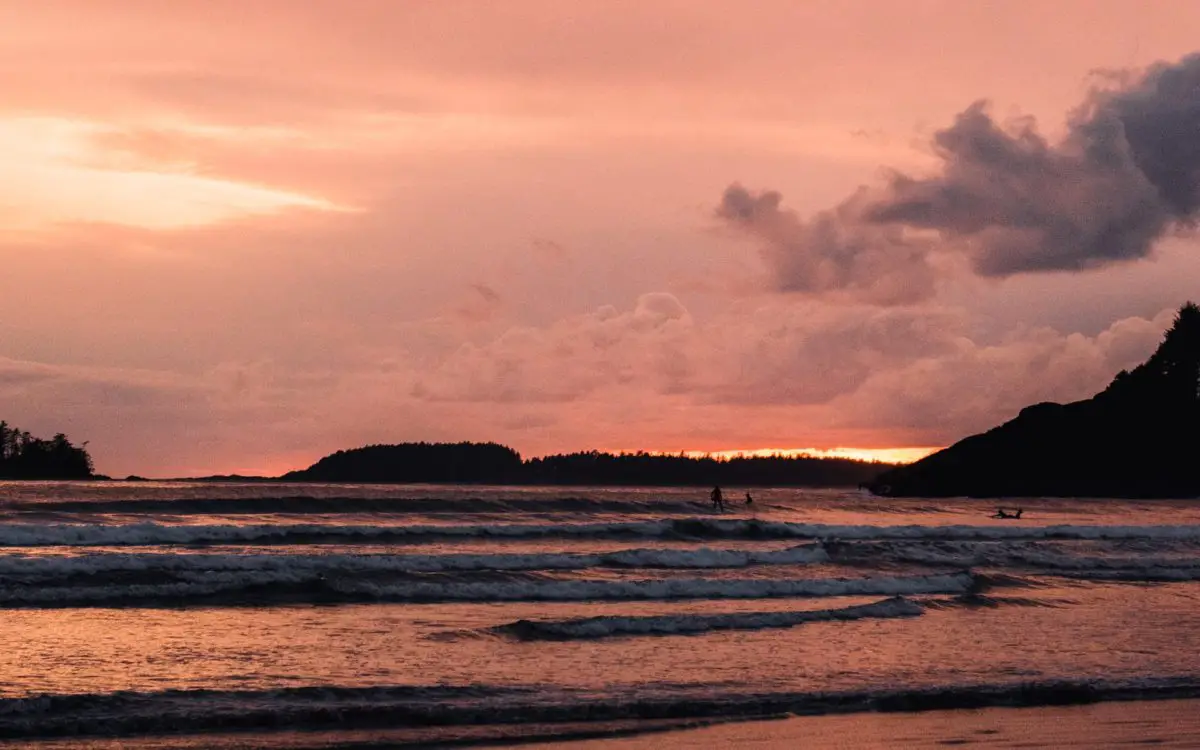 Any surfer will tell you that the time of year that you go surfing matters. Throughout the year, wave conditions will change. Some seasons bring much better swells than others.
So, what is the best season for surfing in Tofino? Well, that depends on exactly what you're looking for!
Here are the surf conditions you'll find in Tofino through the year:
Spring (March to May)
Weather systems moving north along the coast bring sizeable swells to Tofino over the spring. However, waves start to get gentler as you near summer. This is a great time for less experienced surfers, as the swells decrease in intensity and the weather starts to improve. It's also a great time of year if you prefer fewer crowds!
Summer (June to August)
The summer months bring plenty of sun, warm weather, and the best surf conditions for beginners. Small, gentle waves are common, although you might get some larger waves.
Tourists also flock to Tofino in the summer, so get ready to deal with more people on the beaches. Get up early if you want to avoid the crowds, as well as the northwestern winds that pick up in the late afternoon.
Fall (September to November)
While summers are popular in Tofino, a local secret is that fall is actually the best season for surfing. Crowds start to disperse, the water is as warm as it'll get, and big waves start to roll in. Larger swells bring in surf events like Queen of the Peak, the annual Women's Surf Championship. Keep an eye out for storms, which start up later in the year. The weather in Tofino changes quickly!
Winter (December to March)
Winter is storm season when the full power of the Pacific Ocean pummels the coastline of Tofino. Wild storm systems create massive waves, up to 30 feet high. The swells get quite large, making for epic waves and awesome storm watching. On stormy days, you'll often be better off watching the tempest from indoors.
Of course, not all of the waves are massive but you'll definitely be in for more of a challenge at this time of year. The water is colder, the winds stronger, and the waves larger, but the beaches are way less crowded. In the winter, Tofino waves are best suited for experienced surfers.
Do You Need a Wetsuit to Surf in Tofino?
When you think of surfing, you probably have images of people riding surfboards in their boardshorts or bathing suits. While we don't want to spoil that image for you, it's just not the case in Tofino. You'll definitely need to wear a wetsuit so you don't freeze!
The water around Tofino (and Vancouver Island in general) is quite cold. How cold exactly? Well, usually the ocean ranges between 7°C (45°F) in the winter and 15°C (59°F) in the summer. That's really chilly!
So, you'll need a thick enough wetsuit for surfing the waters around Tofino. We recommend a 5/4 wetsuit (make sure it has a hood). The 5/4 numbers mean that the neoprene is 5mm around your core, and 4mm for your legs and arms. This wetsuit thickness is the best for braving the cold ocean waters in Tofino!
Not sure what gear you need to surf in Tofino? Check out our guide on what surf equipment you need for the cold water around Vancouver Island.
If you don't have your own gear, don't worry! There are plenty of rental shops around Tofino. Renting a wetsuit and surfboard together usually cost about $50 per day.
Things to Know about Surfing in Tofino
No Lifeguards
Surfing on Long Beach in Tofino can be a great experience, but it's important to be aware of the waves and surf conditions before you hit the beach. There aren't any lifeguards to save you if something goes wrong!
Be aware of hazards in the water like rocks and rip currents. Also, make sure that you're a strong swimmer. There's always a chance that you need to paddle to safety!
Rip Currents
One of the main water hazards at the beaches in Tofino are rip currents — powerful channels of water that flow away from the beach. These rips form by waves breaking on the shore and excess water flowing back offshore via the path of least resistance.
Rips are strong at the surface of the ocean and will quickly pull you away from land. For this reason, they're quite dangerous to people in the water and are responsible for numerous deaths worldwide each year.
So, what should you do if you get stuck in a rip current?
Many people will try to swim against the current. But, fighting the rip current is a bad idea. It'll just tire you out and increase your risk of drowning!
Instead, swim parallel to the shore until you're out of the rip current. Most of the time, rip currents are quite narrow, only 50 to 100 feet wide. Once you've escaped the current's pull, you can swim back to shore.
Pay attention to the rip current maps posted by Parks Canada online and at the beach. This way, you can avoid getting yourself into trouble in the first place!
Pacific Rim National Park Reserve
Pacific Rim National Park Reserve consists of 511 km2 of rugged coastline, lush rainforests, remote islands, and stunning sandy beaches.
The park is split into three units: Long Beach, Broken Group Islands, and West Coast Trail. Long Beach, along with Wickaninnish Beach, Combers Beach, Florencia Bay, and Schooner Cove, make up the Long Beach Unit.
Plan on visiting Pacific Rim National Park on your trip to Tofino? You'll need a park entry pass if you plan on surfing the waves or exploring the trails. Here are the entry fees for the Pacific Rim parks permit.
Don't worry — you don't need to pay for a park permit if you're just driving through!
Where to Stay in Tofino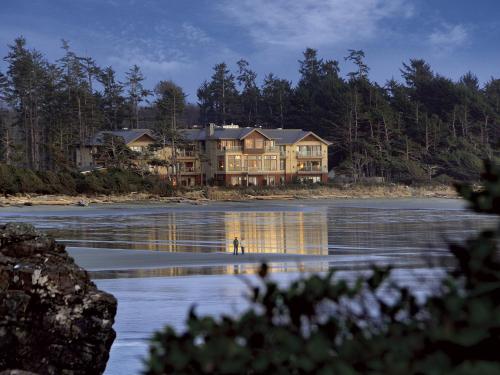 Luxury Hotels
Mid-Range Hotels
Budget-Friendly Places to Stay
Where to Stay in Ucluelet
Tofino is an expensive place to stay, there's no doubt about that. If you don't mind booking outside of town, staying in Ucluelet is a great option that'll save you some money. Here are some of the best accommodations in Ucluelet:
How to Get to Tofino
Even though Tofino is remote, it's pretty easy to get there by driving or flying.
If you're on Vancouver Island, driving to Tofino is pretty straightforward. Simply follow Highway 1 to the Parksville and Qualicum Beach area. Then, head west on Highway 4, passing Port Alberni on your way. When you arrive at the Tofino-Ucluelet junction, head north on the Pacific Rim Highway until you arrive in Tofino!
Coming from the mainland? You'll need to take a ferry from Vancouver to Nanaimo or Victoria. If you want to shave some time off your drive, we recommend taking the ferry route to Nanaimo.
Prefer flying to Tofino? Pacific Coastal Airlines is your best bet in terms of affordability. They operate daily flights between Vancouver and Tofino that take about 45 minutes one-way.
If you're traveling from outside of Vancouver, you'll have to fly to Vancouver and then transfer onto a second flight to Tofino.
We use Skyscanner to find the best flights to Tofino. They filter through numerous flights to find you the best, cheapest, fastest, and most efficient flights.
Alternatively, fly up to Tofino on a seaplane! Vancouver to Tofino seaplane flights are probably the best way to travel to Tofino. Take off from the water and get a spectacular view of Vancouver Island and Tofino from the air.
Getting around Tofino
Getting around Tofino is easiest with a vehicle. There is a lot of distance to travel between the village and many of the surf beaches.
Need a rental vehicle? We recommend booking through Rentalcars.com to find the cheapest prices. You can get car rentals at the Tofino airport and many other locations on Vancouver Island.
A great alterative to driving around Tofino is biking, especially if you have an e-bike. Strap your surfboard onto your bike and pedal to your destination. There are bike trails that'll take you right to all the best surf spots in Tofino.
The 8-km Tofino Multi-Use Path (MUP) starts near Tofino's town centre and heads south. On your ride, you'll pass by Mackenzie, Chesterman, and Cox Bay Beach.
The Tofino MUP connects to the ʔapsčiik t̓ašii (pronunciation: ups-cheek ta-shee), a 25-km long paved multi-use pathway that passes through the traditional territories of the Tla-o-qui-aht and Yuułuʔiłʔatḥ First Nations.
The ʔapsčiik t̓ašii pathway takes you all the way across the Pacific Rim National Park Reserve. It allows you to bike to all the awesome surf spots, like Incinerator Rock, Long Beach, Wickaninnish Beach, and Florencia Bay.
Other Top Surf Spots on Vancouver Island
While Tofino has some of the best surfing in British Columbia, there are also a few other good spots on Vancouver Island. Keeha Beach and Pachena Beach near Bamfield offer excellent surfing opportunities similar to Tofino but with smaller crowds.
Closer to Victoria, Jordan River Regional Park is a great option when the conditions are right. Another option is Sombrio Beach in Juan de Fuca Provincial Park, where you'll find excellent waves, a hidden waterfall, and beach camping!
Raft Cove Provincial Park in northern Vancouver Island takes a bit of work to get to but rewards you with a beach almost all to yourself. Also, if you're willing to charter a flight to Nootka Island on the west side of Vancouver Island, you'll find amazing remote surfing at Escalante Point, Rugged Point, and Calvin Falls. It's an adventure to get to these beaches, but they're quite incredible!
Lastly, if you want to venture further to the remote shores of Haida Gwaii, you'll find excellent surfing at North Beach in Naikoon Provincial Park!