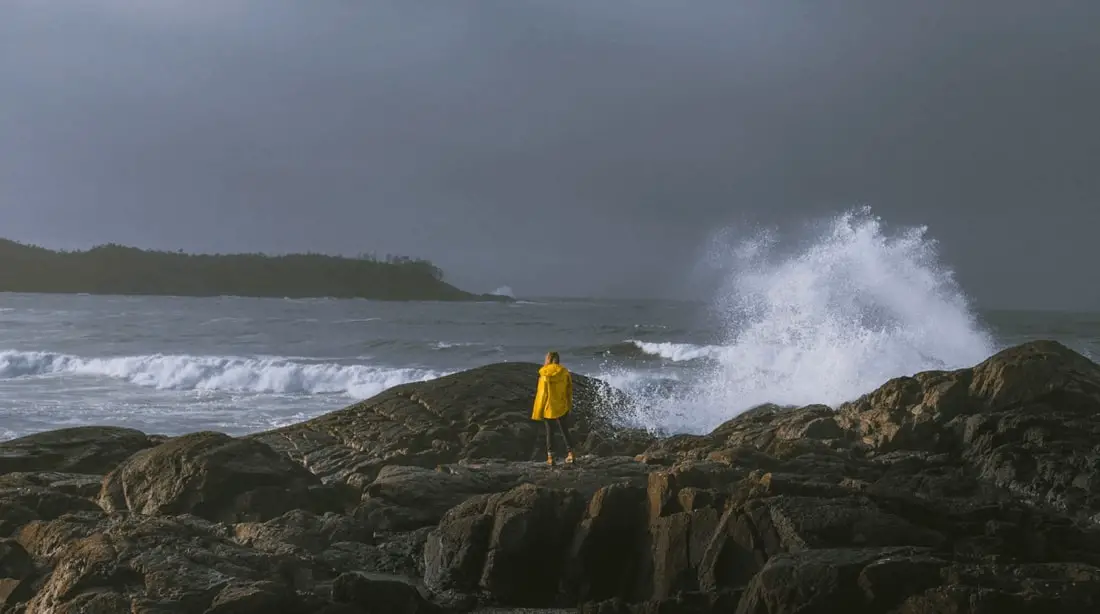 From November to February, Tofino is pummeled by intense winter storms, and witnessing one is an experience of a lifetime. While Tofino is a surfing hot spot in the summer, in the winter the storms are reason enough to make the trip to this west coast surf town. 
Exposed to the open Pacific Ocean, the Tofino coastline experiences wind that is built up over hundreds of kilometers, resulting in up to 20-foot high waves, intense rainfall, and moody skies. The storms can be enjoyed from the warmth of a hotel or for an immersive experience, right out on the beach. Either way, whichever you choose will be an experience you'll never forget!
For an indoor front-row seat to the action, you'll want to find the best places to stay in Tofino for storm-watching. Trust us, these oceanfront accommodations will make this incredible experience that much better.
All of these hotels in Tofino are perfect for enjoying the intense weather and offer amenities that will make your storm-watching trip unforgettable. Just be sure to safely enjoy the howling winds and crashing waves by wearing proper rain gear, avoiding standing on tidal rocks, and being aware of the rising tide — which can happen fast. Be sure to book one of these hotels for Tofino winter storm watching if you want to experience them for yourself.
Disclaimer – This post contains affiliate links. We may receive a commission if you make a purchase through these links, at no extra cost to you. Thank you for your support! Learn More.
Best Places to Stay in Tofino for Storm Watching
Not only is Tofino Canada's number one surf destination, but it is the perfect place to experience the awe-inspiring power of west coast storms. You won't find this spectacular show of nature's intensity in many other places.
Stay at the best Tofino accommodations to get a front-row seat to the waves. These are the best places to stay for storm watching in Tofino and you will leave with memories to last a lifetime!
1. Long Beach Lodge Resort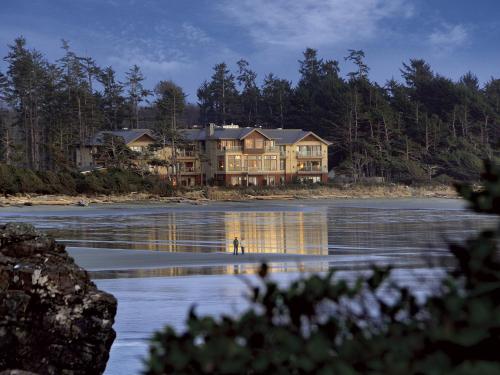 Situated right on Cox Bay Beach, Long Beach Lodge Resort looks over one of the best beaches on the west coast, giving it a prime position for both storm watching and surfing.
This boutique hotel has both an oceanfront lodge and secluded cottages in the rainforest. If you're booking a place to stay in Tofino for storm watching, an ocean-view room in the lodge is a must. Some of the lodge rooms face the forest while others face the ocean, so make sure you book the right spot!
One of our favorite places to storm watch at Long Beach Lodge Resort (other than right from the beachfront rooms) is their impressive Great Room. This gourmet on-site restaurant has stunning panoramic views of the Pacific Ocean through massive windows. It's also an awesome spot to watch the sunset over dinner.
In addition to incredible storm-watching opportunities, the resort offers rain gear for guests, as well as cozy bathrobes to stay warm on chilly days. The cottages have private hot tubs to warm up and relax in after enjoying the storms and the two penthouse suites have panoramic ocean views and fireplaces. This is also a great resort choice for surfers as they offer lessons for all skill levels, rental gear, and proximity to one of the best surf spots in Tofino.
2. Middle Beach Lodge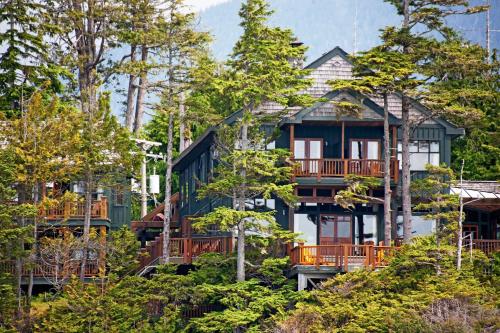 Middle Beach Lodge is the perfect winter getaway for both a quiet relaxing trip or an adventurous weekend. Located on the headlands between two beautiful beaches, Mackenzie and Middle Beach, this incredible resort is the perfect place to stay in Tofino for storm watching.
The resort has two lodges to choose from: one at the beach and the other at the headlands. Both offer ocean- or forest-facing rooms, so make sure to pick a room with ocean views if you plan on storm-watching! There are also forest treehouses, but they only have partial views of the water.
Some suites at the Lodge at the Headlands have fireplaces that are perfect for warming up beside after venturing out into the storm. And, many rooms have balconies for better views of the ocean, as well as large bathtubs to soak in after being out in the rain.
Looking to do something other than storm watching? You can venture to the nearby beaches for walking or surfing. Or, explore the forest trail system around the lodge, with relaxing walks that'll take you 10-15 minutes to complete.
3. Ocean Village Resort
Ocean Village Resort is home to cozy, rustic cabins right on MacKenzie Beach, allowing for easy storm watching from both the indoors and outdoors. The cabins all face the ocean making this a top Tofino storm-watching hotel. 
If you are on a budget, the garden rooms are more affordable and just a short walk from the beach. Even better, your pups are allowed to join you here (as long as you haven't booked an upper studio) and they'll get a special care package upon arrival.
There is also an indoor heated pool, the only one in Tofino, and a hot tub to unwind after a day of intense storms. When it's not raining, they also rent out propane fire pits for a beach campfire and there's a BBQ you can use to make dinner.
Overall, the Ocean Village Resort is one of the best places to stay in Tofino for storm watching for travelers looking to stay in a cozy cottage right on the beach.
4. Wickaninnish Inn
The Wickaninnish Inn is a beautiful boutique hotel that was made for storm watchers. There are two buildings here, the Pointe Building on a rocky outcropping, and the Beach Building surrounded by forest beside Chesterman Beach. As far as storm watching goes, you cannot go wrong with either building!
Not only that, but the hotel has a storm watchers special, available November 1 – March 31. The special includes everything from a discount on a three-night stay to a wine and cheese plate! This winter deal also includes two Wickaninnish Inn oilskin hats, a delicious brunch each morning, and a book full of local storm stories. It's quite a romantic experience for two!
This oceanfront Tofino resort is a great choice for anyone looking for some outdoor adventure alongside their storm watching. Bikes are available for use and the Inn is right next to Chesterman Beach and trails through lush old-growth forest. Or, if you need some relaxation, head for a much-needed spa treatment at the Ancient Cedars Spa.
5. Pacific Sands Beach Resort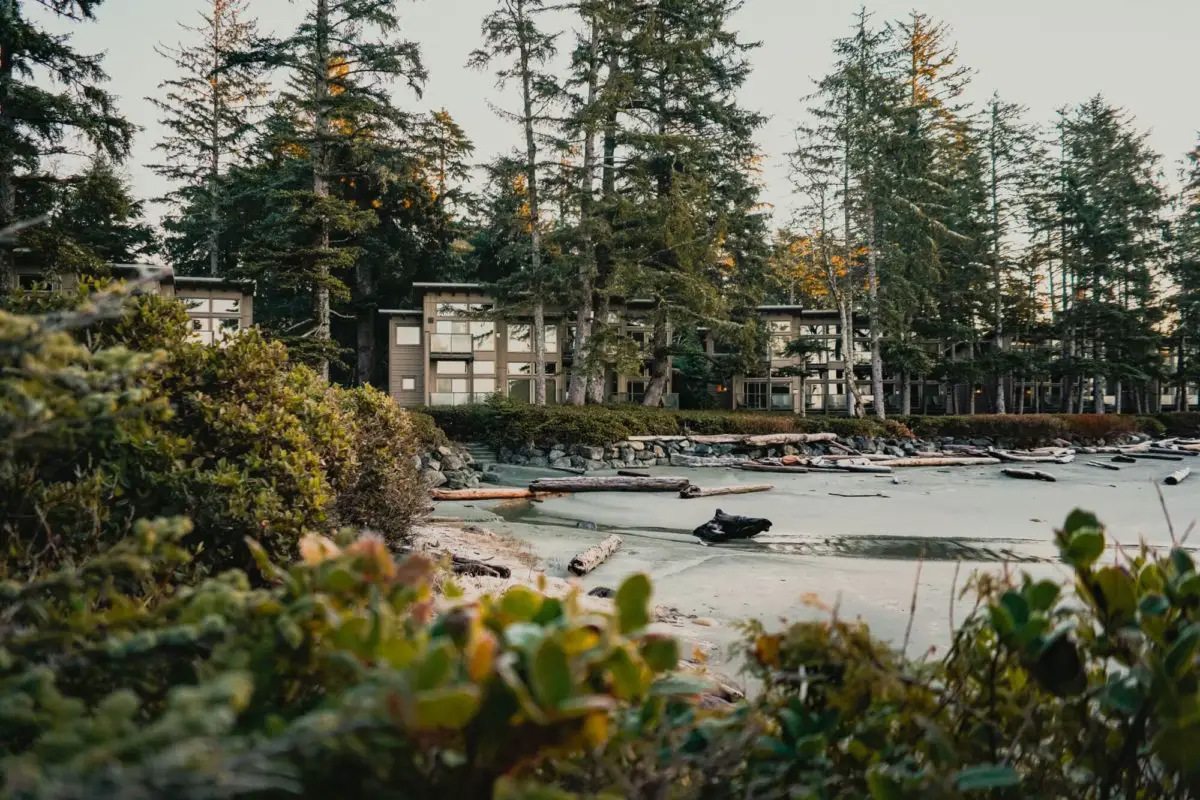 Pacific Sands Beach Resort is another excellent hotel right beside Cox Bay that is a great choice for a storm-watching vacation. Storms can be enjoyed from the beach or by the fireside in your oceanfront suite. 
This beachfront resort has quite a variety of lodgings to choose from including beach houses, beachfront suites, lighthouse suites, lodge suites, oceanside suites, and hot tub suites. Our favorite rooms to stay in are the luxury oceanfront suites with hot tubs on the balcony. Enjoy being outdoors in the stormy weather, all while staying warm in the hot tub!
They offer storm-watching packages with higher discounts the longer you stay in beachfront and ocean-view suites. With this package, you'll get a variety of goodies including hot chocolate each day, as many movies with popcorn as you want, and a complimentary bottle of wine. If you're feeling adventurous, they'll also lend you rain slickers for your stormy beach walks.
This top Tofino resort is another dog-friendly option if you want to bring your furry friend along on your storm-watching adventure. Surf lessons and rentals are available here too, as well as bike rentals, spa treatments, complimentary coffee, and the Surfside Grill restaurant.
Where to Go Storm Watching in Tofino
With the right accommodations, you won't have to go far to get a good view of the waves and rain. But, if you want to venture out into the storm, here are some spots that we recommend:
One of our favorite places to go storm watching is at the Kwisitis Visitor Centre at Wickaninnish Beach. They have an observation deck with huge windows, giving you the best front-row seat to the Pacific Ocean's power.
During stormy weather, Cox Bay Beach gets pummelled with massive waves up to 40 feet high! This beach is popular with surfers and home to many of the surf events in Tofino.
Long Beach in Pacific Rim National Park Reserve has plenty of space to storm watch in the winter. Head to Incinerator Rock or Lovekin Rock to get some incredible wave action!
Chesterman Beach gets some impressive swells in bad weather. The best spot to watch is on the north end, where the huge waves crash into the rocks and spray into the air.