Victoria doesn't always get snow in December and for those used to a white Christmas, it might not feel quite like the holidays. One way to find the holiday spirit is to look at the beautiful Christmas light displays scattered all across the city. We always find that these colorful lights make us feel in the mood for the holiday season!
To help you find the best Christmas light displays in Victoria, we've compiled a list of the best places to go. Pack your family into the car with some thermoses of hot chocolate and check out all of these amazing holiday displays. Enjoy!
Best Places to See Christmas Lights in Victoria, BC
1. Butchart Gardens – The Magic of Christmas Event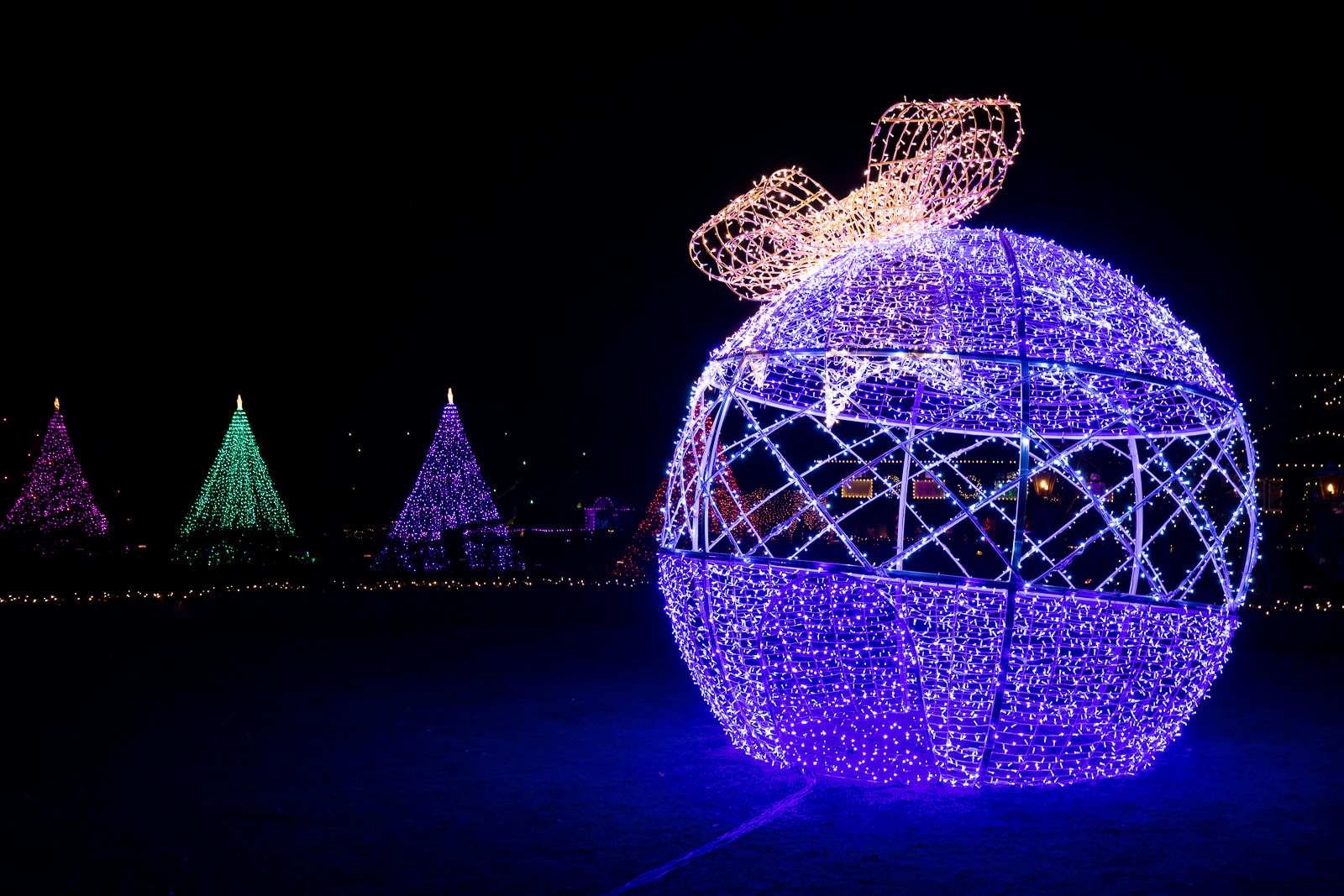 One of the most spectacular Christmas light displays in Victoria is at the Butchart Garden's "Magic of Christmas" event. Featuring a Twelve Days of Christmas theme, these famous, beautiful gardens fill with thousands of sparkling lights through the holidays. Walking through the Butchart Gardens at Christmas is truly a magical experience!
Purchase your tickets at the gate or for those who don't have a vehicle, this Butchart Gardens shuttle will take you straight there from downtown Victoria (plus it includes admission).
While the Butchart Gardens open earlier in the day, the best time to visit the Magic of Christmas event is during the evening. In the dark, you really get to enjoy this incredible light show. Don't miss the sunken garden — that's our favorite part!
Grab a hot cider from the café and walk around for hours enjoying sparkling lights and Christmas music. There's even a merry-go-round for children!
2. Parliament Building and the Inner Harbour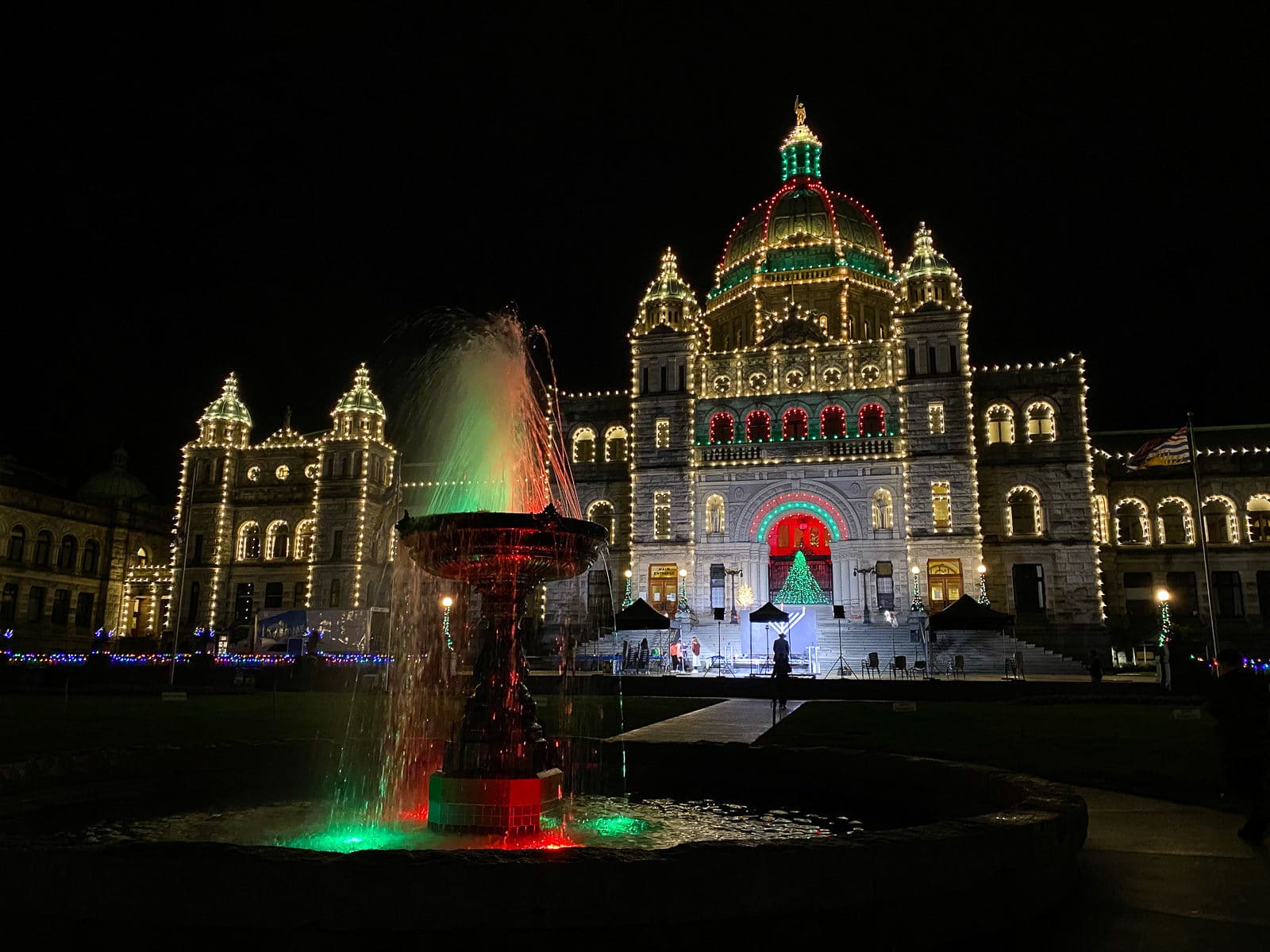 Victoria's Inner Harbour is always quite beautiful but during December, it becomes festively decorated with all kinds of Christmas lights. Admiring the lights of downtown Victoria is an excellent way to feel the magic of Christmas!
During December, the Parliament Building is lined with red, green, and white lights, like a gingerbread house with icing edges. The water fountain lights up with Christmas colors. As well, some of the ships in the harbor string up lights along their masts and ropes.
Wander around downtown Victoria on Wharf Street and the Inner Harbour Causeway, sipping a hot chocolate and enjoying the sparkling lights. It's a magical way to spend an evening!
Another great way to view the Christmas lights is on a private horse-drawn carriage tour of downtown Victoria. They'll pass in front of the Parliament Building and Inner Harbour on a loop along Victoria's waterfront, with sightseeing through Beacon Hill Park and historic James Bay as well.
There are also many other Christmas events in Victoria's downtown, such as the Gingerbread Showcase, the Santa Ballet, Victoria Harbour Lights, and Santa's Light Parade. Make sure to check them all out!
3. Christmas Lights Map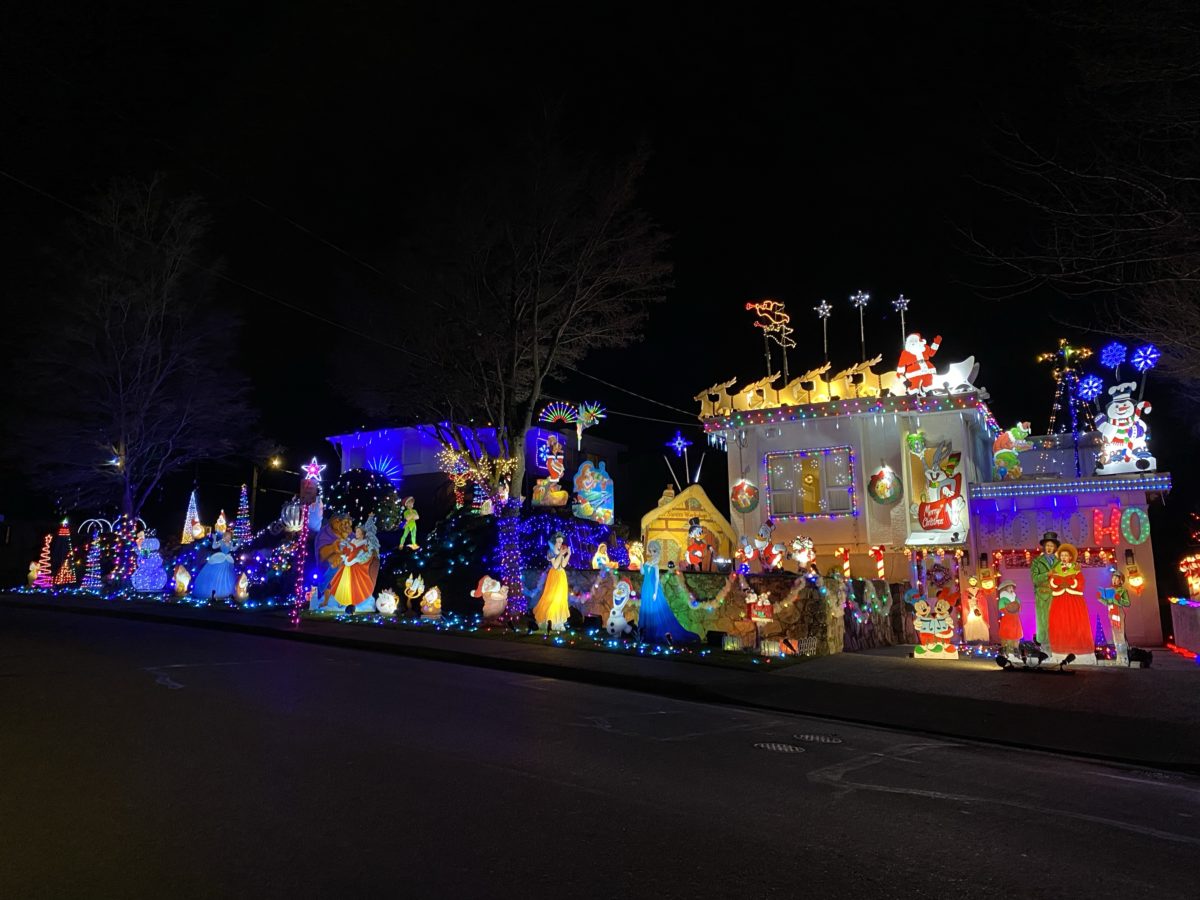 Every year, the Times Colonist and Victoria Buzz publish maps showing the locations of houses decorated festively with Christmas lights. Spend the evening driving around and enjoying each of these lit-up houses around Victoria!
All of the houses on the Christmas Lights Maps are self-submitted by homeowners in Victoria, BC. Anyone who wants to show off their Christmas light display — big or small — can submit their address to the map. Decorate your own home with strings of outdoor Christmas lights and submit it to the map!
Usually, the Victoria Buzz and Times Colonist Christmas lights maps are released in early to mid-December. Driving around to view the beautiful lights is the perfect way to spend the evening with your family and friends. You'll be surprised at just how good some of the displays are!
4. Oak Bay Village
During December, Oak Bay Village on Oak Bay Avenue is decorated with beautiful Christmas lights. This charming little shopping center in Greater Victoria is an excellent place to walk during the winter when it is festively lit.
Sparkling strings of lights are strung above the sidewalks and trees are colorfully lit like candy canes. On the corner of Oak Bay Avenue and Foul Bay Road, the city usually sets up a Charlie Brown Christmas display. The Municipal Hall gets festively adorned with Christmas decorations, too!
Oak Bay Avenue during the Christmas holidays is a beautiful place for an evening stroll with a warm tea or hot chocolate. Make sure you visit Oak Bay Village during the daytime also, to explore the adorable local stores and coffee shops along the street.
5. Lights of Wonder in Centennial Square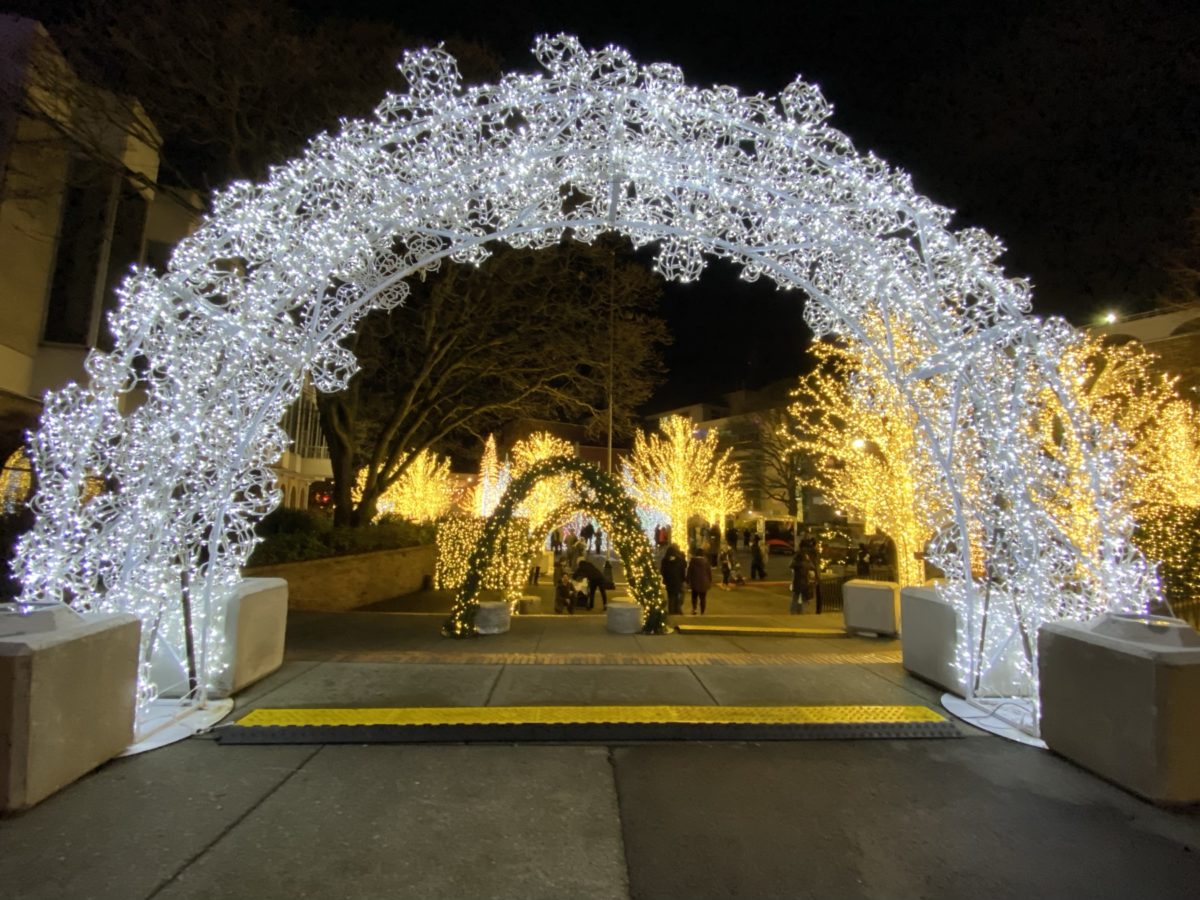 Walk through a forest of lights in Centennial Square each December with the Lights of Wonder event. This sparking event is full of Christmas cheer and an excellent way to spend a holiday evening!
Each year, the city of Victoria sets up trees of lights, as well as other lighted Christmas structures, near the downtown area. It's quite an impressive display of Christmas lighting!
Wander through the Lights of Wonder displays for free during the second half of December. Enjoy festive treats from local food truck vendors and be entertained by Victoria's Christmas performers and musicians on the stage. This is a great event for a date night or a family outing!
6. IEOA Truck Light Convoy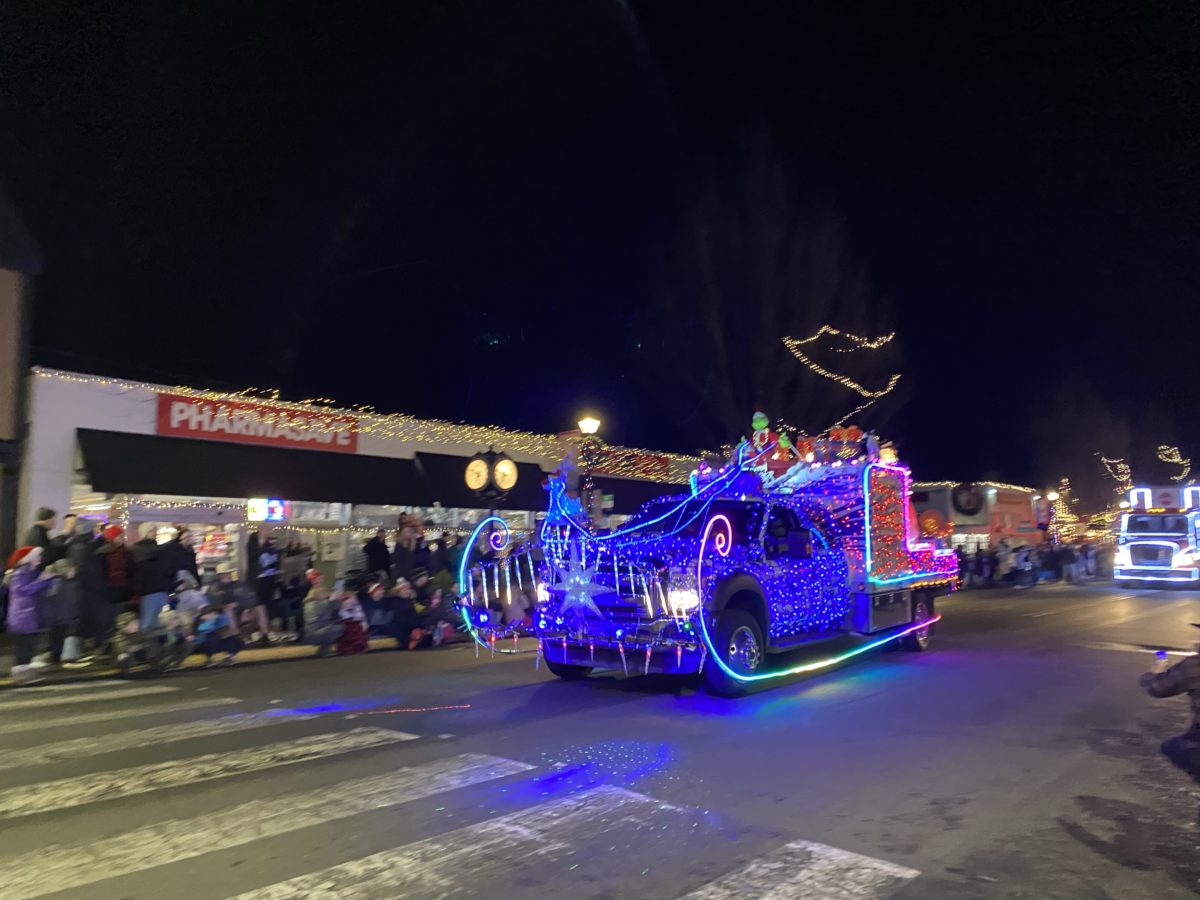 If you want to see thousands of dazzling Christmas lights, the IEOA (Island Equipment Owners Association) Truck Light Convoy is one of the best things to do.
Every year, this procession of sparkling, decorated trucks drives along Dallas Road from the Ogden Point Breakwater by downtown Victoria, heads along Beach Drive to Oak Bay Avenue, through View Royal, and all the way to Langford. They bring Christmas cheer to a huge part of Greater Victoria!
While there are many Christmas parades around Greater Victoria (like Santa's Light Parade), the Lighted Truck Convoy is one of the best due to its lengthy parade route. It never feels too crowded. Also, many Victoria residents don't need to go far to view this parade – it might even pass by your front door!
The IEOA Truck Light Convoy also raises food and money donations for charity. Support your community by donating to the food drive and enjoy some bright lights while you're at it!
7. Lighted Boat Parades
While Victoria doesn't get much snow, the city has a few unique Christmas light events that you won't see in other parts of Canada. One special way to view Christmas lights in Victoria is the lighted boat parades.
A local holiday favorite is the Lighted Boat Parade that follows the Sidney Sparkles Christmas Parade, one of the best things to do in Greater Victoria for Christmas. About 15-minutes after the Sidney Sparkles parade, people get to watch the lit-up boat parade happen from the Sidney waterfront on the Beacon and Bevan wharves and Beacon Park. The lighted sailboats look amazing on the dark ocean!
Decorated boats also sail past the city in the Sea of Lights Boat Parade that takes place between Cadboro-Gyro Beach and Willows Beach (two of the best sandy beaches in Victoria). Held by the Royal Vancouver Yacht Club, these holiday boats help to donations for local charities. Watch from Willows Beach, Cattle Point, or Cadboro-Gyro Beach — there's often hot cocoa and a beach fire too!
Note: We can't find any information about the Sea of Lights event for 2022. It may not occur this year — please let us know if you find any information saying otherwise!
Best Hotels for Christmas Holidays in Victoria
Fairmont Empress Hotel: One of the most popular, luxurious, and iconic hotels in Victoria. At Christmas, eat s'mores around a fire on their veranda, enjoy disco Christmas parties, and Christmas-themed tea services.

Hotel Grand Pacific is a mid-range hotel located nearby the ocean in downtown Victoria. The rooms are comfortable and each has its own private balcony!

Days Inn by Wyndham is a more budget-friendly hotel option. Even so, it has an on-site restaurant, pool, hot tub, and all you need to have a wonderful time!
Top Travel Tips & Resources for Victoria, BC