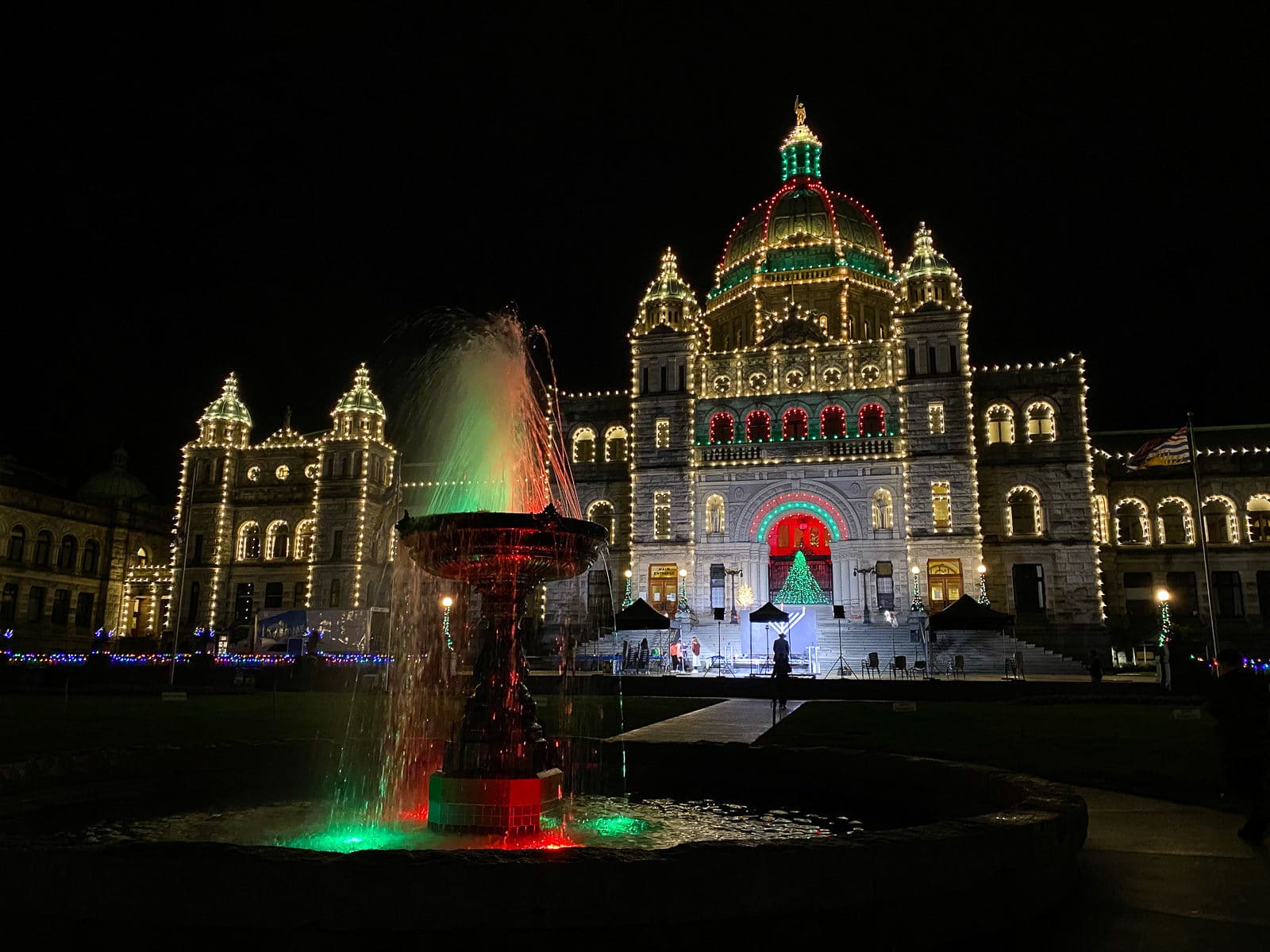 Victoria, BC is one of the best places to enjoy the holidays and get in the Christmas spirit. From Santa parades to gingerbread competitions, there are so many fun-filled festive things to do at Christmas in Victoria, BC!
During December, Victoria transforms into a magical wonderland, illuminated with thousands of colorful, sparkling Christmas lights. At this time of year, you'll find holiday decorations and entertainment around every corner.
We cover the best holiday activities to celebrate Christmas in Victoria this year, from watching decorated boat parades sail past to walking through fantastic light displays! We also provide information on the best holiday accommodations for your visit to Victoria in December, what to expect from Victoria's winter weather, and other tips to enjoy the city during the holidays!
Disclaimer – This post contains affiliate links. We may receive a commission if you make a purchase through these links, at no extra cost to you. Thank you for your support! Learn More.
1. The Magic of Christmas at the Butchart Gardens
Count down the 12 Days of Christmas with the Butchart Gardens' Magic of Christmas event! Every winter, the famous Butchart Gardens transforms their 55-acre gardens into a Christmas-themed holiday wonderland, illuminating their beautiful plants with over 300,000 colorful Christmas lights!
Purchase tickets at the front gate or for those without a vehicle, jump on a Butchart Gardens shuttle that'll drive you there from downtown Victoria (the fee also includes your admission).
Immerse yourself in this sparkling winter wonderland, indulging in hot chocolate while walking through spectacular light displays. But the light displays aren't the only attraction at this event. They also have Christmas carolers and other musical entertainment to enjoy during your visit!
This is one of the best times of the year to visit the Butchart Gardens and see it transformed into a sea of color. Make sure to visit in the evening after dark, when the magical gardens are the most spectacular!
Date: December 1 to January 6, 2022
Time: 3 p.m. to 9 p.m. daily
Location: Butchart Gardens (800 Benvenuto Avenue)
Cost: $34 for adults ($17 for youths 13-17 / $3 for children 5-12 / free for children under 5)
2. 40th Peninsula Co-op Santa Claus Parade
Celebrate the start of the Christmas season with Santa's Light Parade, a popular annual tradition held in downtown Victoria at the end of November. Enjoy holiday parade floats with Santa and his reindeer, talented bands playing festive music, and all kinds of live Christmas entertainment!
The parade starts at the intersection of Belleville Street and Government Street, heads through downtown Victoria, and finishes at Fisgard Street. The party doesn't end there though!
After the parade, head to the 'Hudson Holiday Plaza' — Victoria Public Market (1701 Douglas Street). Here, you can enjoy delicious food from local vendors, entertainment, pictures with Santa and Mrs. Claus, and live holiday music!
The event also collects cash, food, and toy donations for local charities. It's the perfect way to get in the festive mood at the start of the holiday season!
Date: November 26, 2022
Time: 5 p.m.
Location: Starting at the Belleville and Government Street intersection, the parade heads north on Government St., right onto Humboldt St., and then left onto Douglas St., ending at Fisgard Street. Other festivities continue at the 'Hudson Holiday Market' at 1701 Douglas Street.
Cost: Free – Donations welcome
3. Annual Gingerbread Showcase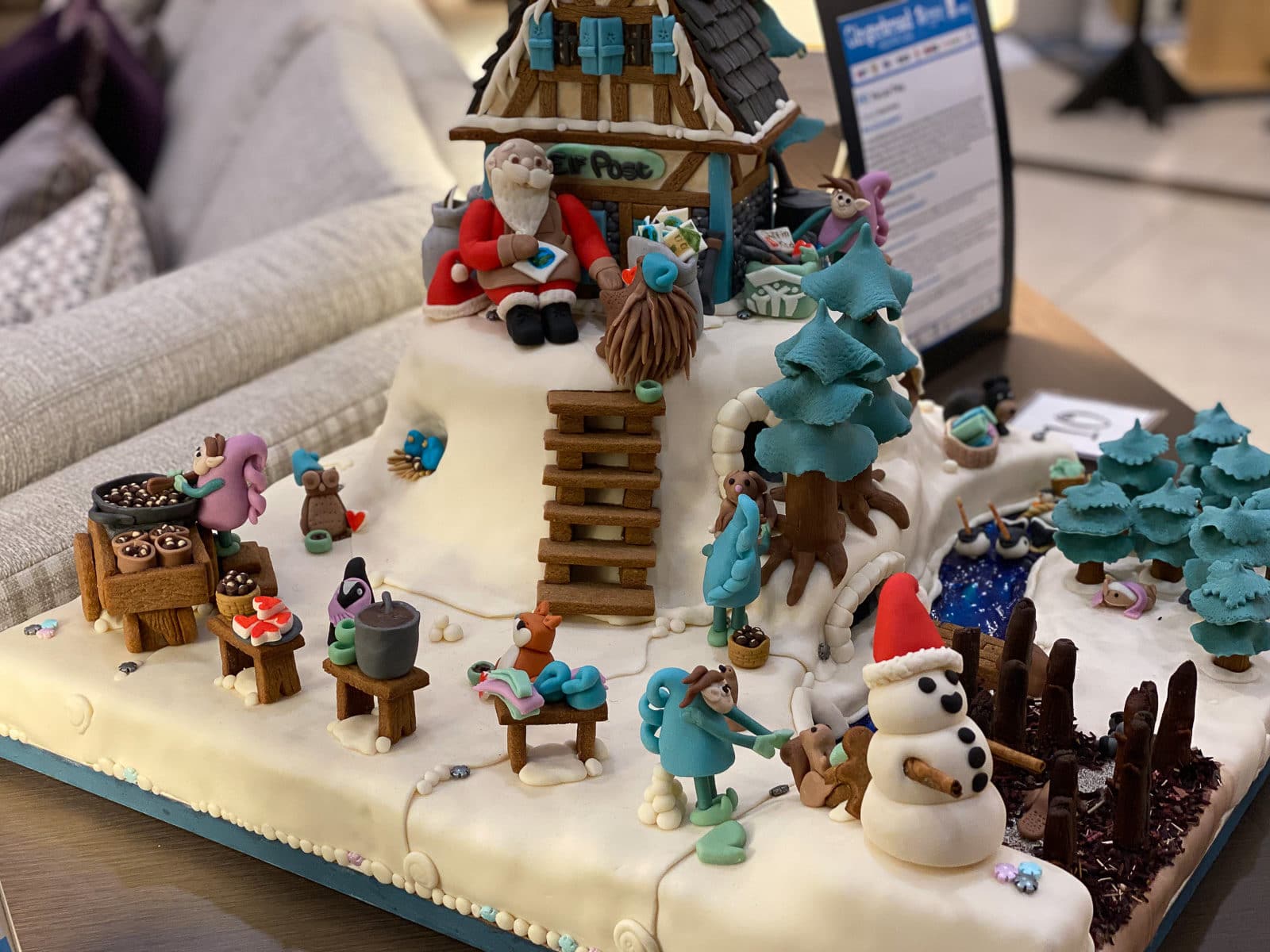 Every year, incredibly talented bakers take part in the 14th Annual Gingerbread Showcase to create 100% edible works of art out of gingerbread cookies and icing. You'll be amazed at what people create from gingerbread!
This event isn't only for creating and viewing these artistic gingerbread displays. The Annual Gingerbread Showcase is actually a fundraiser for Habitat for Humanity Victoria to help provide affordable homeownership opportunities for families in need. Donations let you vote for your favorite gingerbread display in the contest!
Each year there is a different theme for the contest, with 2022's theme: "Magical". Vote on your favorite cookie creation and donate to a good cause!
Date: November 26, 2022 to January 2, 2023
Time: 9:00 am – 9:00 pm
Location: Parkside Hotel & Spa's Atrium
Cost: Free – Voting by donation
4. Esquimalt Celebration of Lights
If you love parades, head to Esquimalt for their Celebration of Lights. This community event features an exciting Christmas light parade and of course, Santa Claus!
The parade starts at the intersection of Esquimalt Road and Canteen Road, and then heads along Esquimalt Road to the McDonald's entrance. You'll get a great view of the parade anywhere along Esquimalt Road. Keep your eyes open for Santa!
After the parade, head to the arena for more fun-filled events. There will be plenty of festive music – listen to live holiday music from local musicians or join in with some Christmas caroling! If you are hungry, they serve snacks like hot dogs, as well as hot chocolate and coffee. This fun-filled family event is a great way to celebrate the Christmas season, perfect for all ages!
Date: December 4, 2022
Time: 5 p.m. to 7 p.m.
Location: Esquimalt Road
Cost: Free
5. Lights of Wonder at Centennial Square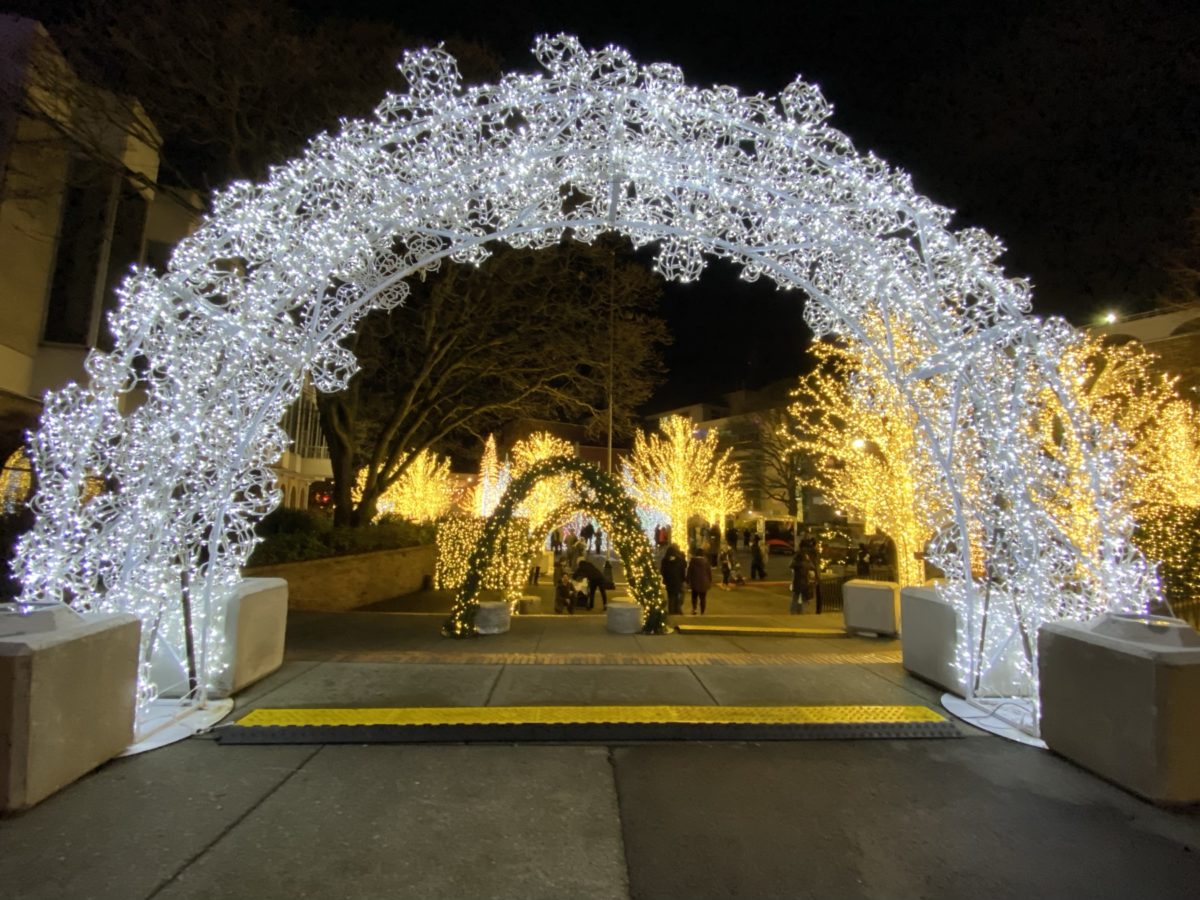 During the month of December, experience the magic of walking through the Lights of Wonder display in Centennial Square in downtown Victoria.
Each year, Centennial Square undergoes an amazing transformation into a colorful holiday wonderland, complete with an impressive display of Christmas lights, live entertainment from local performers, and yummy snacks from food vendors!
This is a great free event, perfect for the family and all ages. Grab a hot drink and wander through the lights, marveling at the magical displays. After, head to the Inner Harbour to check out one of the other light displays in downtown Victoria!
Date: December 15 to December 31, 2022
Time: Sunday to Thursday at 4 p.m. to 9 p.m. / Friday & Saturday at 4 p.m. to 10 p.m.
Location: Centennial Square, downtown Victoria
Cost: Free
6. Parliament Building Christmas Lights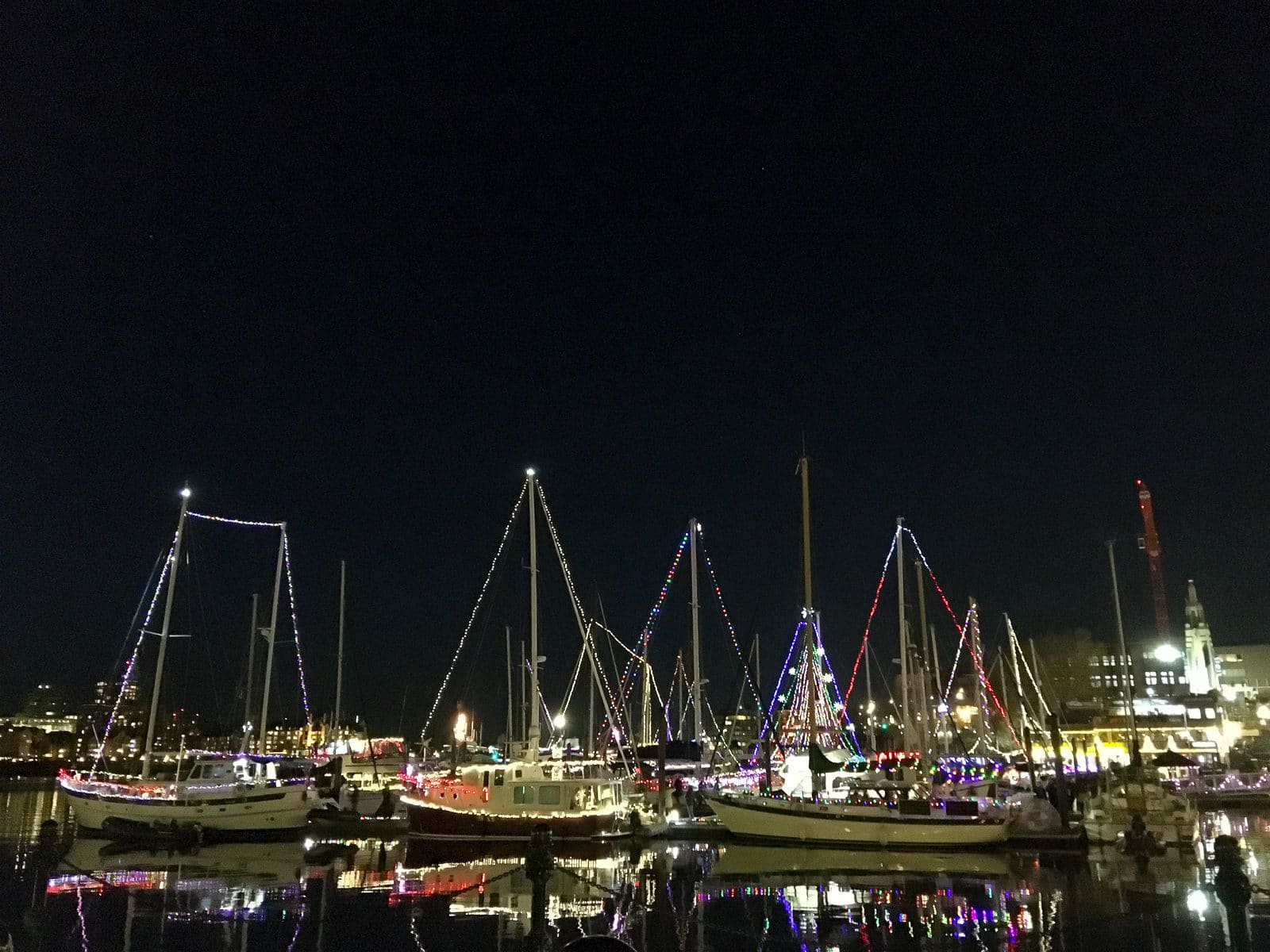 During the Christmas season, the Parliament building and the Inner Harbour are decorated with sparkling Christmas lights, making December one of the best times to visit downtown Victoria! Even some of the boats will be festively adorned with Christmas lights. Get in the Christmas spirit walking past the decorated buildings and boats in the Inner Harbor, while sipping on hot cocoa and listening to festive choir performances!
The Parliament building is lit up each year as part of the country-wide Christmas Lights Across Canada event. During the lighting celebration, there are holiday performances and live music that you can enjoy. When the Parliament building is lit up, white lights line all of the edges of the magnificent building, making it look almost like a giant decorated gingerbread house!
Date: December 8, 2022 to January 8, 2023
Time: Evenings
Location: British Columbia Legislature Building, 501 Belleville Street
Cost: Free
7. Light up the City Campaign
Get in the Christmas Spirit with the Light up the City campaign! Hosted by the Greater Victoria Festival Society, the Light up the City campaign takes place over 5-weeks during the Christmas Season. The event aims to raise donations for local charities and spread joy to the community.
Throughout Greater Victoria, there will be donation drop-off events on Saturdays, where you can donate non-perishable food, toys, and money to good causes while enjoying sightings of Santa and Mrs. Claus, festive music, Christmas lights, and more. They also help the city get in the holiday spirit with 'Pictures with Santa' events and by challenging homeowners and local businesses to a Christmas Lighting Contest!
Date: November 15 to December 31, 2022
Time: Varies
Location: Greater Victoria
Cost: Free – Donations welcome
8. Christmas Lights Map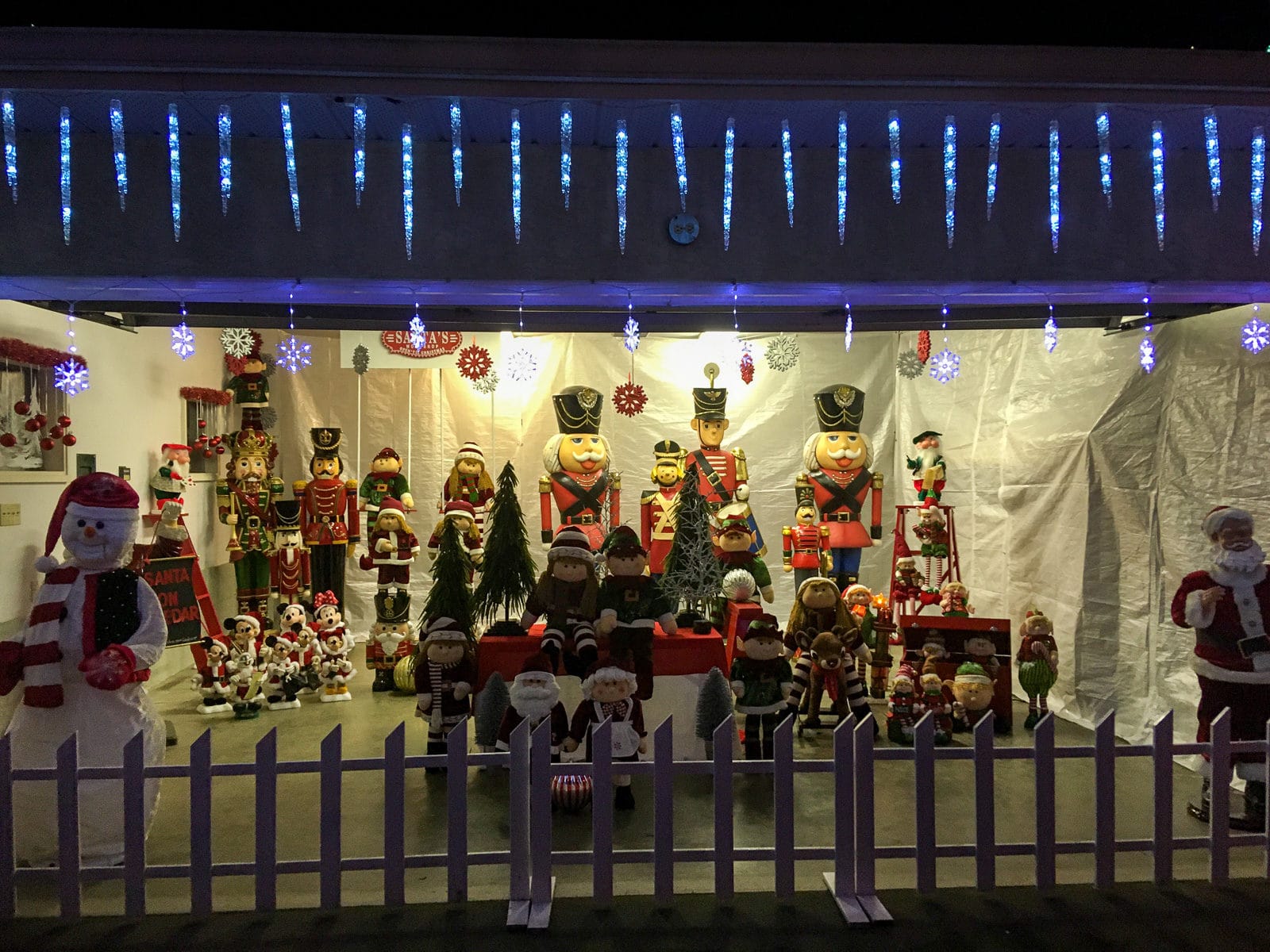 Some of the best Christmas light displays in Victoria are put on by local families at their houses. While these decorated houses are fun to look at, they aren't always easy to find. Luckily, the Times Colonist makes it easy for you to find these lit-up houses!
Each year around mid-December, the Times Colonist posts a map showing all the locations of festively decorated houses across Greater Victoria, based on submissions from homeowners. They even update the map through the season, as more houses become decorated. It's a lot of fun spending the evening driving around the city with friends and family, drinking hot chocolate, and enjoying the Christmas light displays in the neighborhoods!
Date: Mid-December
Time: Evening
Location: Greater Victoria
Cost: Free
9. The Festival of Trees
The Festival of Trees is an annual community tradition that fundraises for health care programs at the BC Children's Hospital Foundation. Local sponsors decorate over fifty beautiful Christmas Trees to help support this event.
These trees are displayed in The Bay Centre through the holiday season. Grab a tasty beverage in The Bay Centre and walk through this indoor Christmas Tree forest, under strings of sparkling lights!
For a donation, you can vote for your favorite tree and support the fundraiser! And, The Bay Centre will match all donations dollar for dollar up to $15,000, with every penny going to critical health care for children in BC! Come support a good cause and enjoy the beautiful trees!
Date: November 17, 2022 to January 3, 2023 (closed Christmas Day and New Year's Day)
Time: The Bay Centre's shopping hours
Location: The Bay Centre, 3125 Douglas Street
Cost: Free – Vote by donation
10. Lighted Truck Convoy Parade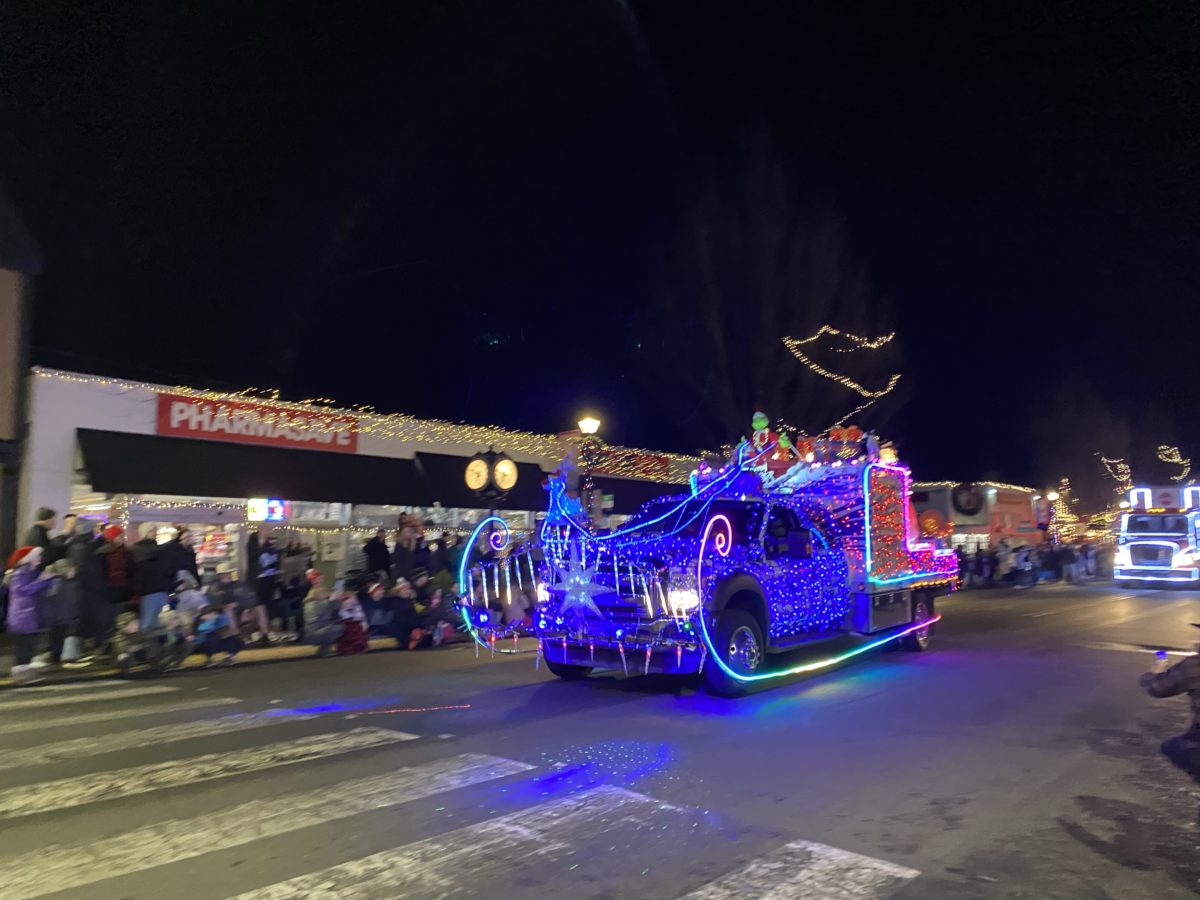 Still want more Christmas lights? Why not check out the IEOA Truck Light Convoy and marvel at over 80 festively-decorated trucks covered in thousands of Christmas lights! The trucks drive through Victoria, starting at the Breakwater District and finishing at the Westshore Motor Sports Park. Grab a mug of hot cocoa and watch the convoy drive past! Alternatively, enjoy the light show from the comfort of your home with online broadcasts.
These trucks spread Christmas joy, while also collecting donations for local food banks. The convoy collects food donations along the route, or you can donate cash online. Support the local food bank charities and enjoy a festive display!
Date: December 3, 2022
Time: 5:40 p.m. – 8:30 p.m.
Location: Breakwater District/Ogden Point (5:40 p.m.), Oak Bay Avenue (6:30 p.m.), Yates Street at Blanshard Street (7:00 p.m.), Burnside Road West (7:30 p.m.), Goldstream Avenue and Veterans Memorial Parkway (8:00 p.m.) and Bear Mountain Parkway (8:30 p.m.)
Cost: Free – Donations welcome
11. Sidney Sparkles Christmas Parade
Celebrate the holiday season with the Sidney Sparkles Christmas Parade, a favorite local tradition held in Sidney by the Peninsula Celebrations Society! This parade is a really fun way to kick off the holiday season. It's guaranteed to get you in the mood for Christmas!
This fun-filled event starts with a parade that makes its way from Resthaven Drive, marches along Beacon Avenue and finishes at Ocean Avenue. After the parade is over, head to the Sidney Waterfront to watch a Lighted Boat Parade cruise past on the ocean! Or, you can view the festively lit boats later, when they are tied up at Port Sidney.
This event is fun for the entire family and you don't want to miss this awesome parade!
Date: December 4, 2022
Time: 5 p.m.
Location: The parade starts at Resthaven Drive, turns on Beacon Avenue, right on Second Street, and finishing at Ocean Avenue. Then, people move to the Sidney waterfront (Beacon & Bevan wharves and Beacon Park) for the Lighted Boat Parade.
Cost: Free
12. Magic of Merridale's Christmas at the Farm
Enter into a beautiful Christmas wonderland at Merridale's Christmas at the Farm event, featuring sparkling Christmas lights, holiday decorations, and all kinds of entertainment! Each year, Merridale decorates their courtyard with Christmas decorations and lights. Their holiday displays include a Santa's workshop, the elves' village, and even a stable for Rudolph!
At this event, you can walk through their holiday displays and then head to the farmhouse for tasty appetizers, entertaining musical theatre productions, and a delicious Christmas dinner! If you don't stay for their Christmas dinner and show, you can still enjoy their decorated courtyard and drink mulled cider!
Date: November 18, 2022 to January 1, 2023
Time: Varies
Location: 1230 Merridale Road, Mill Bay
Cost: Free to view the light display
13. Christmas Night Market
Every Thursday through the holiday season, you can shop or eat a delicious dinner at the festive Christmas Night Market in downtown Victoria! The market is held inside the historic Hudson building at the Victoria Public Market. It features both permanent vendors and local artisans, selling all kinds of items.
Also, there isn't just shopping! Join in one of their Christmas-themed workshops or enjoy listening to live music while browsing the market. They even have mulled wine that you can drink while you browse!
Date: Thursdays during the holidays
Time: 5:00 pm – 8:00 pm
Location: 1701 Douglas Street
Cost: Varies
14. Christmas at Craigdarroch Castle
Share in the holiday magic with Christmas at the Craigdarroch Castle! One of the icon historic castles in Victoria, Craigdarroch Castle is a grand mansion built by Robert Dunsmuir, a coal baron in BC. Every year, the castle is decorated for the holidays, including a Christmas tree with vintage toys underneath, wreaths hung on the walls, and even an impressive Christmas feast!
Explore the castle while listening to live holiday music from local musicians. Learn about the Christmas traditions of the past, how families in Victoria used to celebrate Christmas, and how the Dunsmuir family used to live! This is a great festive activity for the holidays and a perfect way to view the historic, iconic castle!
Date: Starts December 1, 2022 (see schedule)
Time: 10 a.m. – 4 p.m. for tours / 6 p.m. and 8 p.m. for A Christmas Carol
Location: Craigdarroch Castle, 1050 Joan Crescent
Cost: Tours cost $20.60 for adults or $10 for children 6-12 / A Christmas Carol costs $33
15. Sea of Lights Boat Parade
One of the more unique Christmas events in Victoria is the Sea of Lights parade, a spectacular display of lit-up boats that sail between Cadboro-Gyro Beach and Willows Beach. You won't get a parade like this just anywhere!
The parade is held each year by the Royal Vancouver Yacht Club, to help raise donations for local food banks and charities. If you're feeling generous, any donations are welcome!
The best viewing spots for the Christmas boat parade are at Cattle Point, Willows Beach, and Cadboro-Gyro Park. These are some of the most beautiful beaches in Victoria. There is usually a huge beach bonfire to sit around and warm your hands. Sit on a blanket on the beach with a mug of hot cocoa, while watching the festive boats sail past!
Date: TBD
Time: TBD
Location: Between Willows Beach and Cadboro-Gyro Beach
Cost: Free – Donations welcome
Best Places to Stay in Victoria for the Christmas Holidays
Luxury: The Fairmont Empress hotel is one of the best, most luxurious hotels in all of Victoria. This iconic, elegant hotel is known for its fancy afternoon tea. Many famous guests have stayed at The Empress, including royalty like Queen Elizabeth. You won't be disappointed at this hotel: the rooms are both elegant and comfortable, and the staff provides exceptional service, catering to your every need. During the holidays, you can enjoy their festive events like eating s'mores on their veranda around a fire, Christmas parties with a disco, and holiday-themed tea service. It also has an unmatched view of the Inner Harbour's Christmas lights!
Mid-range: A good option for a more affordable but still luxurious hotel is the Hotel Grand Pacific. This hotel is conveniently located downtown near the ocean. Each of their rooms was designed for comfort, even featuring their own private balconies. Many rooms even overlook the beautiful Inner Harbour and are great spots to watch the sunset!
Budget: If you are traveling on a budget, the Days Inn by Wyndham is a good hotel choice. This hotel is affordable but is still downtown, with lots of amenities. The hotel has an onsite restaurant, a pool, a hot tub, and everything else that you need to have an amazing vacation. Many rooms even have great views of the water!
Weather to Expect in Victoria around Christmas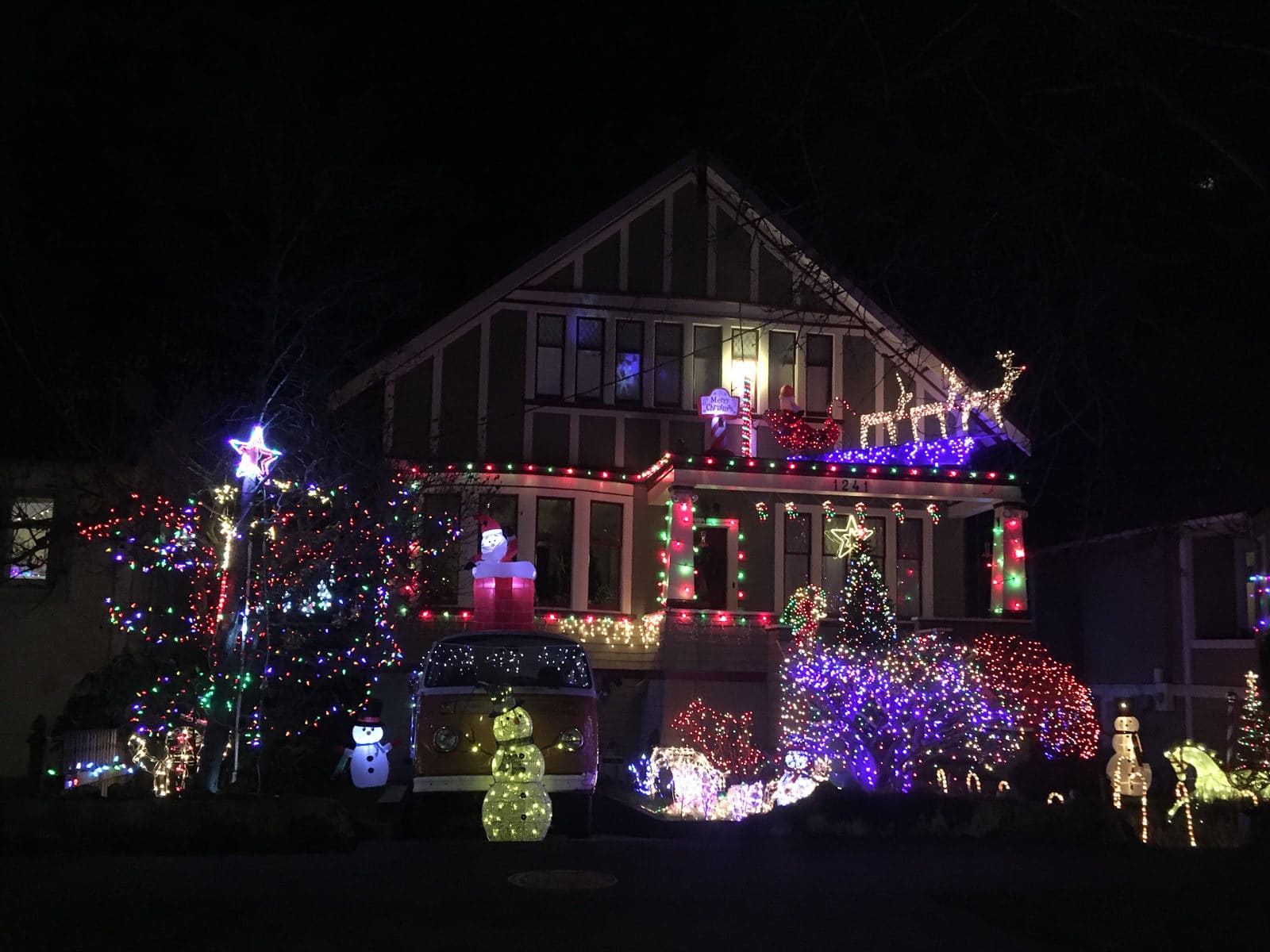 Victoria has a wonderfully mild climate but during the winter, it gets more cool, windy, and rainy. The temperature in winter usually ranges between 3C to 7C (or 37F to 45F), which can feel chilly. However, if you are traveling from an area with freezing weather during December, you'll probably find Victoria a nice break from the cold!
In winter, you'll have a higher chance of getting some rain. Dress appropriately for the weather and bring an umbrella, just in case! Arc'teryx coats are pretty popular in Victoria in winter, since they work so well at keeping you dry and warm.
If you are looking for a white Christmas, you may not find it in Victoria. It doesn't snow that often in Victoria and when it does, it only lasts a few days. When it does snow though, it snows a lot!
Final Thoughts
While Victoria might not get much snow through the winter, it's still an incredibly festive place to celebrate Christmas! The city is extremely beautiful during the holidays and there are lots of Christmas activities in Victoria to keep you busy!
For ideas on things to do in Victoria, BC, check out these articles:
Top Travel Tips & Resources for Victoria, BC