Located on Vancouver Island, the small town of Tofino is undoubtedly one of the best places to visit in British Columbia — even in winter! 
Tofino boasts breathtaking coastal scenery, ample wildlife-watching opportunities, seemingly endless sandy beaches, and some of the best surfing in all of Canada. While most popular in summer (it is a beach destination, after all), the fun doesn't stop there.
There are plenty of fantastic things to do in Tofino in winter! We actually prefer traveling to Tofino during the winter months as its less busy and cheaper. Unlike many other parts of BC, Tofino doesn't get much snow — just be prepared for lots of rain.
From indulging at local restaurants to winter surfing for the more adventurous travelers, there are many activities in Tofino to enjoy during the winter months. Below we're going to cover the best things to do in Tofino in winter. Whether you'd prefer to take it easy or you're up for an adventure, we've got you covered! 
Fun Things to Do in Tofino in Winter
For those who are wondering what to do in Tofino during the winter months, then keep on reading. We've compiled our favourite activities and places to visit, and you're bound to find something that suits your travel style. So, here are some of the top things to do in Tofino in winter!
Storm Watching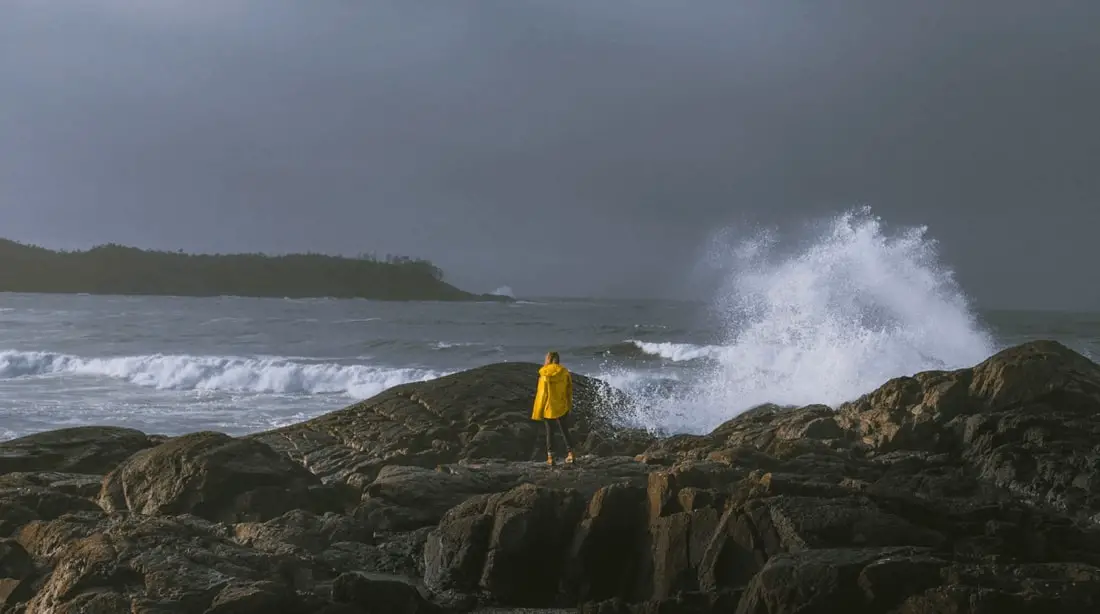 Thanks to its temperate climate, exposed coastline, and the fact that there's no land mass separating the coast from the open ocean, the winter conditions in Tofino are perfect for storm watching. 
During winter, epic storms roll in from the ocean and batter the coast with impressively large swells, dramatic skies, and wild conditions. These incredible storms are quite fun to watch, especially from a cozy indoor spot that overlooks the ocean.
If you can afford to stay at an oceanfront hotel, you'll get some of the best views of the storms. Here are some of the best places to stay in Tofino for storm watching. But if you can't swing the prices, there are still many other awesome spots to watch these natural phenomena.
For those who don't mind braving the weather, the beaches around Tofino offer some of the best storm watching opportunities. Just don't go too close to the waves!
Cox Bay Beach is one of our favorite spots to watch the huge waves. This beach gets such big waves that it's even home to some of the surf competitions in town.
The Kwisitis Visitor Centre on Wickanninish Beach has a big observation deck that's great for viewing the waves. Also Long Beach has plenty of space to storm watch in the winter. Head to Incinerator Rock or Lovekin Rock to get some incredible wave action!
Winter Surfing
Surfing — in the winter!? While that might seem like a crazy idea, trust us — you'll have a blast.
Known as the 'Surf Capital of Canada', Tofino is home to some of the country's best surfing beaches. With kilometers of sandy shoreline with beach break waves and plenty of surf schools, you just can't not go surfing when visiting Tofino.
We actually tried surfing for the first time in Tofino during February. While initially we worried about being too cold (I'm the kind of person to wear a sweater in summer), we were actually quite comfy in the thick wetsuits. With a full wetsuit, only your face is really exposed to the cold water. So trust us, don't let the cold stop you!
Chesterman Beach, Cox Bay, and Long Beach are home to the area's best swells. Just make sure you're fully prepared for surfing with a full wetsuit (preferably 5 mm thick with a hood, boots, and gloves).
If you don't have you're own surf gear, don't worry. There are many rental companies to choose from around Tofino.
Visit Hot Springs Cove 
Heading to Hot Springs Cove is undoubtedly one of the best things to do in Tofino in winter. Here, you'll find seven geothermal pools, surrounded by lush temperate rainforests and rugged coastlines.
Honestly, the beauty of this place will blow you away and you'll essentially have a natural spa day. What more could you ask for? 
Hot Springs Cove is located in Maquinna Marine Provincial Park. You can get here on a 20-minute seaplane flight or a 1.5-hour boat ride. In fact, you can combine both on the 'Sea to Sky' trip which is a fantastic experience! 
Once you reach the cove, there's a 1.5-km walk which will take you along a rainforest boardwalk. This hike takes around 30 minutes and then it's time to relax!
Once you're there, you'll get to choose between the seven different geothermal pools — or move between them, if you'd like. The pools differ in water temperature, with the cooler pools closer to the ocean and the hotter ones more inland.
Go Hiking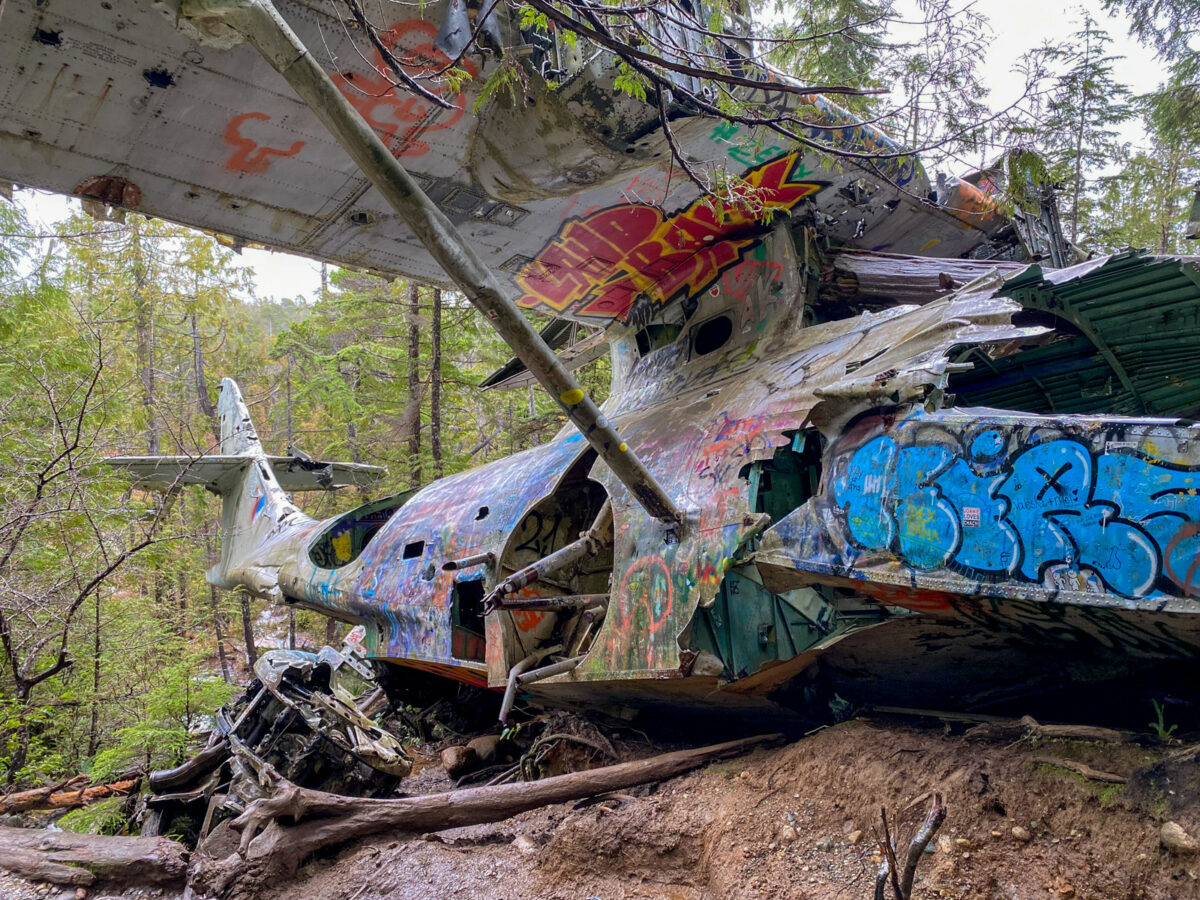 If you love the outdoors, don't let the winter weather stop you from exploring some of Tofino's best hiking trails.
The Tofino area is home to tons of awesome hiking trails, especially in the Pacific Rim National Park Reserve. Winter weather means the trails will be wet and muddy, but with a good pair of hiking boots and a rain jacket, you'll be fine!
The Cox Bay Lookout Trail is one of our favorite hiking trails as it's a true hidden gem! Although it's unmarked, muddy (even in summer), and steep, you'll be treated to some of the best vistas in Tofino from the top!
For those after a more unique trail, head to the Canso Plane Crash Site. The plane crashed back in 1945 (luckily, everyone survived) and it's surprisingly intact. Today, it's a popular spot to hike to, with the trail starting near Radar Hill.
Other great hikes around Pacific Rim National Park include the Rainforest Trails to see big trees, Willowbrae Trail, Nuu chah nulth trail, and ʔapsčiik t̓ašii (the multi-use Pacific Rim pathway).
Simply walking along the area's beaches offers a great experience too. You can admire the jaw-dropping scenery and get some storm watching in while you're at it!
Explore the Beaches
Pacific Rim National Park Reserve is one of the most beautiful beach destinations in British Columbia. Located on the west coast of Vancouver Island, between Tofino and Port Renfrew, this park is famous for its lush temperate rainforests, wildlife and of course, huge sandy beaches. 
The most famous beach to visit around Tofino is Long Beach. You can't miss it — the beach stretches for 16 km and includes Florencia Bay, Wickaninnish, Combers and Schooner Cove. Its a popular surfing spot at all times of the year, especially around Incinerator Rock, and great for long winter walks.
All of the beaches around Tofino are beautiful though, even the smaller ones — like Tonquin or Mackenzie Beach. We love watching the surfers at Cox Bay Beach, exploring the sea caves on Chesterman Beach, and tide pooling at Florencia Bay.
Just keep in mind that you'll need to pay for a parks pass to visit any beaches in Pacific Rim National Park. Don't let the fee deter you from visiting though — we promise the beaches are worth the money. For longer visits, we recommend purchasing an annual pass, which gives you access to all National Parks in Canada for the year.
Admire the Views from the Kwisitis Visitor Centre
If you're looking for things to do in Tofino in winter then head to the Kwisitis Visitor Centre. Located along Wickaninnish Beach, the visitor centre is around a 30-minute drive from Tofino.
Unfortunately, the visitor centre is currently closed for infrastructure upgrades. However, usually, you can wander around several exhibits, where you'll get information on the First Nations, the West Coast's history, and the local wildlife.
Even if you can't head inside right now, the outside deck of Kwisitis Visitor Centre is enough of a reason to visit. As it's located within the Pacific Rim National Park Reserve, the views are pretty spectacular! 
During the winter, the outside deck is a great place for storm watching. Just make sure you wrap up warmly as the wind is often strong here! 
Go on a Winter Wildlife Tour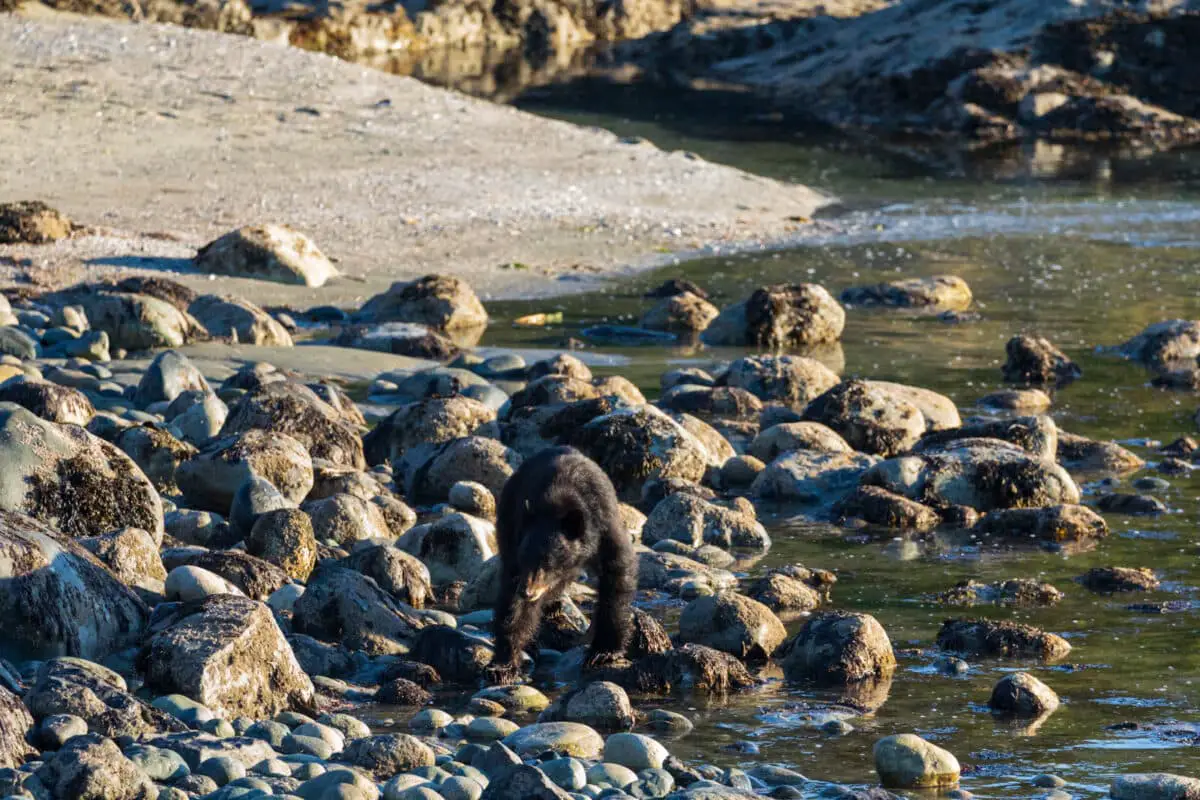 Tofino is famous for its wildlife-watching opportunities and the animals don't stop being active, even in winter!
Wildlife tours, including whale- and bear-watching tours, are quite popular activities through the summer, from March/April to October. However, you can also head out on a winter wildlife tour, which run through the rest of the year (October to March). Winter tours typically last for around 2.5 hours, departing at 9:30 am and 1 pm. 
On this boat trip, you'll explore the waters of Clayoquot Sound. Protected by many islands, the waters are often quite calm, and you've got a chance of spotting a wide variety of wildlife. This includes otters, sea lions, seals, whales, and bald eagles!
Better yet, the boats are covered so you don't have to worry about Tofino's rainy days. For that reason, these tours are one of the best things to do on a rainy day in Tofino. While the boats only seat 12 people, there's also the option of upgrading to a private trip if you're interested. 
For this activity, make sure you layer up and bring along a pair of binoculars (and a camera) if you can.
Eat at Tofino's Best Restaurants
There are plenty of things to do in Tofino in winter. No matter your hobbies, you're sure to find something to your liking. However, there's nothing quite like sampling the town's charming restaurants and delicious food. 
Shelter Restaurant is one of our favorite dining options in Tofino. With tasty bistro-style food, epic inlet views, and an inviting atmosphere, it's a great place to grab some food. The restaurant actually burned down in 2022 but has since reopened at the Tofino Resort and Marina.
There's also Wolf in the Fog, which is known for its rustic vibe, inviting decor, locally inspired foods and an incredible cocktail menu.  
Other popular options in Tofino include The Schooner Restaurant which offers mouthwatering seafood and Shed Tofino which is famous for its burgers. There's also Rhino Coffee House which is open until 4 pm and perfect for a midday coffee.
If you don't mind heading outside of town, then The Great Room at Long Beach Lodge Resort is another fantastic option. It overlooks Cox Bay, offering scenic ocean views and boasts a large stone fireplace.
Visit Local Shops and Galleries
If it's a really rainy day and you don't fancy heading out for a hike or boat trip, then spend some time wandering around the town. Although the town of Tofino itself is small, there are plenty of great local shops and galleries to visit.
The Roy Henry Vickers Gallery is one of Tofino's top indoor attractions. This incredible gallery is designed like a traditional Northwest Coast longhouse, with the facade beautifully painted with an eagle. Inside, you can admire artworks from this renowned artist, among others.
For those who are souvenir shopping, we'd recommend heading to the House of Himwitsa Native Art Gallery, which features Indigenous artwork and crafts. Other great spots to visit include the Tofino Visitor Center Gift Shop or LoveCraft Art Gallery.
If you're a keen surfer and looking to pick up some new gear (or get a rental board), then you'll be spoilt for choice. Popular surfing shops in Tofino include Live To Surf, Long Beach Surf Shop, and Storm Surf Shop.
Whether you're looking to buy artisan chocolates, clothing, surf gear, or photography prints, there's something for everyone! 
Relax in a Hot Tub 
If you don't want to make the trip to Hot Springs Cove, then why not choose accommodations with private hot tubs? There's no better way to relax and enjoy the breathtaking scenery all around you! 
At Long Beach Lodge Resort, the Pacific Penthouse Suites are the perfect option. Offering panoramic beachfront views right from the double-soaker tub, these are perfect for couples. There's also the Rainforest Cottages which feature a semi-private outdoor hot tub! 
Another great place to stay is Pacific Sands Beach Resort. They feature signature hot tub suites, some of which offer superb ocean views. If you're travelling as a large group then Sunset House sleeps 10 and offers a private deck with a hot tub!  
There are plenty of options to choose from, but just be aware that these will be pricey. However, if you're travelling out of peak season, you may be able to find some good deals! 
Enjoy a Winter Festival
For those after a more relaxing activity, why not time your visit with one of Tofino's winter festivals?
The Tofino Oyster Festival in November is perfect for foodies, with a weekend of live music, dancing, and of course, oysters. This event has been around for over 20 years, making it the town's oldest-running festival. You'll get to spend the festival listening to live music, eating delicious local oysters, and drinking champagne. What more could you ask for?
November also features another great event: the Tofino Adventure Film Festival. Films screened at this event showcase Indigenous culture, outdoor adventures, environmentalism, and more. This is a great festival for those rainy days in Tofino.
Celebrate the grey whales returning to the waters around Tofino at the annual, week-long Pacific Rim Whale Festival in March. Watch the ocean-themed Parade of Whales & Wonders march through the streets of Tofino or party at the Baleen Bash. Your kids will have a blast at the Maritime Kids Days, which features a live concert, crafts, face painting, and science experiments.
Top Travel Tips & Resources for Tofino, BC