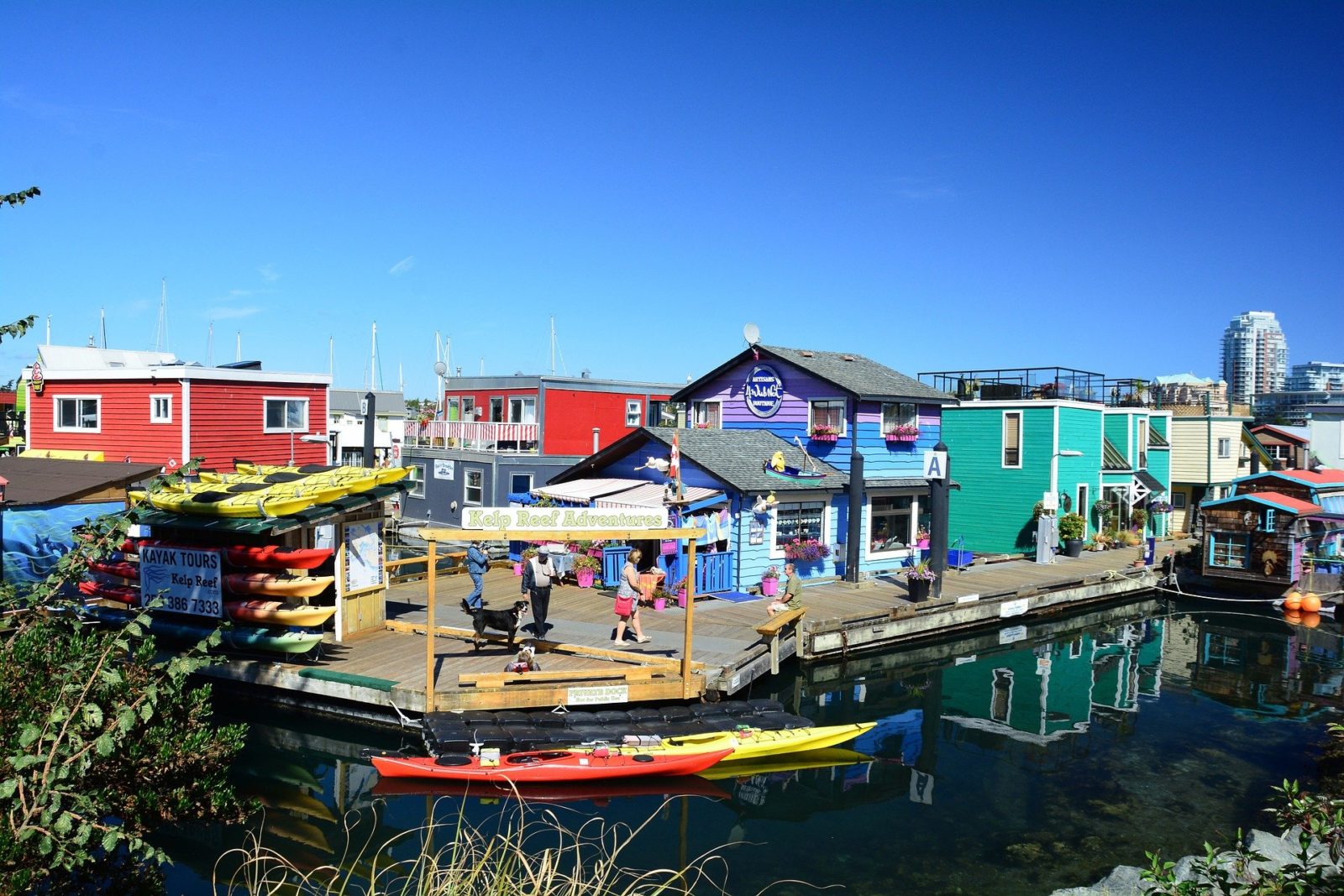 Are you tired of staying at the same old boring hotels that all look the same? Want to stay at a hotel with a twist? If you're looking for the most unique, unusual, or quirky hotels in Victoria, we're here to help!
Victoria has many standard hotels but luckily, the city is also full of weird and wonderful places to stay and things to do. Whether you're looking for a historic hotel or quirky colorful accommodations, we'll help you find the perfect spot for your extraordinary vacation.
We've compiled a list of the best, most unique and unusual hotels in Victoria that will make your trip to this oceanside city extra special. These hotels are definitely memorable, each with their own charm!
Disclaimer – This post contains affiliate links. We may receive a commission if you make a purchase through these links, at no extra cost to you. Thank you for your support! Learn More.
Most Unique and Unusual Hotels in Victoria, BC
If you don't have time to read through this article, here are the most unique, unusual, and interesting hotels in Victoria, BC:
Below, you'll learn more about Victoria's most unique, unusual, cool, and quirky hotels. You're sure to love these wonderful accommodations!
NOTE: Covid-19 protocols may impact some of the amenities at these unique Victoria accommodations. Contact the hotel before booking if you have any concerns!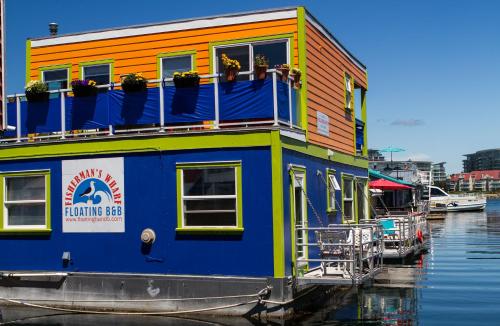 Address: B2 1 Dallas Road, V8V 0B2 Victoria, British Columbia, Canada
One of the most unique, unusual places to stay in Victoria is the Fisherman's Wharf Floating Bed & Breakfast. This adorable B&B floats near downtown Victoria and is conveniently located right at Fisherman's Wharf, a popular and unique marine tourist destination! You'll be close to all the food kiosks, whale watching tours, and fishing vessels. Plus, you're nearby the popular Ogden Point Breakwater where you can watch massive cruise ships sail into the terminal.
At this hotel, you can enjoy a float home that literally is on the ocean! Your room will have amazing views of the harbor and other whimsical houseboats. The guest rooms even have their own balconies. You can enjoy sitting right over the water. As well, the water taxi boats stop nearby this floating home, so you can get around the harbour in a unique way!
Address: 1037 Craigdarroch Road, V8S 2A6 Victoria, British Columbia, Canada
The Craigmyle is a heritage building facing the magnificent Craigdarroch Castle, an iconic Greater Victoria mansion. At this B&B, you'll enjoy castle views, right from the comfort of your hotel room! You're only steps away from the castle if you want to go for a tour. As well, the hotel's property has a beautiful garden, and the rooms have a quaint, historic feel.
The owners have kept all of the house's heritage features intact, including some gorgeous stained glass windows and the staircase. The heritage house is filled with classic, vintage furniture, and elegant decor. However, it's still quite comfortable and cozy! Additionally, if you stay at the Craigmyle Hotel, you are only a few minutes away from downtown Victoria. You'll be close to many other excellent tourist destinations, including Beacon Hill Park, the Inner Harbor, and the Government House.
Address: 3110 Douglas Street, V8Z 3K4 Victoria, Canada 
Walk into a kaleidoscope of colors at the Hotel Zed Victoria. With a funky, fun style, these accommodations aim to be anything but ordinary. All of the rooms are basically coated in a rainbow and are definitely Instagram-worthy! Plus, the hotel is decorated with all kinds of retro decor. You'll find vinyl record stations, typewriters, and even vintage rotary phones.
You're guaranteed to have an amazing, memorable stay at Hotel Zed in Victoria. The hotel features a waterslide (the "Zedinator") that's bubblegum pink. As well, they have a swimming pool, hot tub, and sauna. If you need to get anywhere, ride around in one of their colorful camper van shuttle buses. Alternatively, rent some of their roller skates, longboards, penny boards, or bikes. Also, did we mention that they have ping-pong tables and retro video game stations? You won't be able to find another hotel that's quite this unordinary in all of Victoria!
Address: 1501 Fort Street, V8S 1Z6 Victoria, Canada
If you're looking for a hotel with a historic feel, try the Amethyst Inn at Regents Park. This gorgeous heritage house was built in 1885. The fully-restored hotel is full of character, personality, and history. Each room is uniquely furnished with Victorian-era decor. As well, the historic hotel features an exquisite staircase and many antiques. Staying at this hotel feels like you've traveled back in time to the 19th century!
This charming hotel is decorated with stylish antique furniture. However, you can still expect to have an extremely comfortable bed, modern amenities like free WiFi, and even a luxurious jacuzzi tub. A night at the Amethyst Inn hotel is a wonderfully unique experience. You won't be disappointed!
Address: 721 Government Street, V8W 1W5 Victoria, Canada
While the Fairmont Empress Hotel may not be unusual, it certainly is one of the most unique hotels in Victoria, BC. This long-standing Victoria hotel is a National Historic Site and even has become an iconic tourist attraction itself. Many guests visit this hotel just to try the famous afternoon tea, a long-standing tradition lasting over 100 years at the Empress. The loose-leaf tea is served with antique china dishware, a gift from the Queen in 1939. Also, the honey and jam come straight from their honeybee apiary and rooftop gardens.
At this hotel, historical blends with contemporary, leading to luxurious rooms that'll impress most people. Even royalty, like Queen Elizabeth II, have visited this hotel! Right beside the Inner Harbour, you'll have amazing harbor views from your room. Additionally, the Fairmont Empress hotel is rumored to be haunted. There are many stories of ghosts roaming the halls!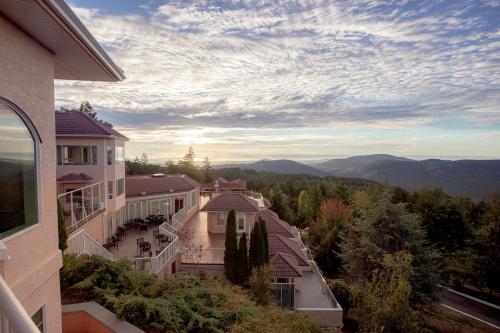 Address: 600 Ebedora Lane, V0R 2L0 Malahat, Canada
The Villa Eyrie Resort offers unique, boutique hotel accommodations with incredible views overlooking the beautiful Saanich Inlet and the Olympic Mountains. This luxury hotel is rated one of the most beautiful in Victoria. It offers scenic West Coast views that you won't find elsewhere. You'll feel like a bird in the clouds looking down at the rest of Vancouver Island from these gorgeous rooms!
All of the rooms at this award-winning hotel are incredibly luxurious, spacious, and modern. Their more extravagant suites feature oversized tubs with fantastic scenic views, cozy fireplaces, and a private balcony. You'll also find a peaceful koi pond and a beautiful fountain outside.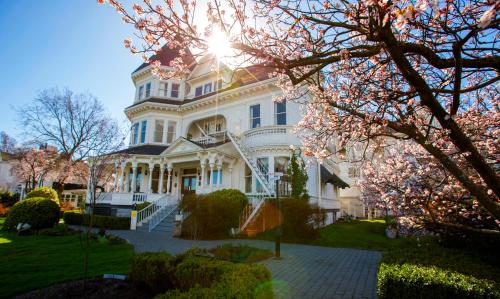 Address: 309 Belleville Street, V8V 1X2 Victoria, Canada
Have you ever wanted to stay in a historic mansion? Well, here's your chance! The gorgeous Pendray Inn was built in 1897 and is furnished with classic Victorian-era decor. You'll feel like you've walked into a time capsule at this heritage house!
The rooms at the Pendray Inn and Tea House are quite stylish and full of character. Many of the rooms have quirky patterned wallpaper, colorful furnishings, and antique furniture. As a bonus, you get an incredibly convenient location, right near the Inner Harbour. Also, guests can enjoy the traditional afternoon tea at their teahouse, overlooking their beautiful gardens.
Address: 206 Portsmouth Drive, V9C 1R9 Colwood, Canada
The Birds of a Feather Ocean Lagoon B&B has beautiful condo-style accommodations right beside one of the most unique beaches in Victoria, Esquimalt Lagoon. This beautiful sandy beach features driftwood sculptures, an impressive castle, a migratory bird sanctuary, and the nearby historic military fortifications of Fort Rod Hill and Fisgard Lighthouse. You definitely won't find this unique location boring!
The modern, comfortable suites at the Birds of a Feather Bed and Breakfast have excellent views of the water. Some suites at this beach hotel even come with a telescope so you can spot wildlife in the lagoon! As well, many suites feature fun lofts, accessed with a spiral staircase or ladder. One of the condos even has a claw-foot soaker tub!
Exactly Where to Stay in Victoria, BC?
Are you wondering exactly where to stay in Victoria, BC? If you aren't sure where the unique hotel stays that we listed above are located, check out this handy accommodations map!
Type the name of the hotel that you're interested in into the search bar to see its location in Victoria. Click on the location marker for more information about these unique accommodations. You'll also be able to check the availability of the rooms and to see the latest hotel prices!
Related Posts