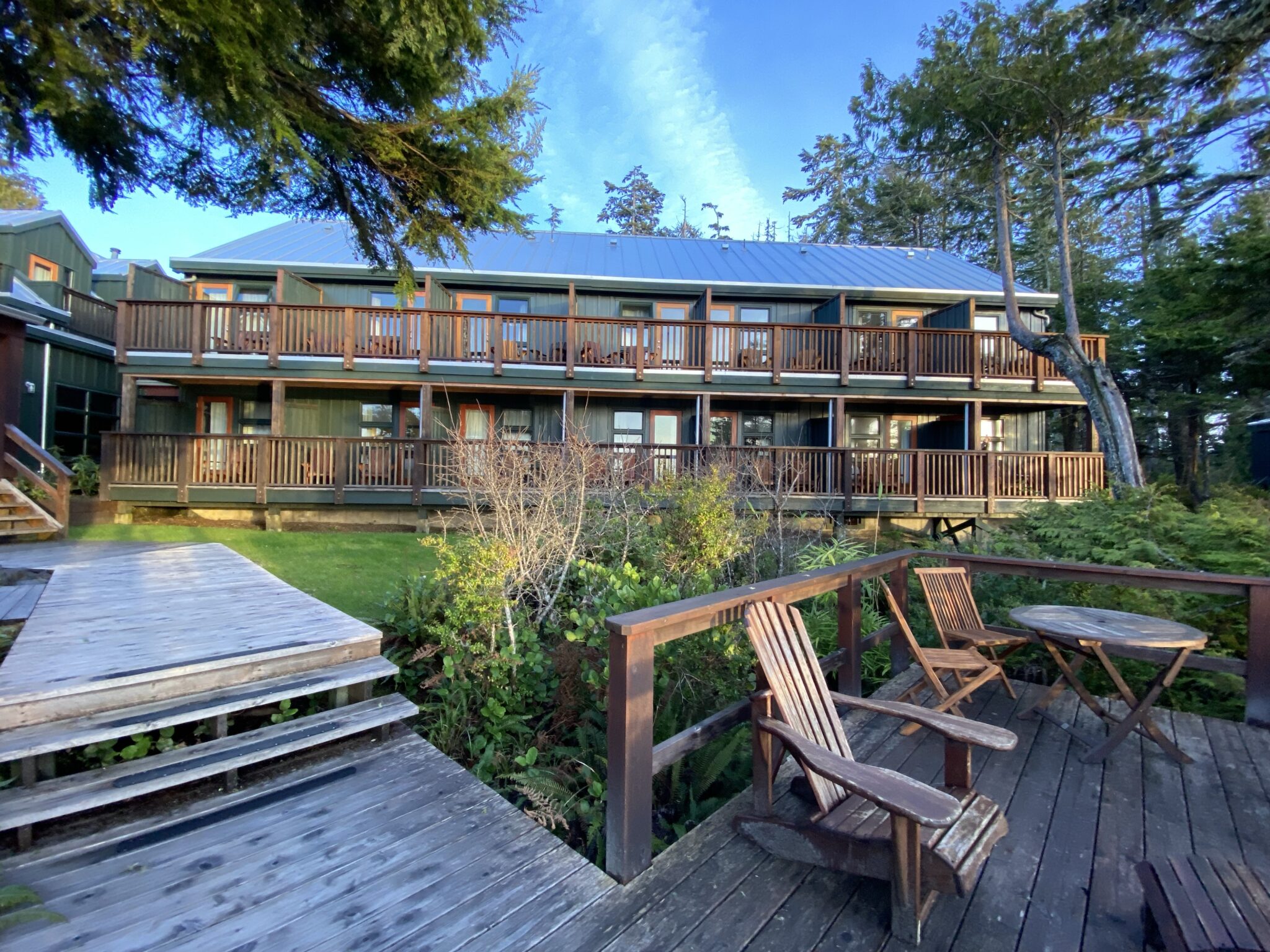 Are you thinking about staying at Middle Beach Lodge in Tofino but want to read a review before booking? If so, you've come to the right place!
Nestled in the coastal forest of Tofino, Middle Beach Lodge is a serene escape from the hustle and bustle of daily life. This secluded oceanfront retreat mixes rustic vibes with modern amenities. Best of all, the hotel features an unbeatable location beside not just one, but TWO, beautiful beaches.
When we first arrived at Middle Beach Lodge, we were struck by the stunning natural beauty of the property. But beyond the ocean views and nearby beaches, is this hotel a good place to stay in Tofino?
We recently stayed at Middle Beach Lodge in February 2023 during a winter trip to Tofino and are excited to share a comprehensive hotel review based on our experiences. From the rustic guest rooms and cozy main lodge to the food, amenities and other highlights (like freshly baked cookies!), we cover everything that we liked and didn't like at the hotel. Hopefully this review will help you plan where to stay during your next Tofino vacation!
Disclaimer – This post contains affiliate links. We may receive a commission if you make a purchase through these links, at no extra cost to you. Thank you for your support! Learn More.
About Middle Beach Lodge, Tofino
Middle Beach Lodge is a stunning oceanfront retreat sitting on a rugged headland that extends into the Pacific Ocean between Middle and Mackenzie Beaches. With 40 acres of forested coastal land, the hotel features two beautifully-designed main lodges and a collection of cozy guest rooms, rustic cabins, and unique treehouses nestled amidst the rainforest.
There are two main buildings at Middle Beach: the Lodge at the Headlands and the Lodge at the Beach. Built from recycled timber, these magnificent lodges feature cozy lounge and dining areas, handcrafted furnishings, and antique decorations. A grand fireplace built from Kennedy River rocks warms the main lodge and large windows showcase the stunning West Coast vistas.
Middle Beach Lodge Hotel Review
We were fortunate enough to have long weekend available to travel to Tofino in February 2023 and chose to stay at Middle Beach Lodge. We are excited to share our experiences staying in this hotel so that you know exactly what to expect here. Read on below for our review of Middle Beach Lodge in Tofino!
Location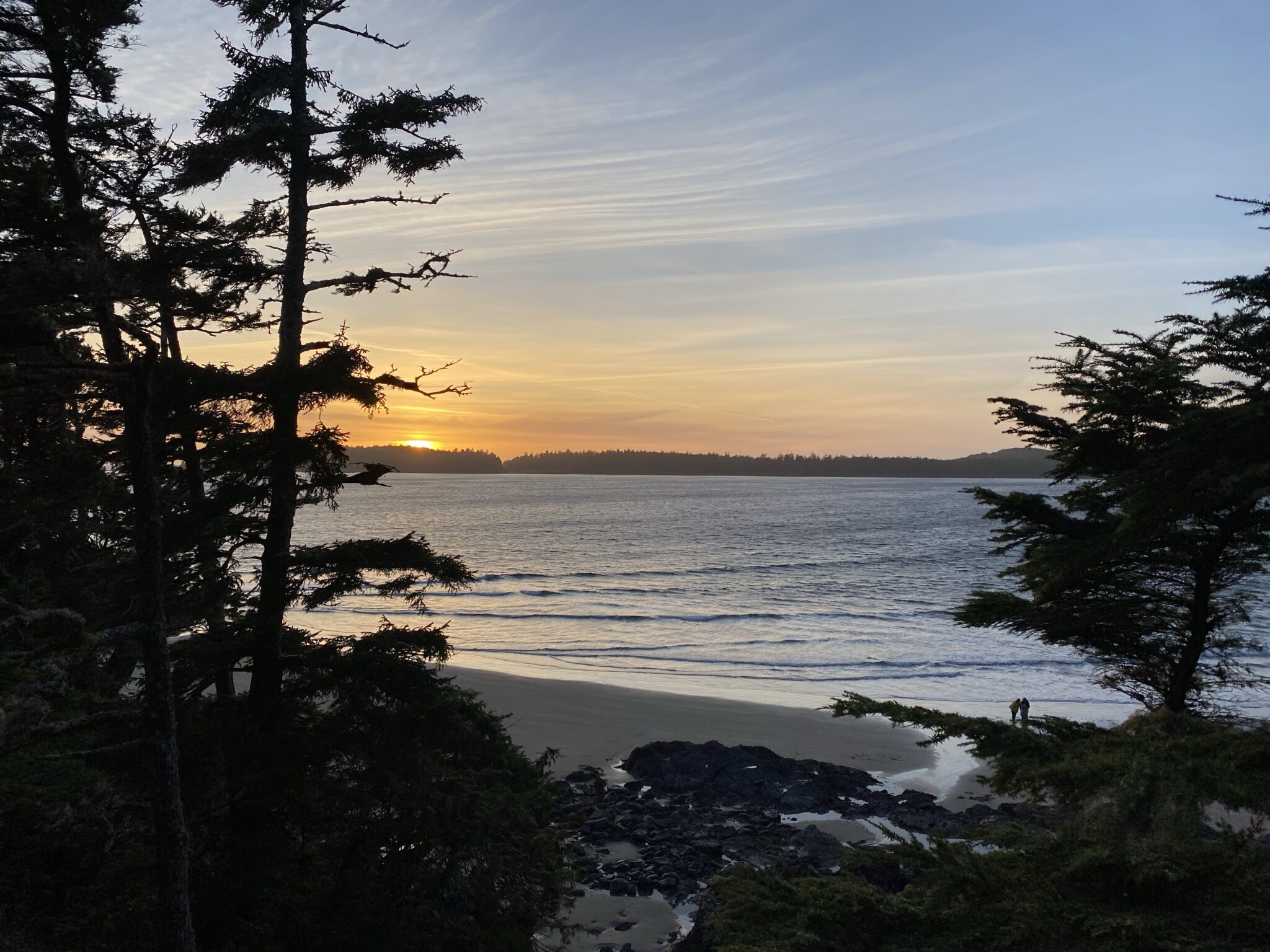 Middle Beach Lodge boasts an excellent location that captures the wild beauty of Tofino — all while being close to town and the best surfing beaches. Surrounded by lush forest, sandy beaches, and incredible ocean views, the hotel is the perfect location for someone seeking a peaceful retreat into nature.
The unbeatable proximity to two stunning beaches — Middle and Mackenzie beaches — was the highlight of our stay at Middle Beach Lodge. The headlands that the lodge is situated on separates the two sandy beaches, with Middle Beach to the north and Mackenzie Beach to the south.
Both beaches are only a couple of minutes of walking away from your hotel room at the lodge. The first night we were there, we brought a backcountry stove and ate dinner on Middle Beach while watching the sunset over the ocean — it was amazing!!
Not only that, the lodge is one of the only access points to Middle Beach. While the Tonquin Trail does lead to Middle Beach from town (also passing by Third and Tonquin Beach), the limited access makes the beach feel almost private. It's much less busy that some of the other Tofino beaches for this reason!
Just south of Tofino, Middle Beach Lodge might not be the perfect location if you want to be directly in town… but it is only an 8 minute drive away. Ideally, you'd have a car or a bike to stay at this hotel, because it's not within walking distance of town or surf beaches.
And while it's not right on one of the main surf beaches, Middle Beach Lodge is only a 5 minute drive from Chesterman Beach, 10 minutes from Cox Bay, and 15 minutes from Long Beach in Pacific Rim National Park. Neither Mackenzie or Middle Beach are really surfing beaches, but are both great for beach walks.
Guest Rooms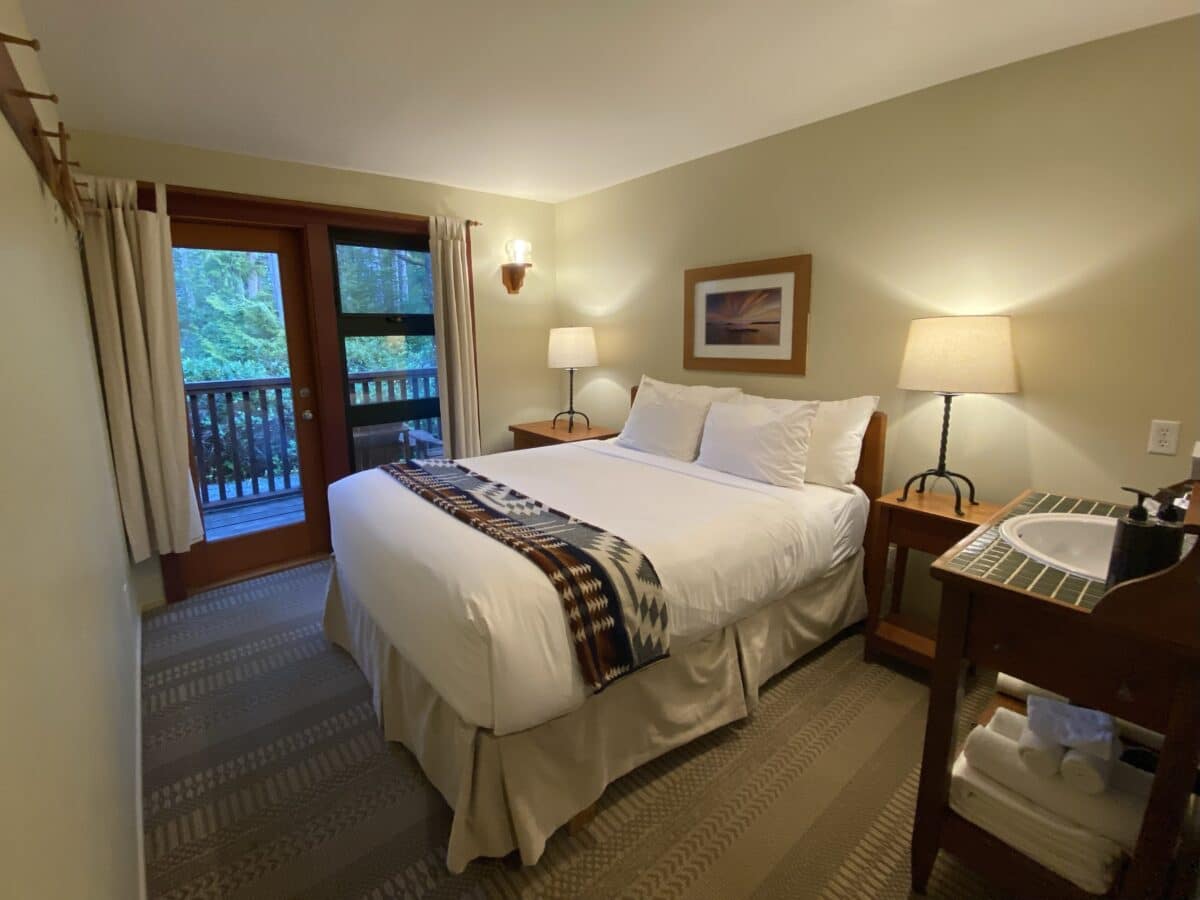 During our recent stay at Middle Beach Lodge, my partner and I opted to book a "Forest Facing Queen" room (#5) in the adult-only Lodge at the Beach. Actually, we didn't have much of a choice — it was the only room left when we made our reservation!
The room featured a cozy queen-sized bed with a throw blanket, simple bathroom with all the basics (soap, hair dryer, towels, etc.), and as the name implies, a balcony facing the forest.
The sitting balcony (our favorite part) boasted stunning rainforest views and even though it faced the parking lot, you couldn't tell at all! Unfortunately, Tofino is a rainy place and the balcony is not covered. Given that the bed was the only other sitting spot, the balcony should be sheltered!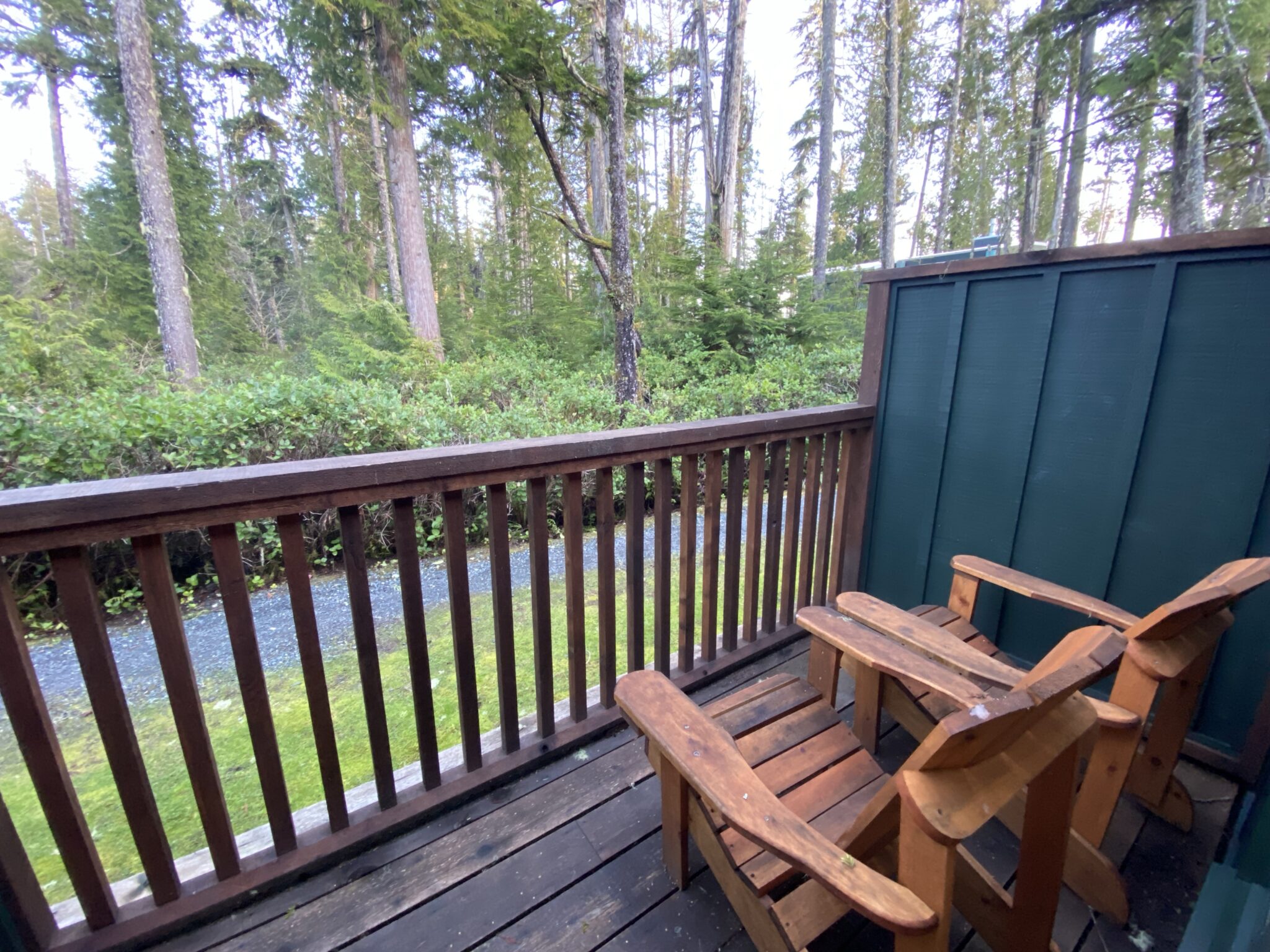 Even for an economy room, the room was quite small. It also lacked many typical hotel amenities, like a TV or fridge. Also, the room didn't have a wardrobe but there were wall pegs to hang clothes. We didn't need these amenities but others may find this room lacking.
Due to the room's size, we mostly used it for sleeping. The room was quite dark at night and the bed was very comfy! We did find the blanket too hot and pillows too big for our liking, but didn't request alternatives.
On rainy days, we took advantage of the bathroom's tub/shower. The shower pressure was good and there was plenty of hot water. A minor inconvenience was that the bathroom lights and sink were in the main room. Not a big deal, but kind of annoying — especially at night!
More of a frustration was that the room wasn't well soundproofed. We could hear people through the walls and ceiling. Also, the lock on the building's main door made beeping noises, which were quite disruptive in the morning and at bedtime.
Despite some flaws, we enjoyed our stay in the Forest Facing Queen room. It's not often that your hotel room feels surrounded by nature. We recommend this room to anyone staying in Tofino for a short trip and spending most of their time exploring, with simple expectations for their accommodations. Try one of their more deluxe rooms if you're looking for something more!
Other Available Accommodations at Middle Beach Lodge
The guest room that we stayed in was one of the most basic rooms at Middle Beach Lodge. If you need a room with more space or amenities, the hotel likely has something that'll fit your needs.
The Lodge at the Beach seems to have the simpler accommodations, like the straightforward queen bedrooms facing the forest (like the one we stayed in) or ocean.
Most of the more spacious and luxurious guest rooms are in the Lodge at the Headlands. For a real treat, stay in one of their cabins or treehouses.
Next time we visit Middle Beach Lodge, we'd love to stay at one of their larger treehouses or cabins. These suites are much more spacious, with kitchenettes or kitchens, sitting balconies, fireplaces, and even jacuzzi tubs on the balcony!
Staff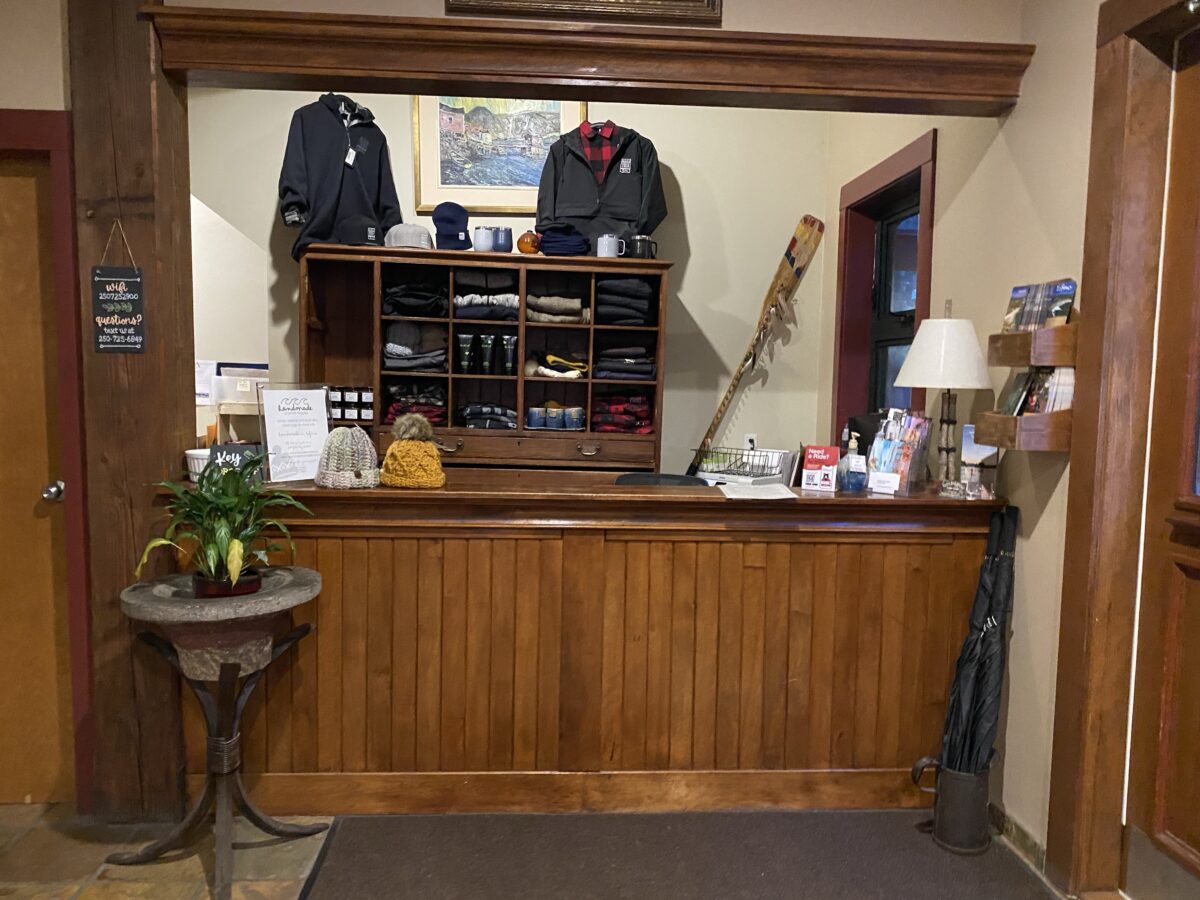 We have nothing but good things to say about the staff that we interacted with at Middle Beach Lodge. From the moment we arrived to the end of our trip, they were quite friendly, helpful, and welcoming.
When we checked into the hotel, the front desk staff took the time to go over all of the hotel information in detail. She answered all of our questions with a smile, and we never felt like we were a bother.
Throughout our stay, the staff were very approachable and happy to answer questions or just chat. They made small talk about the board games we played in the lodge and shared jokes with us. We feel that they added a personal touch to our stay at the lodge, which we appreciated.
We never ran into any problems that would have required assistance from the staff, so we can't speak to how they might respond to an issue. As well, we didn't have a chance to dine at Middle Beach Lodge or order from their bar, so we can't speak to the customer service in this regard, too.
Amenities & Facilities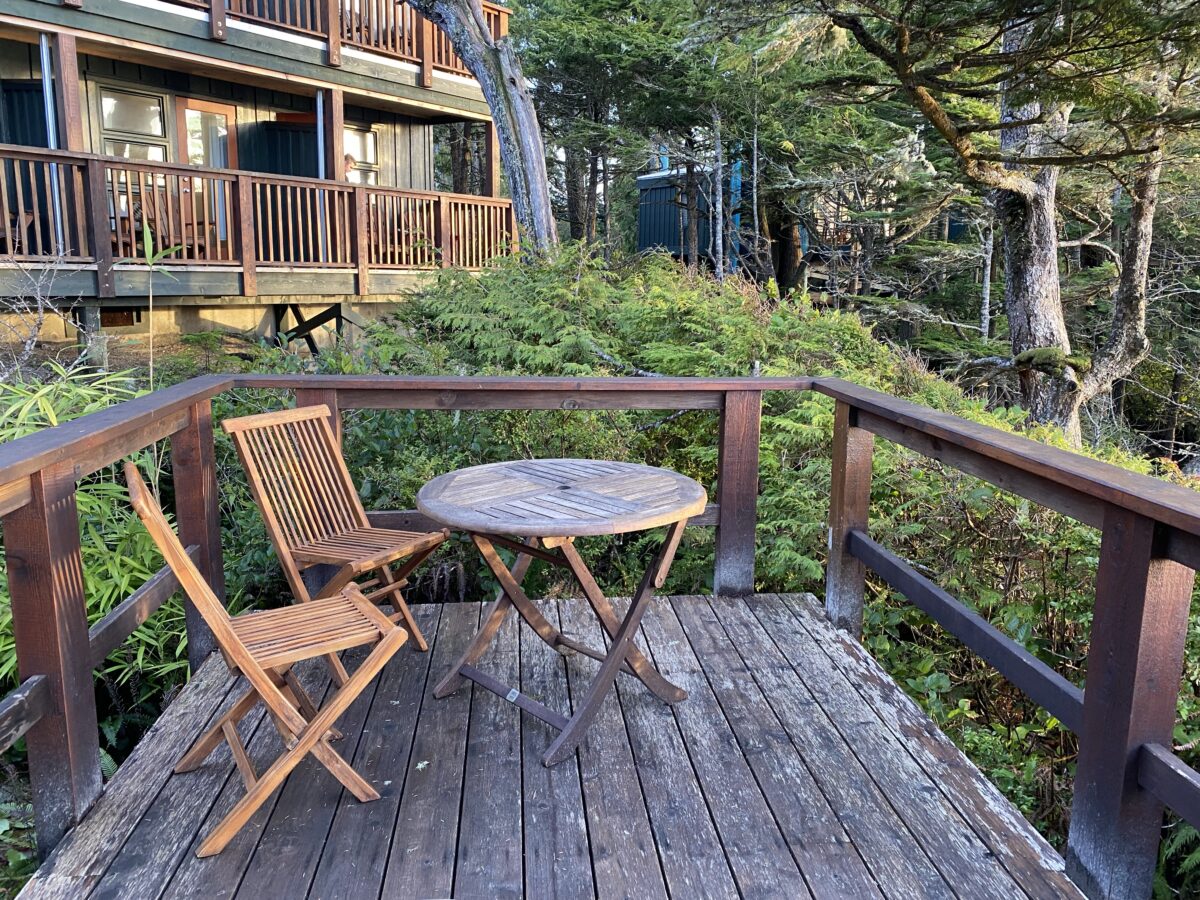 We found that Middle Beach Lodge made our stay more enjoyable with their beautiful facilities and well-appreciated amenities. The hotel has a warm, welcoming atmosphere and all of the little touches around the hotel just enhanced that feeling.
Lounge Areas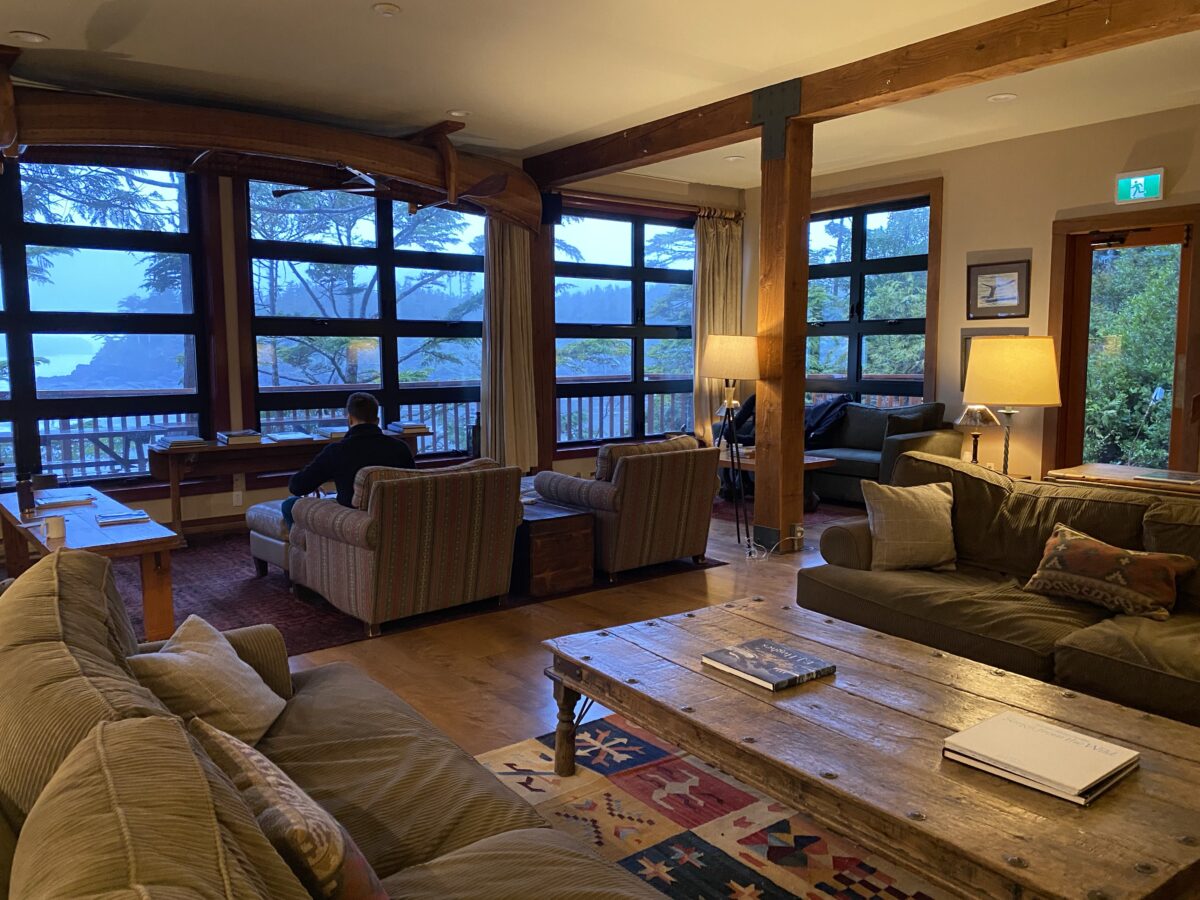 The lodge features a cozy lounge area with a stone fireplace — the perfect spot to curl up with a good book and glass of wine. The lounge area has large windows to enjoy the ocean views and plenty of couches and tables.
We played board games at a table in the lodge during the evenings. Throughout the day, we relaxed on the couches, taking in the coastal views as we drank complimentary coffee or tea (available all through the day).
Unexpectedly, Middle Beach Lodge also provided an assortment of freshly baked cookies for guests to enjoy in the evening. Apparently, this is an evening tradition at the lodge. The cookies were soft and delicious!
The hotel also had several outdoor sitting areas featuring Adirondack chair and incredible ocean views. We really enjoyed these spots for watching the sunset!
Continental Breakfast
Every morning, Middle Beach Lodge serves a complimentary continental breakfast in both the Lodge at the Headlands and Lodge at the Beach. When we visited, only the Lodge at the Beach was open so we ate breakfast there.
Breakfast was served from 7 a.m. to 11 a.m., accommodating a variety of wake-up times. We even had a day where we woke up early, ate breakfast, went for a hike, and then returned for another snack!
The breakfast spread was delightful, with plenty of options to choose from. There were freshly baked goods like flaky croissants and soft brioche cinnamon buns, several cereals, bagels, and fruit. For those who like to start the day with some protein, there were yogurt, hard-boiled eggs, ham, and cheese.
To round out the experience, the Lodge serves coffee from Rhino Coffee House, a renowned local roastery that provides a rich, full-bodied brew. The coffee bar is open almost all day.
For non-coffee drinkers, there was also hot chocolate and a selection of teas at the coffee station. And in the mornings, they serve an array of refreshing juices with breakfast, like orange and grapefruit.
Internet
The hotel does provide internet, but we found that the Wi-Fi signal was poor. We could use the internet a bit, but found that it was slow to load websites or videos. Our cell data worked better for browsing the internet!
The signal was better in the main lodge compared to our bedroom, but it was still not lightning fast. Of course, you're in a beautiful place, so it does force you to enjoy your surroundings more!
The Headlands Restaurant & Bar
Middle Beach Lodge conveniently has an on-site, small-scale restaurant (and bar) in the Lodge at the Headlands. The restaurant features meals made from locally-sourced ingredients and is open from Tuesday to Saturday.
Dinner entrees focus on showcasing the best ingredients that Vancouver Island has to offer, like freshly-caught salmon or Dungeness crab. Meals can be paired with BC wine or beer from the hotel's bar. The menu features a set selection of dishes, but is buffet-style to allow for some personalization of your meal.
Unfortunately, we didn't get the chance to try the food during our stay, as the Lodge at the Headlands building was under construction until May 2023. However, the Lodge at the Beach was still serving food from Tuesday to Saturday.
When we first arrived at the hotel in the late afternoon, the hotel was serving BBQ short ribs that smelled absolutely amazing. After we settled into our room, we decided to indulge in a meal. Clearly, the delicious smell convinced us!
To our disappointment, we quickly found out that the restaurant required a reservation and there was no more space. Looking back at our emails, the hotel did send a notice about the closure so we could have planned in advance. But, we didn't realize how limited seating was until we arrived!
Next time we visit, we will definitely be making a reservation well in advance to try the food here. The dinner did seem rather expensive though so we saved some money by not eating there. Even so, we were disappointed to miss out on the dining experience during our stay!
Other Amenities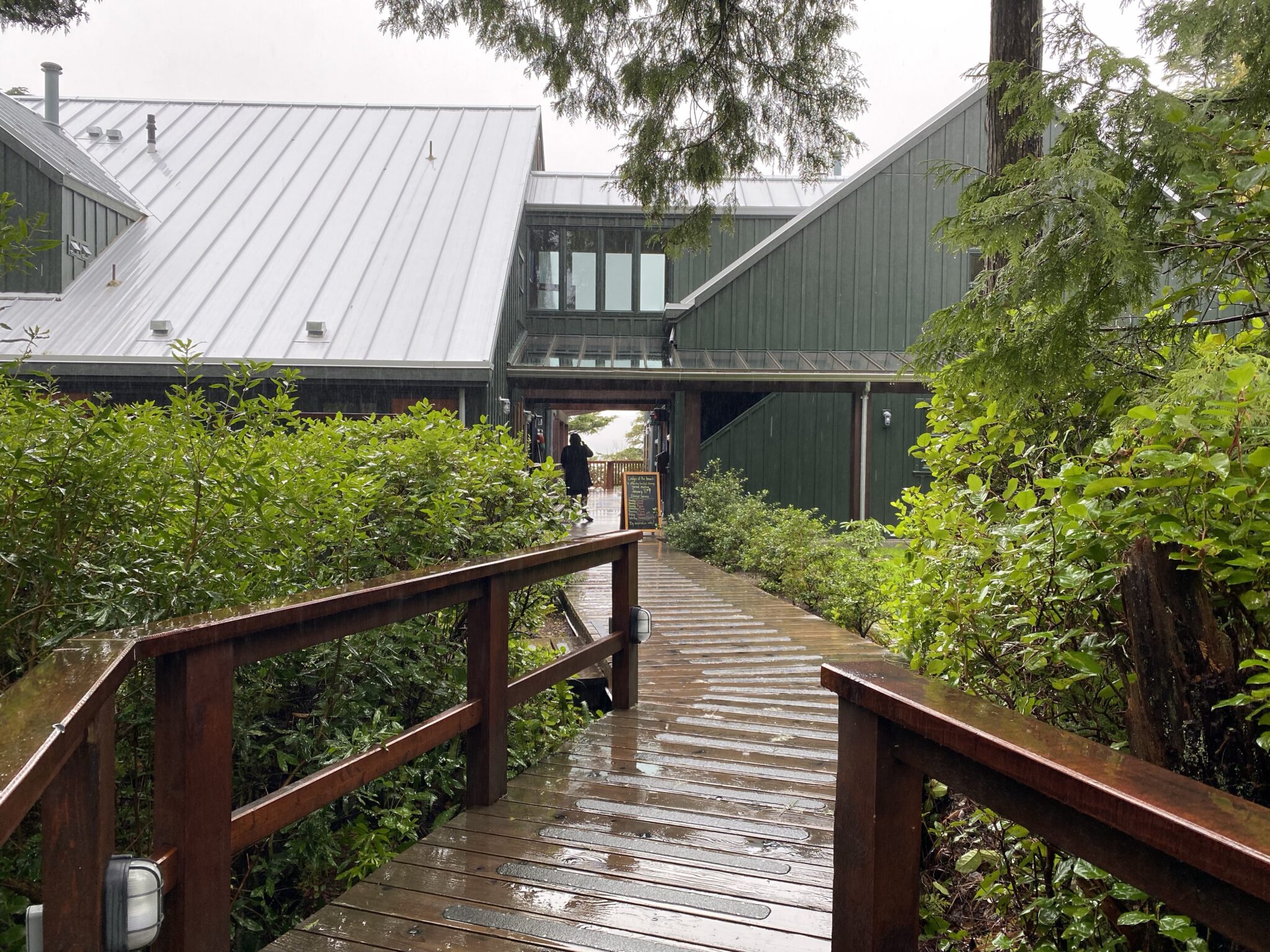 Middle Beach Lodge has many thoughtful amenities that'll improve your stay, although we didn't take advantage of all of them.
When it's rainy, Middle Beach Lodge does have some complimentary rain gear to borrow, like yellow raincoats, boots, and umbrellas. It's first-come, first-serve. They also may provide travel mugs, as the front desk staff mentioned something about this to us when we first arrived.
There is free parking at the hotel (make sure to get a parking pass), although the parking lot is kind of small. We prefer this though — it means they didn't chop as many trees down to accommodate vehicles!
There is a fitness facility in the Beach House at the hotel, but we didn't use it. All of the hiking and surfing was enough of a workout for us!
They have a selection of locally-made gifts behind the front desk to purchase, if you want a convenient souvenir.
If you want to wander around the forest, they also have several forest trails (Muir Moments, Jason's Trail, and Yana's Trail) to explore. The trails are quite short but nice for a quick stroll. For more walking around the hotel, walk down to one of the nearby beaches or follow the Tonquin Trail off Middle Beach into town.
Middle Beach Lodge Review: Final Words
Overall, we quite enjoyed our stay at Middle Beach Lodge in Tofino. We found our guest room cozy and comfortable, although on the small side and with pretty minimal amenities. We loved the lounge areas and proximity to the beaches. The lodge's rustic charm made the hotel fit right into the nature that surrounded it.
Additionally, we appreciated the complimentary coffee/tea, continental breakfast, and evening cookies that the hotel served. While there were a few aspects of the hotel that could be improved upon, we generally would recommend this property!
Top Travel Tips & Resources for Tofino, BC