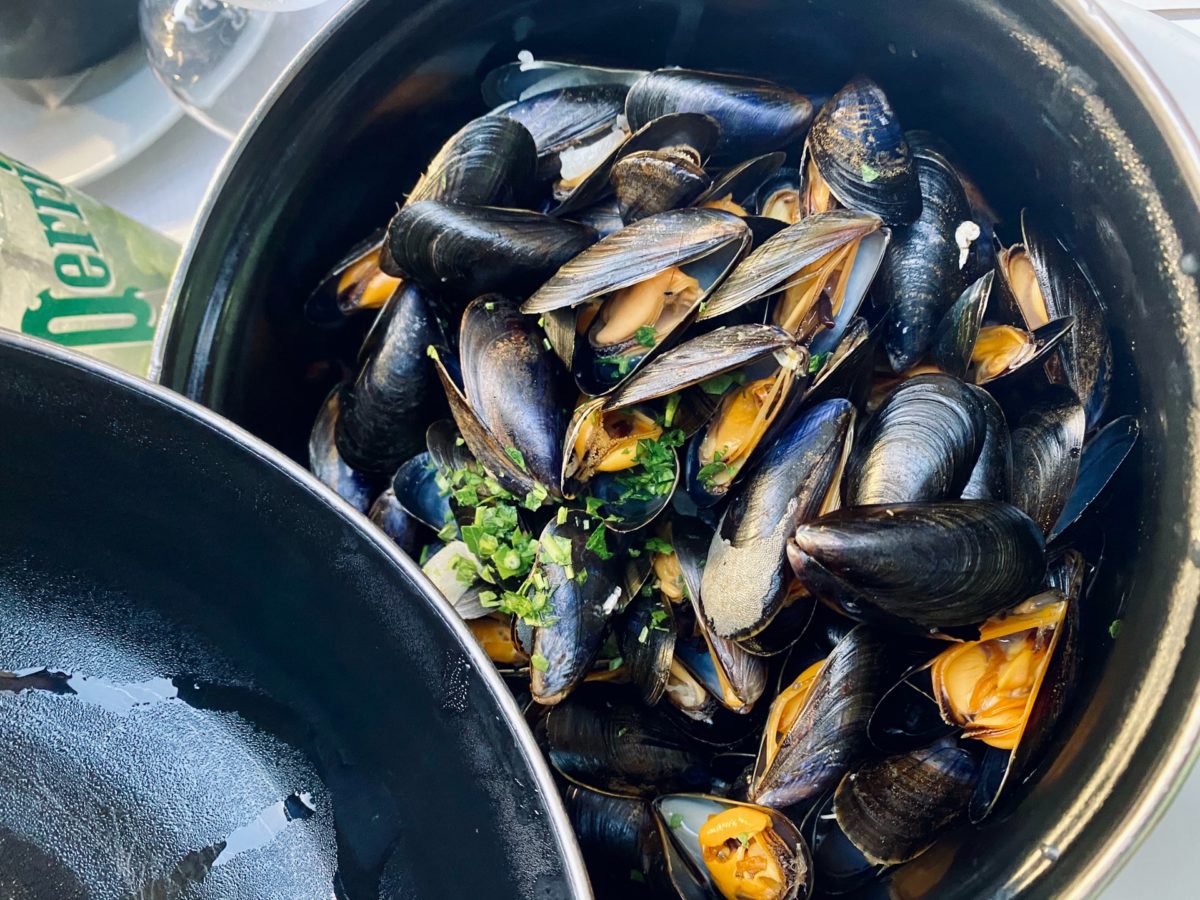 Mussels are a delicacy found along the coast of the Pacific Northwest, from California up to British Columbia. You can dine on restaurant or store-bought mussels but if you are near the coast, why not forage for freshly-caught mussels yourself?
One of the easiest shellfish to harvest, mussels are easily identifiable, plentiful, and require little to no gear to harvest. However, there are a few things you need to know to stay safe when collecting mussels. So, you'll need to know how to forage mussels in the Pacific Northwest properly to not get sick.
We answer all of your questions about harvesting mussels in the Pacific Northwest, including the province of British Columbia and the states of Washington, Oregon, and California. Foraging for mussels isn't difficult, but there are some important guidelines that you must follow to avoid getting sick. With a few precautions before foraging, you'll be able to enjoy a meal of these delicious shellfish, fresh from the ocean!
Disclaimer – This post contains affiliate links. We may receive a commission if you make a purchase through these links, at no extra cost to you. Thank you for your support! Learn More.
Safety Risks of Eating Wild Mussels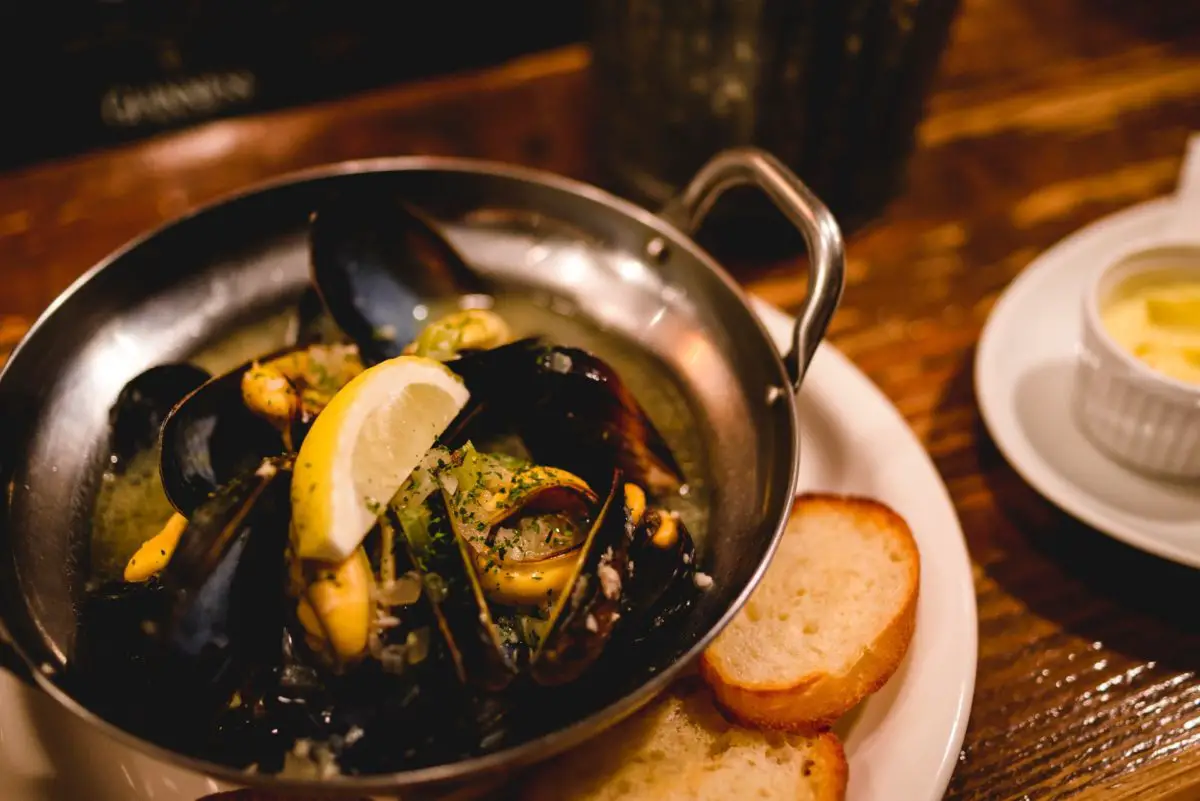 Many people are nervous about harvesting their own shellfish and for good reason. If improperly foraged, mussels can make you sick for a variety of reasons. Mussels can be harvested safely though so don't let this turn you off from foraging!
Some of the sicknesses from mussels include heavy metal and chemical contamination, parasites, bacteria, viruses, and shellfish poisonings. While it's important to remember that any food can make you sick if improperly handled and prepared, it is particularly vital to be careful when dealing with wild mussels due to the severity of these risks.
Shellfish poisoning is probably the scariest of the health risks associated with eating wild mussels. These include Paralytic Shellfish Poisoning (PSP), Amnesic Shellfish Poisoning (ASP), and Diarrhetic Shellfish Poisoning (DSP). Shellfish poisoning is caused by eating shellfish that have ingested high levels of toxins from algae blooms (red tide). The algae produce toxins that accumulate in the filter-feeding shellfish.
PSP is the most talked about shellfish poisoning. It can cause numbness, tingling, muscle weakness, incoordination, slurring of speech, and paralysis. Severe cases of PSP lead to problems with paralysis, breathing, comas, and even death. And onset time of symptoms can be as little as 10 to 30 minutes after ingestion!
Fortunately, paralytic shellfish poisoning is fairly rare. In the United States and Canada, there are typically only a handful of cases reported each year. So, while you should be careful, don't let these cautions turn you away!
To stay safe, make sure to follow the safe harvesting guidelines provided by your local health and fisheries departments (their guidelines trump ours). Heed all warnings about toxic algae blooms and harvesting closures. And if you experience any of the symptoms associated with shellfish poisoning, seek medical attention immediately.
Equipment Needed for Foraging Mussels
Bucket – For carrying your mussels in seawater
Gloves (optional) – Protect your hands
Hanging scale (California and Washington only) – Used to ensure you stay under the legal harvesting limit
Cooler – Keeps the mussels cool, especially if you have a long trip home
Shellfish Identification Guide – Make sure you know what species you're harvesting
Knife – Helps remove mussels from the rock (note: use of tools for harvesting mussels is illegal in California)
Where to Harvest Mussels in the Pacific Northwest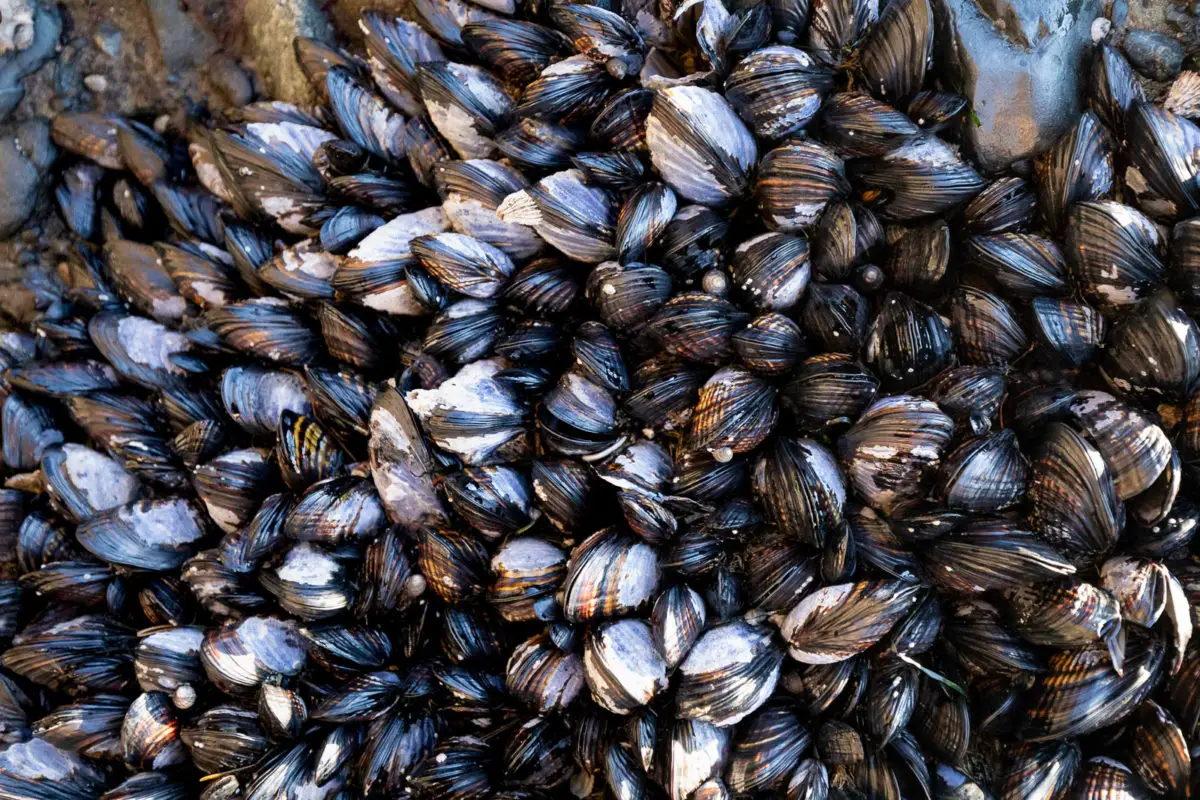 One of the most common questions when starting is where can I harvest mussels? To find mussels, you must first ensure that the region that you want to forage is safe and then look for accessible areas where mussels could live. You can follow these steps to identify good places for foraging mussels:
1. Identify Open Shellfish Harvesting Areas
The first thing that you need to do when looking for a spot to forage any species of shellfish is to check for harvesting closures. Any shellfish that you harvest must come from an area that's open and legal for foraging.
Follow any shellfish harvesting closures because disobeying these closures can lead to fatal sicknesses. Harvesting closures result from marine biotoxins from algae blooms, water contamination, pollution, and other reasons. Closures are even caused by excessive rainfall (the runoff from land is often polluted)!
Each province and state provides its own information on safe harvesting areas, as well as guidelines for foraging shellfish. Here, we provide information on where to find shellfish harvesting areas and closures for BC, Washington, Oregon, and California.
In general, you should also avoid any potentially polluted areas. Don't harvest in areas with boat traffic, like marinas, harbors, or even near floating houses. Also, avoid streams, rivers, or drainage outlets, where run-off and pollutants could enter the water. And, if an area is unmonitored, avoid harvesting any shellfish there!
British Columbia
In British Columbia, you can find information on shellfish harvesting closures through the Government of Canada Fisheries and Oceans Canada (DFO) website. DFO provides a list of areas that have biotoxin closures or sanitary closures. Any mussels or other shellfish harvested in these areas will be dangerous to eat. Click on each area to see which bivalve shellfish species are open for harvesting in the waters around BC.
DFO regularly updates an easy-to-use map of shellfish harvesting closures around BC. For each region, you can find out which species can be safely harvested and which cannot due to prohibition orders. Refer to the map and legend to determine whether there is a closure in your area. Assume any closures extend to the coast. You can click on different parts of the map to see which species are closed for harvesting in each area.
Additionally, you can call the DFO hotline (1-866-431-3474 toll-free) or the nearest British Columbia Fisheries and Oceans Canada office for information on shellfish closures. If you find the website is hard to use, this phone number is a great alternative!
Other areas where you shouldn't harvest are:
Within 125 metres (410 feet) of any marina, wharf, floating house, or aquaculture operation
Within 300 metres (1,000 feet) from pollution sources, sewage or wastewater treatment plants
Areas that are unmonitored by DFO
Washington
For shellfish harvesting safety information and closures in Washington, you can use the Washington Department of Fish and Wildlife (WDFW) search tool or the Washington State Department of Health (DOH) Shellfish Safety Map. Alternatively, call the Department of Health's Marine Toxins/PSP "Red Tide" Hotline (1-800-562-5632).
The WDFW and DOH tools provide identical information on harvesting closures for each shellfish species, water quality, health status, and health advisories. You can also find beach locations, species available for harvest at each beach, directions, access information, available facilities, and other information through these tools.
For shellfish harvest to be safe and legal in Washington, the beach must have an open status from both WDFW and DOH. If the WDFW season is closed, harvest is illegal. If the DOH season is closed, the shellfish are not safe for human consumption.
Oregon
The Oregon Department of Agriculture's (ODA) shellfish biotoxin hotline (1-800-448-2474) is probably your best resource for up-to-date harvesting closures. This toll-free hotline updates immediately after a harvesting closure.
If you prefer checking a map, use the Oregon recreational shellfish closure map. The harvesting map shows open areas in green, and closures in red.
The Recreational Shellfish Biotoxin Closures page on the Oregon Department of Agriculture website also provides information on any closures for mussels, clams, and crabs.
As well, the Oregon Department of Fish and Wildlife (ODFW) provides weekly information on shellfish harvesting. However, you should only use this website as an additional resource. Use the ODA resources, particularly the hotline, to determine whether an area is safe for foraging shellfish.
California
If you want to harvest mussels or other shellfish in California, you'll need to check the California Department of Public Health (CDPH) hotline (either 510-412-4643 or toll-free at 1-800-553-4133) or the CDPH website. You can also check the CDPH Recreational Bivalve Shellfish Advisories map for any closures.
The California Department of Fish and Wildlife (CDFW) provides information on health advisories and closures. The CDFW also links to CDPH news releases on closures and provides a list of useful resources for harvesting.
NOTE: There is an annual mussel quarantine in California from May 1 to October 31. During the quarantine, mussels are unsafe to eat anywhere in California.
2. Determine Potential Mussel Habitat
Once you've found an open harvesting area, it's time to find some potential mussel habitat!
Mussels inhabit the intertidal or subtidal zones, latching on to rocks and other hard substrates. Usually, you'll be able to find mussels in the "impact zone", where waves smash on the rocky coastline. This means that you'll need to search for mussels at low tide!
If you know the area well, simply head out to the coast and start looking for mussels. However, if you don't know where to go, we recommend using Google maps to find a potential foraging spot beforehand. This could save you a lot of time searching later on!
Use the satellite view on Google maps to look for rocky coastline or beaches with rocky edges. Also, you'll need to find a foraging spot that is accessible and not in a protected park area. Look for areas with roads or trails that allow you to access the coastline. Make sure that you don't have to cross through private property to access your harvesting location, too.
Some regions also do a lot of this work for you, by listing available species and access points at each beach. These resources are quite handy! For example, the Washington Fish & Wildlife website provides a "harvest profile" for each beach, listing potential shellfish available at each location. Most of the time, however, you'll need to figure this out for yourself.
3. Go foraging!
And, finally, you can go search for your shellfish! Drive or hike to your foraging location, and start hunting for mussels.
If you're unfamiliar with the area, you will likely have to do some hunting before you find any mussels. This is the most time-consuming part of foraging for these little delicacies. Trust us, though, the work pays off!
Once you've found a good spot, make a note of where it is so you can return in the future. Don't take all of the mussels in one spot, though. You don't want to destroy the population! Usually, if you've found mussels in an area, there are likely other good spots nearby where you can harvest too.
How to Collect Mussels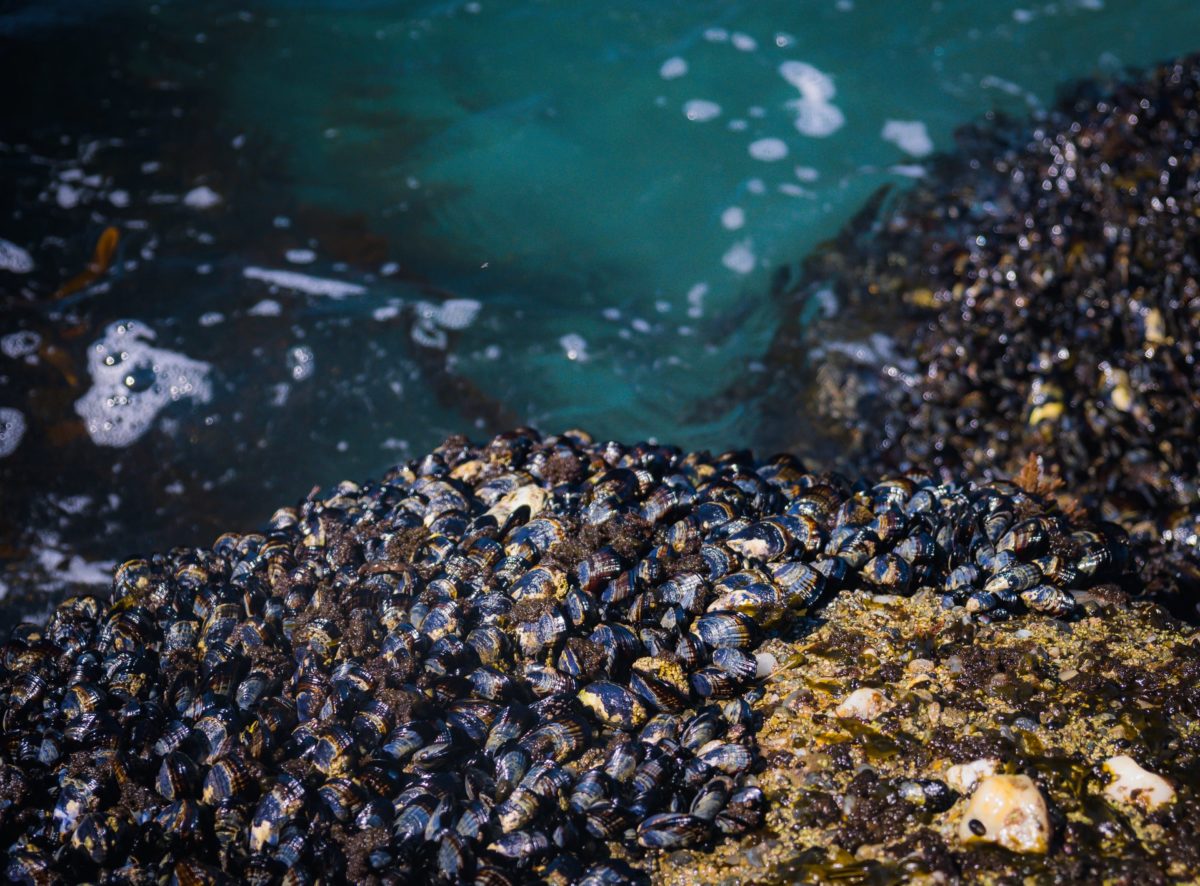 Mussels attach to rock or other substrates using strong threads called byssus. Typically, you can harvest mussels by simply twisting and pulling them off the rocks. If you find this difficult, you can also use a strong knife.
Note: Using tools to harvest mussels is illegal in California. You can only use your hands!
Be careful to not damage the mussels when harvesting them. If you break or chip the shell, do not eat the mussel. Any damage to the mussel could make them die, causing them to be inedible. As well, don't pick any dead or open mussels. These are unsafe to eat!
Also, you should avoid picking any small mussels. Give them a chance to grow!
Only take the mussels that you need, and no more. Spread out your harvesting between different areas to avoid depleting a single population. Follow sustainable foraging practices so you can continue harvesting in the future!
Once you've harvested your mussels, place them into a bucket that's full of seawater from the foraging location. You'll want to give the mussels some time to rest. This allows the mussels to spit out any sand or other debris that may be trapped inside of them.
If you are foraging by boat, make sure that you don't hang your mussels off the side of the boat. They could get contaminated as you cruise through the water. You don't want that!
When to Harvest Mussels
You should typically only harvest mussels during the winter months. Algae blooms (red tides) that cause shellfish poisonings are more common during the warmer months of the summer.
An easy way to remember which months are safe for foraging shellfish is to only harvest in months containing the letter "R". So, harvesting shellfish should be safer from September through April. Avoid eating wild mussels between May to August.
This saying doesn't always hold true though. For example, in California, there is an annual mussel quarantine from May to October, when mussels are unsafe to eat anywhere in the state.
Timing is also important when deciding when to go foraging in a day. Mussels live along the shore in places where they will be covered by waves. This means that you'll need to go harvesting when the tide is low, so the mussels will be accessible. Otherwise, the mussels will probably all be underwater!
Ideally, forage when the tide is going out. This reduces the amount of time that the mussels warm up when they're out of the cool water and exposed to the warmer air.
Refer to tide charts (e.g. Tide Forecast) to figure out the best times to harvest shellfish.
How Many Mussels Can I Collect?
To protect shellfish populations from overharvesting, governments place limits on how much you're allowed to harvest. These limits vary between regions. Sometimes, they even change between years!
Below, we've listed the mussel harvest limits for BC, Washington, Oregon, and California. While we try to keep this information up to date, check with your local fisheries department to make sure these numbers haven't changed.
Make sure that you don't overharvest. If you are caught not obeying these limits, you will receive a fine!
British Columbia
In British Columbia, you are allowed to collect 75 blue mussels per day. In total, you can have 150 blue mussels in your possession at all times. That's a lot of mussels!
For California mussels, you can collect 25 per day and have up to 50 in your possession.
Check the DFO website for recreational shellfish harvesting limits, as these numbers can vary by region.
Washington
There is a daily limit of 10 lbs. in the shell (all species combined), with no minimum size. You'll need to bring a scale with you to ensure you don't go over the limit!
Click here to check shellfish regulations and limits.
Oregon
In Oregon, you're allowed to forage up to 72 mussels in a day, using your hands or hand-powered tools. Click here for up-to-date ODFW regulations.
California
In California, you're allowed to harvest up to 10 pounds of mussels per day. This means that you MUST have a scale with you.
Also, this weight includes both California mussels and bay mussels. You can't have more than 10 pounds combined, in the shell.
Click here for the California Department of Fish and Wildlife harvesting regulations.
Do I Need a License to Collect Mussels?
Harvesting fish requires a license, so do you need a license to collect mussels?
The answer is yes! You will need a license issued by your state or province's governing authority to legally harvest shellfish. Below, you'll find exactly what licensing you need for harvesting mussels in BC, Washington, Oregon, and California.
British Columbia
In BC, you need a tidal waters license online for any fishing or shellfish harvesting that you do in saltwater. If you want to fish salmon, you'll also need a salmon conservation stamp too.
The annual tidal waters license is pretty inexpensive if you're a Canadian resident (about $22 for adults), but pricier for non-residents (about $105 for adults). Licenses are cheaper for seniors and free for children (under 16 years of age).
You can also buy shorter licenses, including 1, 3, and 5-day licenses. We recommend purchasing an annual license though if you plan on fishing or harvesting shellfish more than once because the shorter periods aren't that much cheaper.
The annual license lasts from April 1 to March 31 of the following year. This means that your license does not have one year from the day you purchase it. Keep this in mind if you're purchasing a license close to March!
Washington
There are a variety of different fishing and/or harvesting licenses for Washington. All of the licenses are available for purchase online.
If you want to forage mussels, you will need a shellfish/seaweed license. An annual shellfish license is about $17 for a Washington resident and $36 for a non-resident.
There are also combination licenses that allow you to fish in both freshwater and saltwater, as well as harvest shellfish and seaweed. The combination licenses are a great choice if you don't just want to stick with shellfish!
Oregon
Anyone over 12 years old requires an Oregon Shellfish License if they want to harvest shellfish in Oregon. Licenses are available online, from ODFW offices, or from ODFW license agents.
An annual Oregon Shellfish License is about $10 for a resident and $28 for a non-resident. Alternatively, you can get an annual Sports Pac license, which includes shellfish, angling, and hunting licenses. There are also 3-day shellfish licenses, or daily angling/shellfish combo licenses to choose from.
California
In California, you need a Sport Fishing License to harvest shellfish if you're older than 16 years of age. For California residents, an annual license is $54 and for non-residents, it is $146. The license is valid from January 1 to December 31. There are also one or two-day sport fishing license options.
The CDFW also offers two free fishing days a year. However, unfortunately, these free fishing days are usually in the summer when the annual mussel quarantine occurs.
How to Clean, Prepare and Cook Wild Mussels
When you forage wild mussels, they will need to be cleaned before you cook them. This can be a time-consuming process, especially if your mussels have lots of barnacles!
Remove the Hairy Beards
You'll find a "hairy beard' (a clump of fibers that looks hair-like) on mussels that you should remove before cooking.
Debearding your mussels is easy. Simply grab the fibers and pull them towards the shell's hinge (the narrow part of the mussel). If you can't break the beard off, use a knife carefully.
Scrub Off Grit and Barnacles
If you picked larger mussels, they'll probably have some barnacles on their shells. Barnacles are harmless, although they look unappealing. Scrape them off carefully with a knife, being careful to not damage the mussel's shell.
Mussels will be quite gritty, so you should clean them with a scrubbing brush before cooking them. Clean off any debris, like seaweed, sand, mud, barnacles, and beard remnants. Scrub them well until they are clean!
Soak the Mussels in Clean Water
Next, you'll want to soak your mussels in clean water for about 15 to 20 minutes. This will help them expel any sand, debris, and other impurities from their shell. Adding salt to the water will help your mussels stay alive, but isn't necessary if you're cooking them right away.
However, if you aren't cooking your mussels right away, you should soak them in saltwater. Exposing mussels to freshwater for a long time will cause them to die, making them inedible. You don't want that! Simply add some table salt to the water (about 1/4 cup of salt in 3 cups of cold water) before soaking them.
How to Check If Mussels Are Alive
Before cooking, you need to remove any dead mussels. You mustn't eat any mussels that are dead before cooking. If mussels are dead before cooking, they could develop more bacteria which will make you sick. You don't want to risk it!
You will be able to tell if your mussels are still alive because they will typically stay tightly closed. However, some living mussels open up while you prepare them. To check if your mussels are still alive, simply give them a little tap (not enough to break the shell!) and see how they respond. If the mussel stays open, it is probably dead and isn't safe for eating. Mussels that are alive will close up and are still good to cook.
How to Cook Mussels
Cooking mussels is unbelievably easy. All you have to do is steam them. Here's an easy how-to:
Clean and soak living mussels prior to cooking.
Cover the bottom of a pot in water and heat until boiling.
Add the mussels to the pot. Cover the pot with a lid while keeping the liquid boiling.
Cook until the mussels pop open, about 5-7 minutes. Discard any mussels that don't open.
Enjoy!