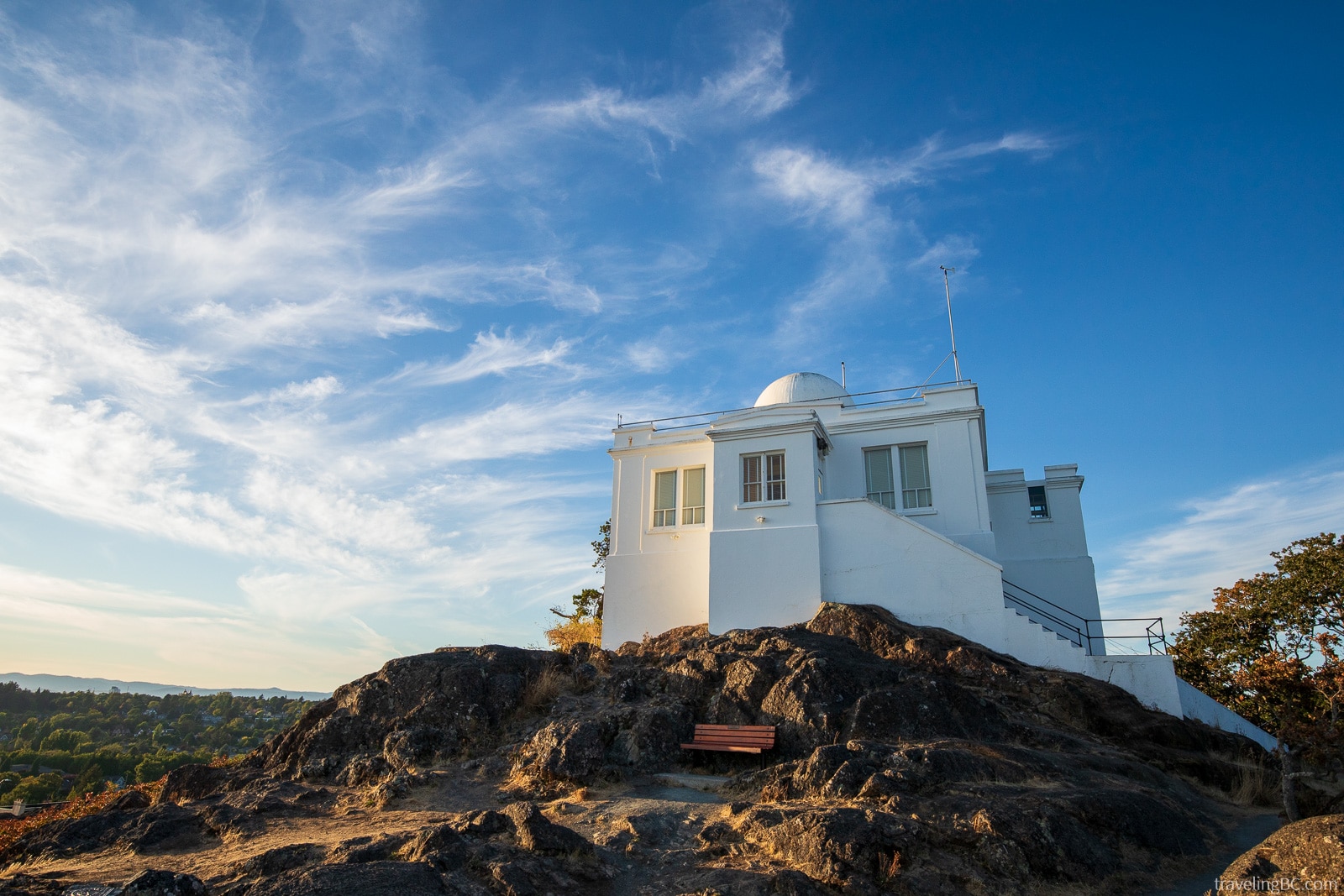 Gonzales Hill Regional Park is the smallest CRD park in Greater Victoria, with a size of only 1.8 hectares. While the park is small, don't judge it on its size!
With an elevation of 66-m (or 216.5 feet), Gonzales Hill is the highest land in southern Victoria. The park offers amazing, panoramic views of the southern tip of Victoria, the Strait of Juan de Fuca, the Sooke Hills, and the Trial Islands. Across the ocean, you can even spot the Olympic mountains!
The park is home to the strikingly white Gonzales Observatory that once served as a weather station. As well, you can find Garry oak trees and beautiful rare wildflowers blooming in this small park.
This article will tell you everything that you need to know about Gonzales Hill Regional Park to help you plan your visit!
Disclaimer – This post contains affiliate links. We may receive a commission if you make a purchase through these links, at no extra cost to you. Thank you for your support! Learn More.
Highlights of Gonzales Hill Regional Park
Amazing vistas of the ocean and city from the highest land in southern Victoria
The Gonzales Observatory, a 100+ year old heritage building
Rare Garry oak ecosystem with beautiful wildflowers and California quail
Gonzales Observatory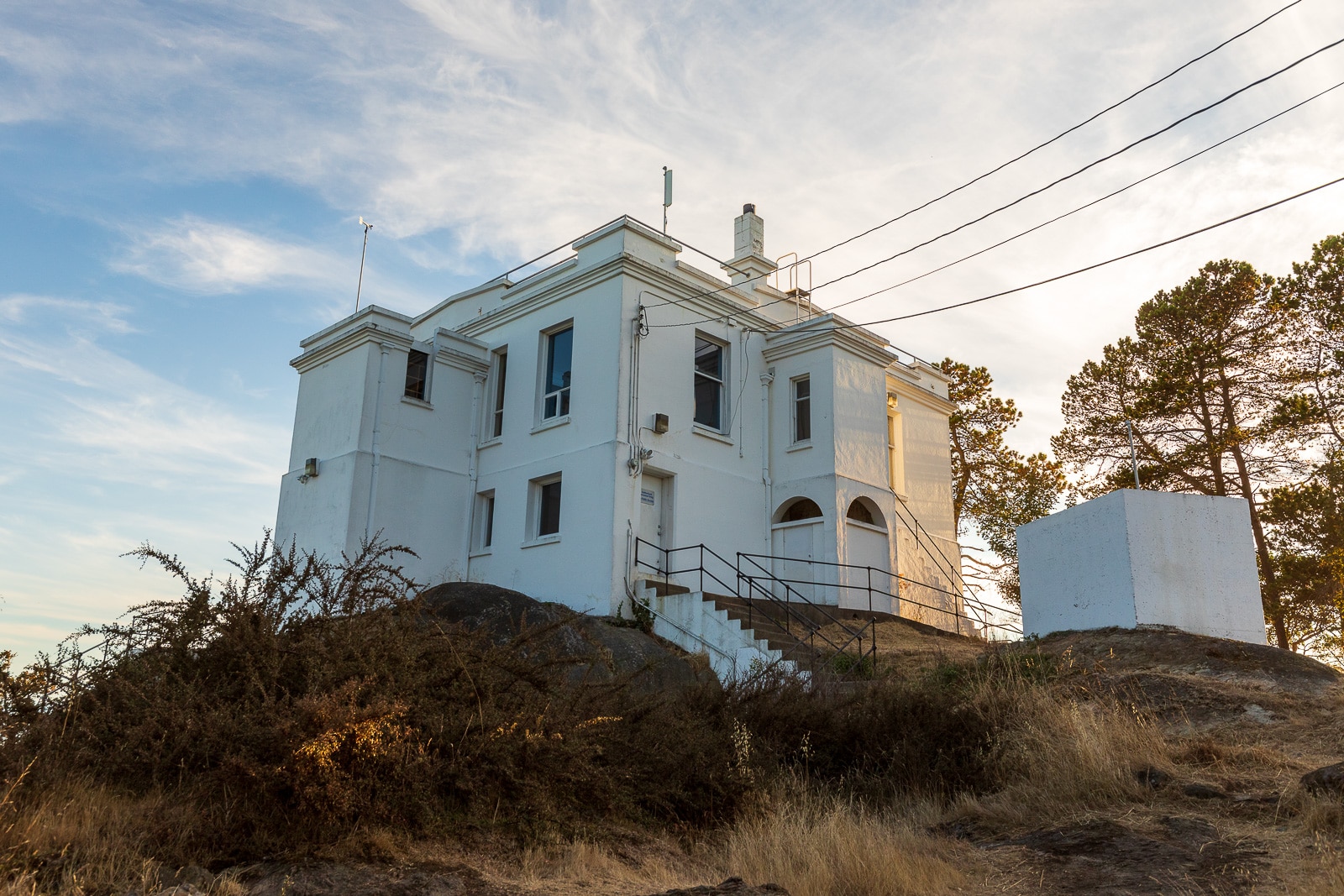 One of the highlights of this park is the Gonzales Observatory, a stunning white building with a domed roof that used to be a meteorological station. While you can't go into the observatory, the heritage building contrasts beautifully against the dark rocks. It's the perfect spot for photos, both of the observatory and Victoria's coast!
Built in 1914, the Gonzales Observatory was used to provide star sightings, weather conditions, and seismic activity readings for the Dominion Meteorological Services (now part of Environment Canada). The meteorologist who worked at the weather station was Francis Napier Denison, who Denison Road is named after. In 1989, after 75 years of use, Environment Canada abandoned the weather station. Later, the CRD purchased the land, converting it into a beautiful regional park.
How to Get There and Parking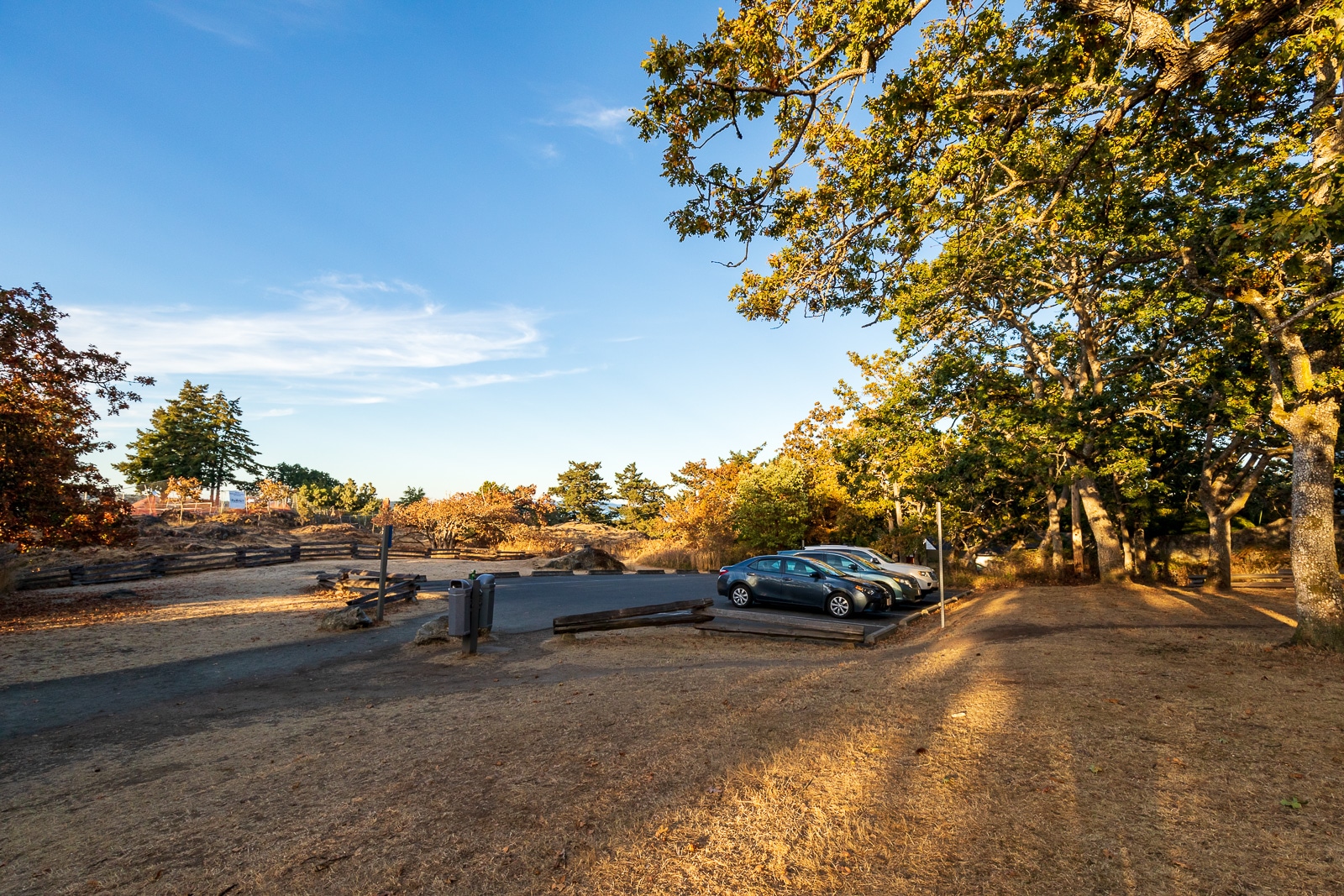 Accessing Gonzales Hill Regional Park is quite easy. From Fairfield Road/Beach Drive, turn south onto Denison Road (you can also use Sylvan Lane). Follow Denison Road until the road forks (marked by a small park sign) and follow the road right. Shortly after, you'll find a large regional park sign and the parking lot on the righthand side of the road. If you continue past this parking lot, you'll eventually find Walbran Park, another small park with amazing views.
Alternatively, you can access the park via pathways from Barkley Terrace or Fairfield Place. The nearest bus stop is at Foul Bay and Fairfield Road for the #3 and #7 routes. Also, if you biked to the park, there are bike racks near the observatory.
The entrance to the observatory area is a short walk away from the parking lot but it is somewhat hidden. To get there, follow the pathway south from the parking lot. The entrance almost looks like someone's property, marked with a white wall with the number 302 (see photo below). From there, it's only a minute or two of walking to the good views and the weather station!
Click here to get directions to Gonzales Regional Hill Park on Google Maps.
Gonzales Park Facilities and Things to Know
Park size: 1.8 hectares
Parking: Free
Hours: sunrise until sunset
Trail type: Easy
Trail map: Gonzales Hill Regional Park map
Washrooms: None
The closest public bathrooms are at Gonzales Beach, only a few minutes of driving away on Crescent Road. Even if you don't need washroom facilities, the beach is a great place to head after viewing the observatory, especially on a hot summer day!
There is 1 accessible parking stall in the parking lot. The path to the observatory is flat and accessible. The trails to the viewpoints are not accessible due to rough, uneven terrain.
Things to Do
The park is a spectacular place to have a picnic or watch the sunset over the city, making it the perfect place to have a romantic evening. It's also a great spot to sit and enjoy the peaceful views, look for rare wildflowers and birds like California quail or bald eagles, and see some Garry oak trees.
Combine an outing to Gonzales Hill Regional Park with a visit to the nearby Walbran Park, which has beautiful views of the east side of Victoria. Or, on a sunny day, check out Gonzales Beach just down the hill, one of the best sandy beaches in Victoria!
Looking to Book a Hotel in Victoria?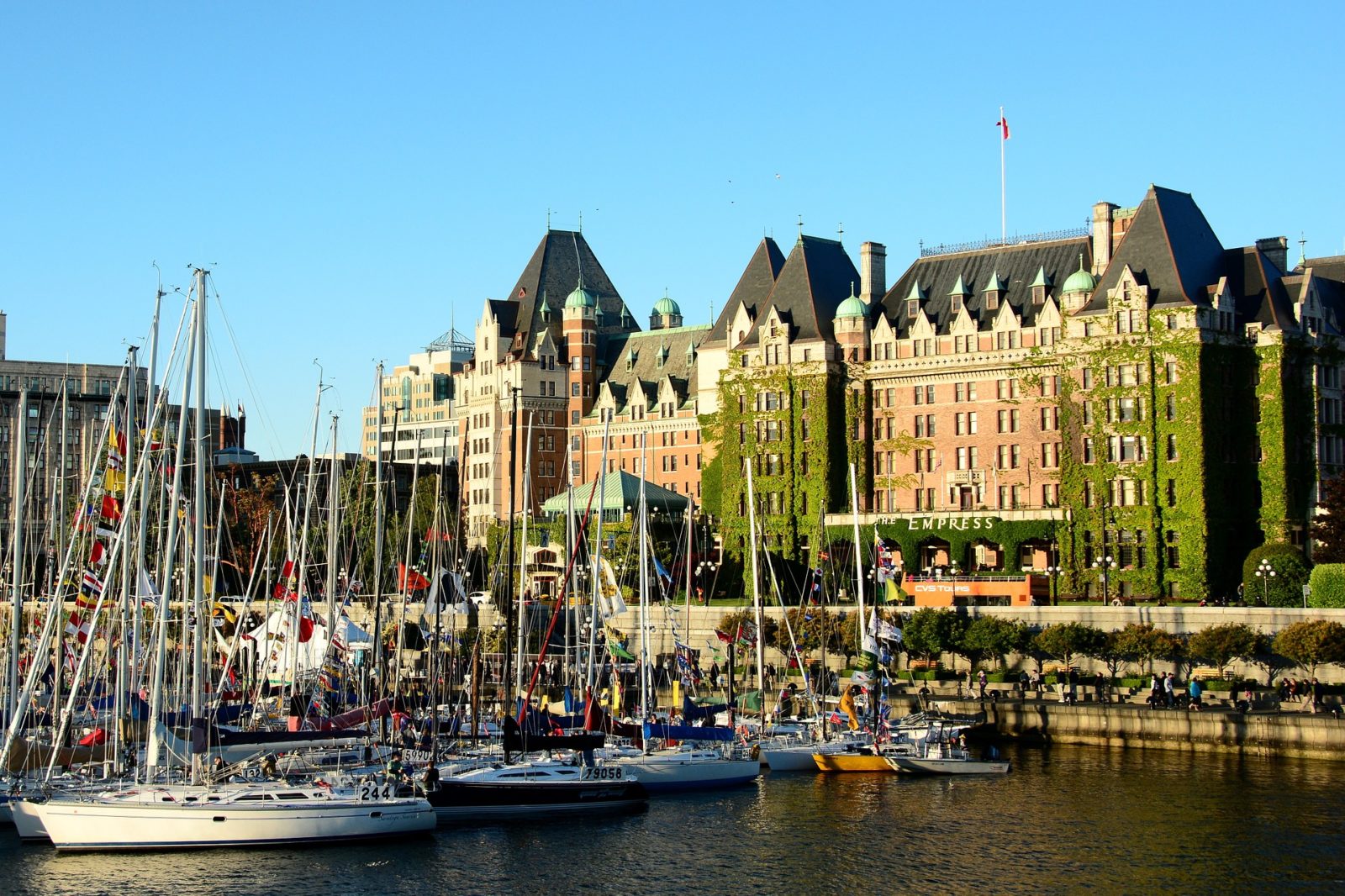 Are you looking for a great hotel to stay at in Victoria? Check out the following recommendations:
Top Travel Tips & Resources for Victoria, BC
Travel Insurance – If you're travelling internationally, travel insurance is a must for any trip. Being covered by insurance is especially important when you're going to an adventure-filled place like British Columbia. If you injure yourself while adventuring, you want to have insurance! We recommend using SafetyWing for international travel insurance. They are affordable and have great policies for travellers, digital nomads, and remote workers. Also, SafetyWing provides COVID-19 coverage, which many other insurance companies don't cover.

Car Rental – We find the best deal on vehicle rental prices using RentalCars.com. They compare the prices for different car rental companies so you can find the best deals out there!

Accommodations – We prefer booking all of our hotels, hostels, and other accommodations through Booking.com because they have a flexible cancellation policy. Also, there are lots of different options on their platform, from hotels to vacation homes. Alternatively, Expedia and Hotels.com are good for booking accommodations. For vacation home rentals, VRBO is an excellent choice (they have lower fees than Airbnb, many of the same properties, and are more ethical).

Flights – You can find many good flight deals on Google Flights or Kayak. If you fly at less popular times (e.g. mid-week or red-eye flights), you can save some money.

Tours – Get the most out of your vacation by taking a guided tour! This is a great way to see the city, adventure to exciting new locations, and learn about the local culture. Viator or GetYourGuide are great options for booking tours.